You've been so enthusiastic about relocation until you realized the scope of work to be done. Yes, we know how tedious and challenging packing is: getting various packing supplies, filtering the belongings, trying to make some spare time, and then hours of routine boxing. No wonder, you feel exhausted from even pondering on how to pack for a move. Believe it or not, you can streamline the process using our packing tips. The comprehensive packing checklist below should be helpful for managing the packing quest fast and headache-free.
How to Pack for a Move — A Complete Guide
Packing Tips
The easiest but costly solution to headache-free packing is hiring a full-service moving company. Once you've got the estimate, the crew will take care of delivering all required packing supplies, including floor protection, blankets, tape, boxes of various sizes, etc., and a couple of days before the move packers will arrive at your home to box up your stuff.
If you opt for self-packing, benefit from the tips below to accelerate the packing process.
Pack the box with the essentials and keep it separately. Actually, you'd better prepare the box and add things family members might need in the first place: regular medications (and a first-aid kit), toiletries, chargers, spare clothes for younger kids, some snacks & drinks, a favorite toddler's toy (if you won't keep the beloved bunny aside the moving day and a couple of following days might turn into a nightmare, trust the experience of other parents).
Labeling. Proper labels by room and a shortlist of contents will significantly simplify the unloading & unpacking.
Use padding for all boxes. Pads, paper, bubble wrap, t-shirts, and towels can be used as a safety bottom layer. First, put heavy items into the box. After that you add lighter ones.
Pack similar items together. This approach helps to accelerate the entire packing/unpacking process.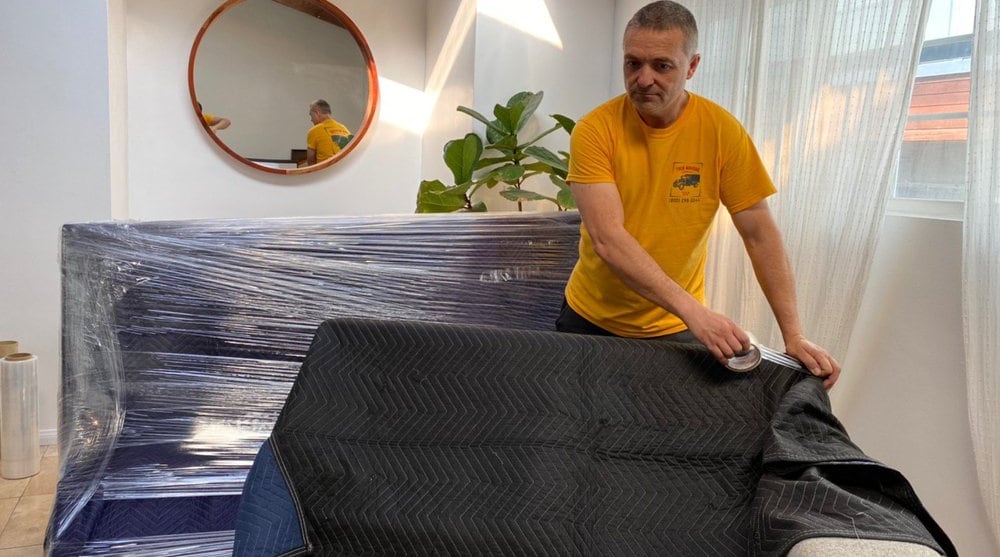 Packing Supplies
To guarantee the safety of your stuff, you will need:
Boxes. You need small,medium, large, and wardrobe boxes. Sure, you can buy them in a local hardware store or order online, but you can try to get boxes free or at a low rate via platforms like Craigslist or NextDoor where people often give away and sell boxes after a recent relocation. Ask colleagues, friends, and family for available boxes. 
Pads or blankets. You will need them as shielding material for boxing up delicate items.
Bubble wrap. You will need meters and meters of bubble wrap to secure delicate and fragile objects. Almost all household & hardware stores offer bubble wrap; optionally, you can find it online for free.
Packing paper. It is required for wrapping kitchen glassware and china.
Tape, cutters, and markers. Yep, you'd better spend some time writing a brief inventory for every box for easier unpacking at a new place.
Dolly. No need to purchase it, you can just rent it. Actually, a dolly will keep your back ache-free and prevent boxes dropping accidentally from your tired arms.  
Learn more: Packing materials for moving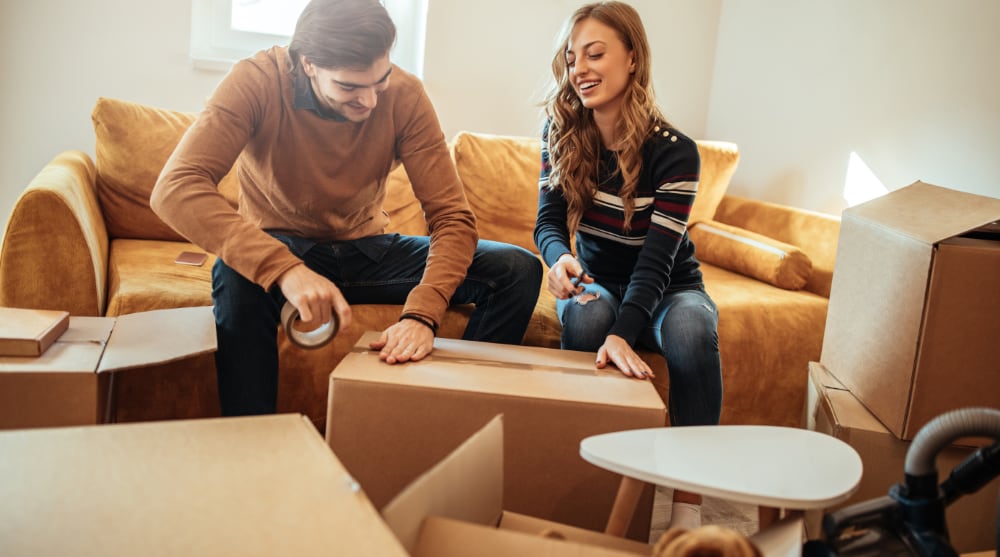 Packing Checklist for Moving: Room by Room
Understandably, you'd like to move at the lowest possible cost. One of the key aspects influencing the total cost of your relocation is the moving size. So before you proceed to pack the belongings, declutter. As time goes by, we collect tons of destroyed, out-of-use, and unwanted items we do not throw away at once. Besides, moving to a new place you'd better be ready with a floor plan for the new home to verify that furniture fits the space. So get rid of everything you do not plan to take with you. Sell or give to charity items in good condition and put destroyed things to the garbage.
Once you've filtered the stuff, you can pack the belongings following the room-by-room packing checklist.
Kitchen
Pack infrequently used equipment, appliances, and dishes well in advance.
Glassware can be very heavy if packed in large boxes, so opt for smaller boxes and label them properly, marking the top and securing the bottom with a tape layer. If you have sectioned boxes to pack stemware, it is great; otherwise, make DIY sections using common cardboard.
Once you've decided on a moving day, stop buying food items and do your best to utilize the available stock. This way you cut the moving costs while saving time on packing provisions at the same time. Remember that some products can get expired if your long-distance move takes a bit longer than planned.
Fully unload the fridge and disconnect it from the power supply 48 hours before the moving day.
Well, a tip for coffee lovers: A smaller coffee maker can be kept on a countertop till the last moment and later added to the essentials box along with a favorite mug. At your new place, you can enjoy a cup of coffee after a fatiguing day.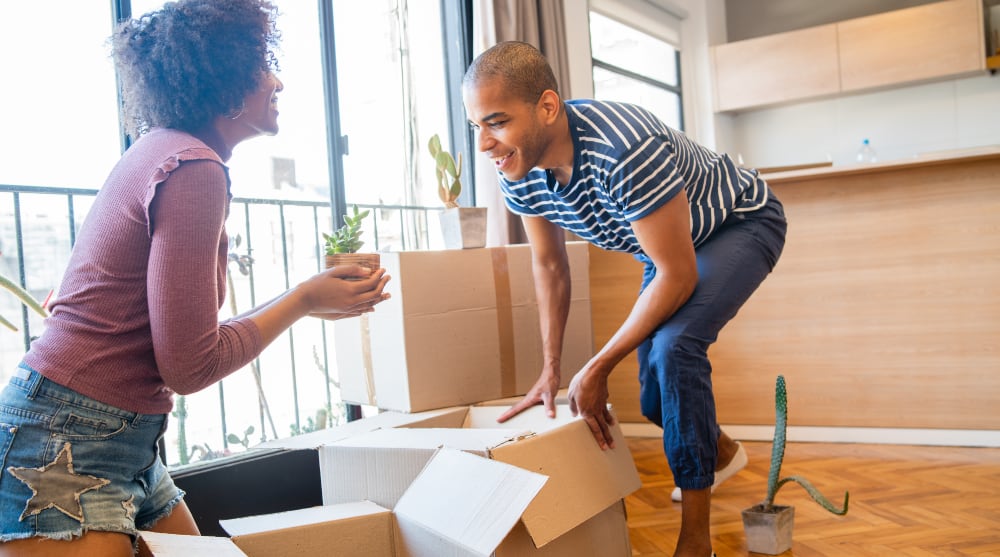 Dining Room
Disassemble the bulky furniture if possible. Pack smaller disassembled parts in boxes and label them for easier reassembling at your new home.
Wrap décor items and artwork with bubble wrap. Towels or blankets can be used to fill the empty space around lamps and other delicate items.
Carpets and rugs should be rolled up and secured with a rope. Wrap them in plastic.
You'd better wrap larger furniture to protect from accidental cuts and dirt.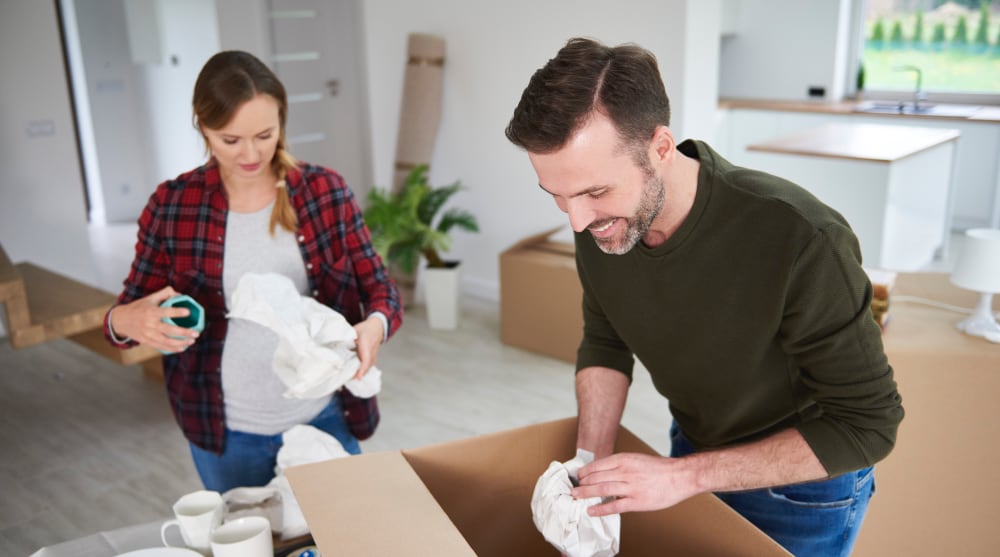 Living Room
The same approach to the furniture and rugs: furniture should be disassembled and rugs rolled up. Wrap them in plastic.
Pack books and DVDs in smaller boxes. Books are pretty heavy, so avoid packing them in large boxes that can be too heavy to carry or break accidentally.
Mirrors and artwork must be properly wrapped and put into suitable boxes labeled "Fragile" on at least two sides.
TVs and other screens require thorough wrapping in blankets. If you still have the original cardboard package with foam plastic, use it.
Unscrew bulbs and pack chandeliers separately, cushioning them thoroughly.
Learn more: How to pack pictures for moving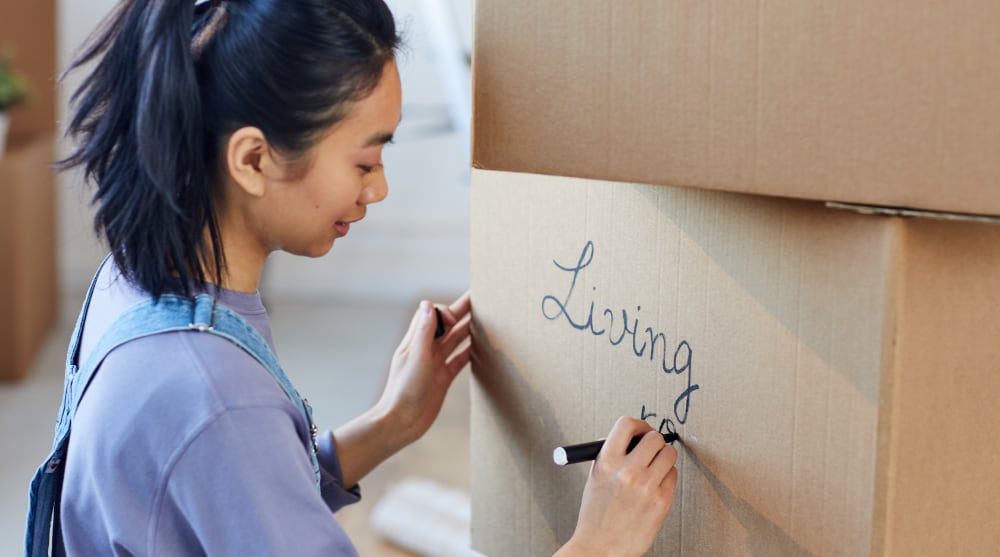 Bedrooms
You can pack most clothes into regular boxes. For formal attire, you'd better prepare wardrobe boxes to keep items on hangers.
Jewelry and other valuables should be packed properly and kept separately. Use a locked box or safe and do not load it onto the truck.
Pillows, bedding, and comforters do not require special packing. Cover them in plastic and put them into boxes. Use bed bags to protect mattresses too.
Learn more: How to Pack Clothes for Moving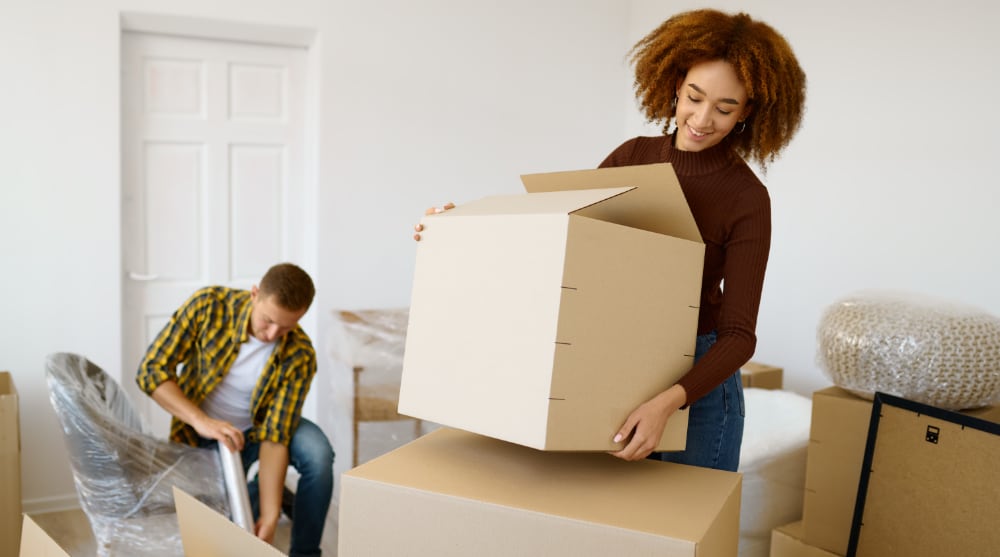 Bathrooms
Pack basic toiletries together and add them to the box with essentials — you will need them right away at your new place.
Additional toiletries and bathroom supplies, such as toilet paper, soap, and so on, can be packed in the same box. You can pack toiletries from different bathrooms in separate boxes.
Learn more: How to Pack Bathroom Items for Moving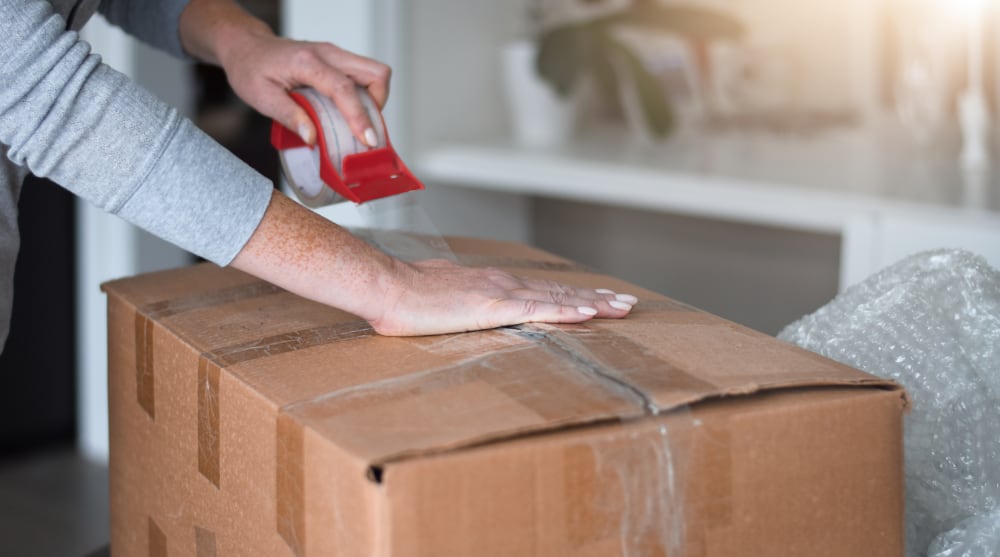 Laundry Room
Appliances must be disconnected from the power source. If possible, separate some components. If you keep original packages, use them for packing the washing machine and dryer.
Try to use in-stock detergents and softeners and do not purchase new supplies as they can be dangerous for transportation.
Laundry baskets can be useful to pack home wear, T-shirts, socks, and so on.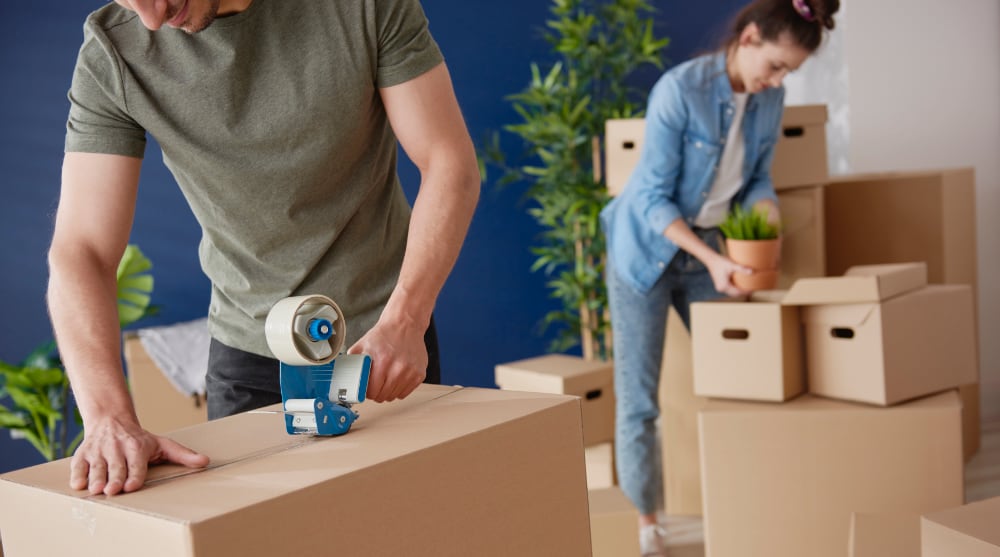 Home Office
Use available protective pads or blankets to pack electronic devices.
Disassemble the bulky furniture. You can pack fittings, screws, and casters in a separate plastic bag.
All important files and documents should be in a locked box. Take this box to your car, do not load it into the truck.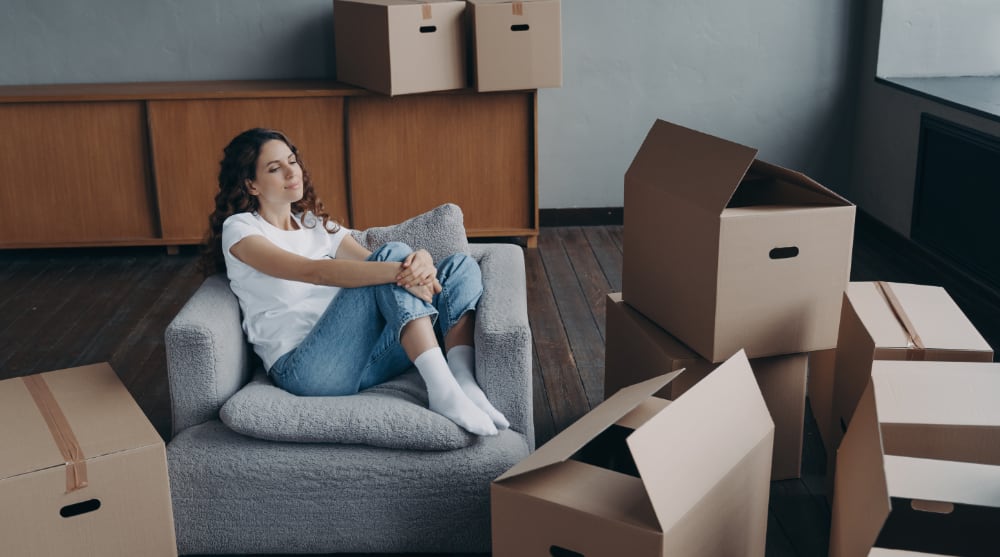 Garage
First of all get rid of all potentially hazardous supplies (paints, acetone, fertilizers, etc.). Ask your neighbors whether they need them, otherwise, get rid of materials that cannot be transported.
Wrap backyard furniture in plastic to protect it from dust. Pack bean bags and cushions into boxes.
Prior to packing garden equipment, like a grill or mower, gas must be drained.
Wrap tools with sharp blades in blankets or towels before packing them into boxes or a tool chest.
Pack sports equipment (skis, ski poles, rackets, etc.) separately wrapping it in blankets.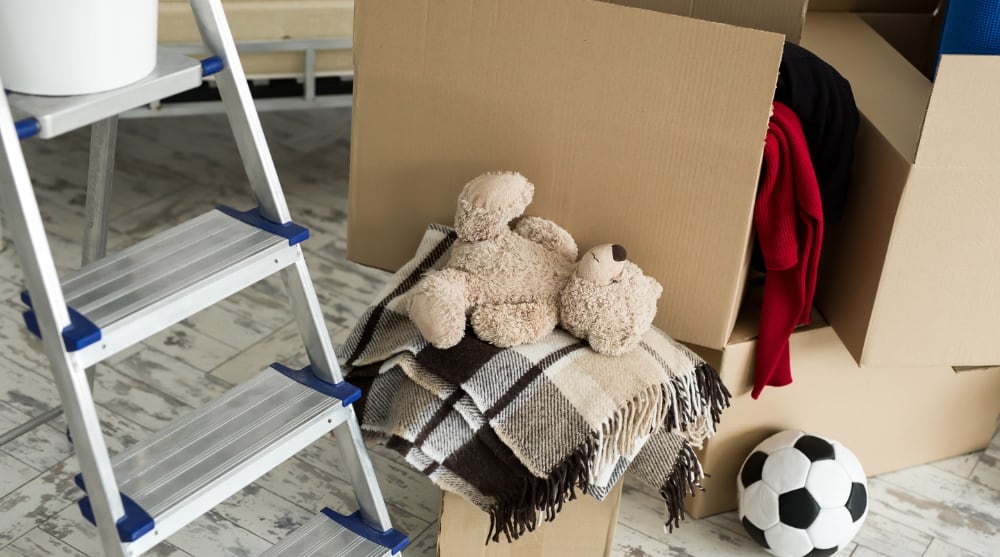 Additional Packing Tips
Declutter. You cannot overestimate the importance of filtering your stuff. Thinking over how to pack for a move, prepare additional boxes labeled "Throw away" and "Give away or Sell". Packing room by room, filter your stuff: destroyed and broken things should go into the "Throw away" box, while unwanted items in good condition should be placed into the "Give Away or Sell" box.
Consider packing rarely used or out of season items first. This way you prevent messing things up and repacking.
Start packing well in advance. Packing is boring and tiresome, so give yourself enough time to pack and organize everything.
FAQ
First of all, to secure kitchen glassware, tape the bottom for the extra protection against accidental breaks. Prepare packing paper, a lot of it, because you have to wrap every plate and glass. Bubble wrap is great too but it is bulky and occupies much of the space. Sort out kitchenware prior to packing dishes for transportation; label boxes as "Fragile" on at least two sides. Find out more…

Unlike fragile or delicate stuff, books don't raise many concerns in terms of packing. But a vast home library still requires your attention. Keep in mind that books are heavy while planning how to pack books before transition to a new place. In fact, the optimal decision is to pack them in solid boxes secured with tape. Find out more…

Getting supplies is one of the first tasks you encounter. The first thing that comes to mind is purchasing boxes at a hardware store. In fact, you can save a decent amount and get boxes for free. Check listings on Craigslist, Facebook Marketplace, NextDoor, or The Freecycle Network for free boxes offered in the neighborhood. Quite often people give away all sorts of packaging materials, including boxes, after they've unpacked.

While loading a truck, check that the weight is distributed evenly. Pros pack a vehicle with heavy objects first. So take a leaf from the movers' book and do the same. Then you can load boxes and all other stuff. Find out more…
Final thoughts
If all the above-mentioned recommendations and tips seem too complicated, or you have doubts that you can manage packing on time, contact the pros at Trek Movers. A budget-friendly full-service moving company with a solid reputation will relieve the stress associated with the relocation — your stuff will be packed and delivered securely to the new address.