San Jose Moving Company You Can Trust!
For many years TrekMovers company has been representing fast and reliable services of professional movers in San Jose and in California in general. With our help, your moving becomes pleasant and safe. No stress, no rush, no extra fees – just objective estimate and wise logistics solutions.
When you're choosing local movers in San Jose or area, you, probably, would analyze the market picking up the best proposals. So, be careful as it touches you personally and your family with all the stuff you need and like.
Check all-inclusive rates
Why Trek Movers is the best moving company in San Jose, CA?
Our moving company has developed a dedicated customer support system that helps us simplify the moving process making it clear for the client. Here, the key points:
You choose the preferred time. We book that spot that is convenient for you in the case this discussed beforehand.
We provide moving services in San Jose and within the state of California, so it could be short, local, and long moving. Our experienced representatives will secure the load in trailer/s no matter it takes a day or a few to deliver and unpack it.
Our services are completely customized and customer-oriented, so we consider all your preferences (time, location, irregular items to move, etc.)
Professional approach to every kind of moving thing (plants, sculptures, garden items or any fragile goods). We check all the items and devices (if possible) to ensure no damage during each transit.
Transparency during transit is what we guarantee. No hidden or unclear fees, no additional charges – just a detailed summary and ample time to review it.
These are just a few advantages that you receive working with TrekMovers. Be sure, you will receive the unabridged guidelines after contacting us directly.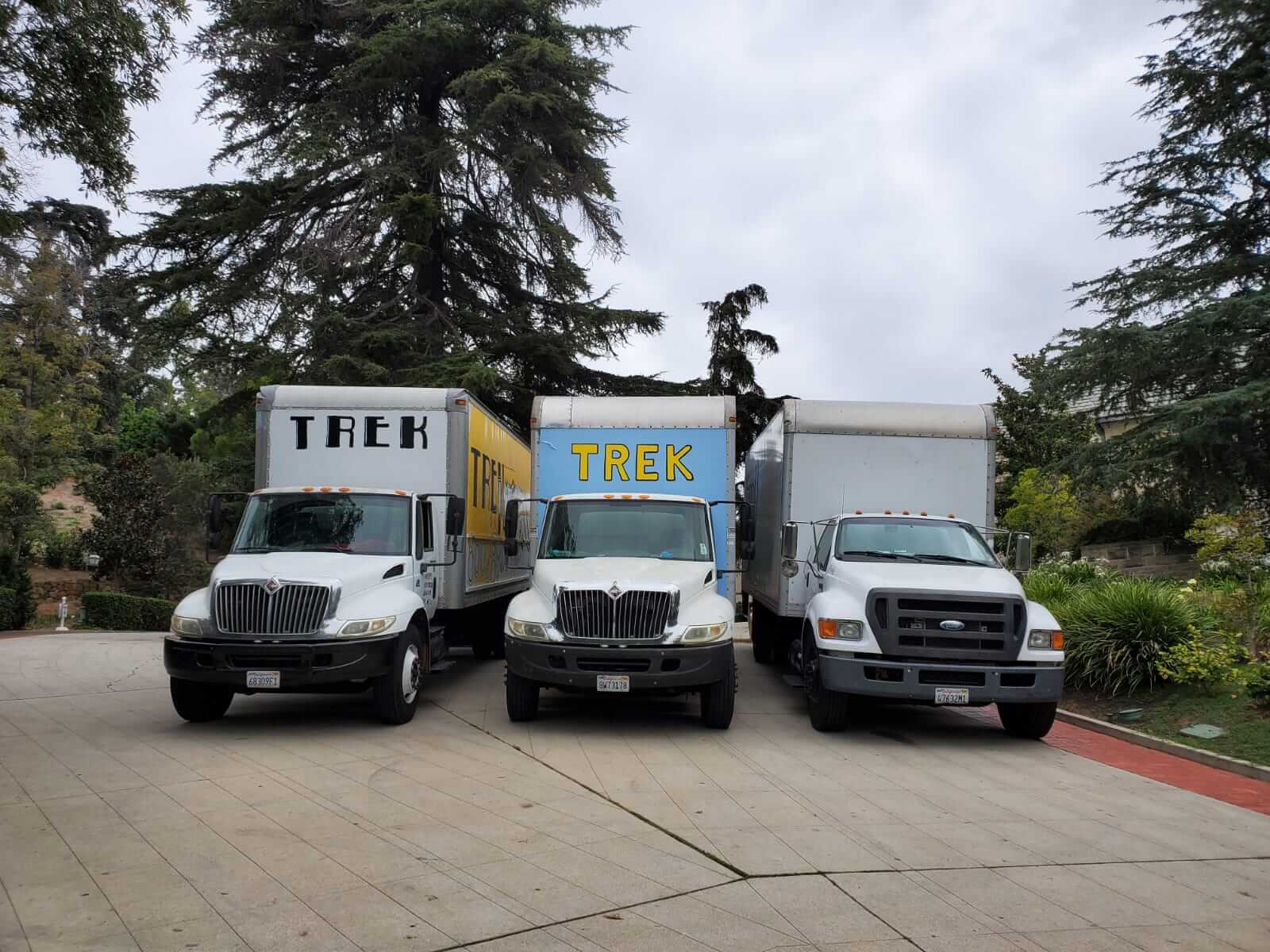 Professional Apartment, Office and Long-Distance Movers, San Jose
Due to the reality, right now we moving withing CA only, we've prepared a special service for those our clients who move across the country. Depending on the distance and specification of your moving, we have several options. Our manager will assist you and give a full explanation of each option.
Why we do this? Despite the fact that we don't do the moving job, we care about your comfort so will help to choose the right way and make this process smooth and easy as possible. We will assist with the preparation work, so this will help to economize and make this cheaper for you.
Office Movers
Commercial moving is our specialty. Advanced office movers in San Jose will help you to pack and relocate all kinds of office equipment, including large pieces of furniture, electronics, and delicate stuff. All-inclusive relocation includes packing services (we provide all supplies), transportation, and unpacking in a new office space. Professional movers in San Jose have access to moving supplies and equipment needed. So you can focus on your business, not on moving-related challenges during the relocation.
Local Movers, San Jose
What do professional local moving services look like? The best movers in San Jose always provide excellent customer service, on-time scheduling, quality supplies, and professional equipment. And besides, local relocating within the county with high-skilled movers in San Jose is more cost-effective than DIY relocation. Our local movers San Jose will provide you with all-inclusive services and handle everything from A to Z.
Home Movers
As residential San Jose movers, we handle stress-free house and apartment moves to, from, and within San Jose with care and ease. Whether items you need to deliver (such as heavy furniture, appliances, piano, antique, or whatever), our squad pays strong attention to the safety of your belongings and does everything possible to protect them from any damage during transportation. All-size residential moves are welcome.
Long-Distance Movers, San Jose
Long-distance moving makes you face a lot of challenges. Stressful packing, unloading, fear of damaging furniture, and assembling are almost inevitable while relocating. Plus, long-distance moving is usually quite expensive, so you have to think about your budget and prepare a proper plan. By hiring experienced San Jose movers, you can rid yourself of all the issues since professional moving companies deal with any challenges with ease. If you're looking for long-distance movers San Jose, Trek Movers is the best solution for any needs and budget.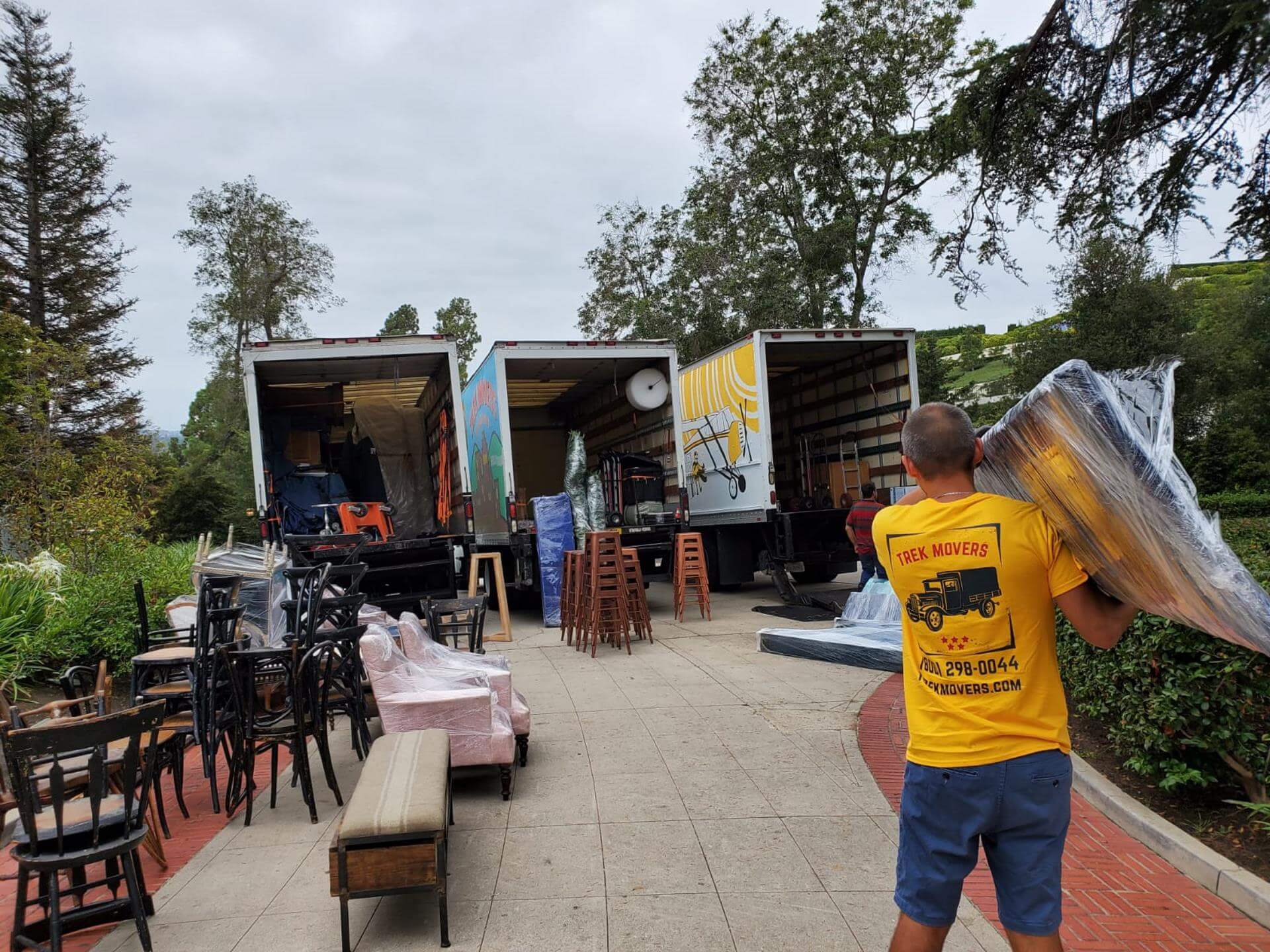 How Much Do Movers Cost Per Hour?
The average cost of movers per hour (full-service moves) is as follows:
| | | |
| --- | --- | --- |
| Number of movers | Cost per Hour (Cash Rate) | Cost per Hour (Credit rate) |
| 2 Movers & Truck (Studio, 1 Bedroom) | $120 | $140 |
| 3 Movers & Truck (2-3 Bedrooms) | $160 | $180 |
| 4 Movers and Truck (House, Office) | $200 | $220 |
Movers and Packers in San Jose
Our favorite thing about relocating with a moving company is how smooth the whole process is. As the professional mover San Jose, Trek Movers does a majority of the organizing and logistics. So you always ensure everything goes right at every step. Because our team members clearly realize what is required to relocate to or within San Jose, we can easily anticipate the type of packing supplies, gear, and vehicles you will need for your specific move. We'll pack and load up your belongings carefully using proper equipment and covers to protect furniture, doors, and floors in the house.
We'll also pack and mark all your stuff in the right way to protect it during transportation (and it will help avoid frustration when you're preparing to move into a new apartment or office space). Even delicate items stay safe since we use a diversity of packing materials and right-sized boxes while packing.
How Much does Local Moving Cost?
Below you see the average cost of movers per hour for short-distance relocations:
Home
Size
# of Movers
# of Hours 
Cost per
hour 
Average Moving
Cost 
Studio/1-
bedroom
2 and a truck
3-4
 $120-160
$420+
2-
bedroom
3 and a truck
6-7
 $180-200
$1080+
3-
bedroom
4 and a truck
8-12
 $220-240
$1,760+
4+ house,
office
move
4+ and a truck
Vary on the size
of the
house/office
 $220-240
$1,760+
Trusted movers in San Jose – is who we are!
If you are looking for relocation within or out of San Jose, we are here for your services. With us, you get a licensed, fully legal company that complies with all the necessary standards to provide you with a safe, high-quality, and affordable moving service. With years of experience, we gain an excellent reputation proved by many satisfied clients and that means a lot.
Do not hesitate to contact us, we will be happy to help with any project.
Resources
Contact us
1298 Loupe Ave, San Jose, CA 95121, United States
Monday - Saturday
8:00am - 8:00pm
Pacific Time

Saturday
8:00am - 8:00pm
Pacific Time