TrekMovers - Moving Company in Cupertino
Over the years Trek Movers has become a market leader by offering the perfect combination of quality and cost of services. High professionalism of the staff, exact observance of the undertaken obligations, careful attitude to confidential things are reflected in numerous positive reviews from grateful customers. Movers in Cupertino will relieve from unnecessary trouble associated with moving. They carefully pack and carry all things, deliver the equipment intact, arrange furniture in a new place.
Check all-inclusive rates
Professional Office, Local and Long Distance Movers in Cupertino
So you're excited to relocate to a new home in Cupertino soon? It's essential to find professional movers and packers Cupertino offers you a wide variety. Trek Movers is an experienced Cupertino moving company that has provided customers with reliable, high-quality services since 2007.
Commercial Moving, Cupertino
Commercial moving is our specialty. Advanced office movers in Cupertino will help you to pack and relocate all kinds of office equipment, including large pieces of furniture, electronics, and delicate stuff. All-inclusive relocation includes packing services (we provide all supplies), transportation, and unpacking in a new office space. Professional movers in Cupertino have access to moving supplies and equipment needed. So you can focus on your business, not on moving-related challenges during the relocation.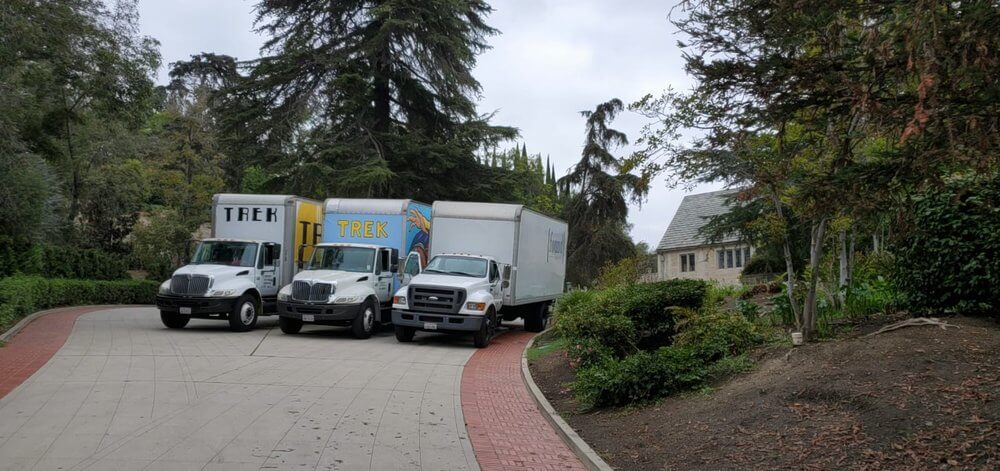 Home Movers
As residential Cupertino movers, we handle stress-free house and apartment moves to, from, and within Cupertino with care and ease. Whether items you need to deliver (such as heavy furniture, appliances, piano, antique, or whatever), our squad pays strong attention to the safety of your belongings and does everything possible to protect them from any damage during transportation. All-size residential moves are welcome.
Long-Distance Moving, Cupertino
Long-distance moving makes you face a lot of challenges. Stressful packing, unloading, fear of damaging furniture, and assembling are almost inevitable while relocating. Plus, long-distance moving is usually quite expensive, so you have to think about your budget and prepare a proper plan. By hiring experienced Cupertino movers, you can rid yourself of all the issues since professional moving companies deal with any challenges with ease. If you're looking for long-distance movers Cupertino, Trek Movers is the best solution for any needs and budget.
Local Movers
What do professional local moving services look like? The best movers in Cupertino always provide excellent customer service, on-time scheduling, quality supplies, and professional equipment. And besides, local relocating within the county with high-skilled movers in Cupertino is more cost-effective than DIY relocation. Our local movers Cupertino will provide you with all-inclusive services and handle everything from A to Z.
Average Moving Cost in Cupertino
Here is an estimate of our average cost of moving services:
| | | |
| --- | --- | --- |
| Type of Move | Low Estimate | High Estimate |
| Local move | $ 500+ | $3,000+ |
| Long-distance move | $ 2,500+ | $11,000+ |
Why Trek Movers is so popular
High professionalism of the person, exact observance of each clause of the bill of lading, low cost, no hidden or additional payments. The distance and the specifics of the cargo do not matter. We always strictly comply with any requests from the customer. The manager will offer several options for moving, you will only have to stay at the most convenient and profitable place. We make the move as comfortable as possible removing the burden of worries from people.
How to book transportation at a convenient time for you
You do not need to go to the office if you need to transport personal items, a consignment of goods or office equipment. Movers in Cupertino, CA are always ready to get to work. Send us an SMS or e-mail message so that the dispatcher selects the most convenient option for you to move. It is required to correctly indicate the address of loading and unloading, last name and first name, two phones for emergency communications. A machine with two darts will be at the indicated place on time.
We will check the operability of refrigerators, televisions, computers and other household appliances before packaging and make sure that they are in perfect condition after delivery. The company provides free any number of stretch films for packaging, boxes for placing equipment, a special wardrobe. Furniture will be wrapped in film and fastened securely to the sides of the trailer. Having completed loading, the customer receives an SMS or e-mail message and can transfer fifty percent of the payment. Using the cash, he gets a ten percent discount. In 30-40 minutes before arrival at the destination an SMS notification will be sent to the customer so that he meets the car. Movers will bring things to the desired floors and put everything in its place.
Resources
Contact us
7774 Orogrande Pl, Cupertino, CA 95014, United States
Monday - Saturday
8:00am - 8:00pm
Pacific Time

Saturday
8:00am - 8:00pm
Pacific Time