Full-service movers in Mountain View
If you are planning to move your family to a new house or office in a neighboring quarter, the question surely arises of how to do this as quickly as possible, without the hassle and additional financial costs. After a thorough study of numerous offers on the market you can make sure that Trek Movers offers the best price-quality ratio. Many years of experience, the high professionalism of the staff guarantee the perfect quality of solving tasks of any complexity. Movers in Mountain View will relieve unnecessary emotions associated with the move.
Check all-inclusive rates
Professional office, local and long-distance movers in Mountain View
So you're excited to relocate to a new home in Mountain View soon? It's essential to find professional movers and packers Mountain View offers you a wide variety. Trek Movers is an experienced Mountain View moving company that has provided customers with reliable, high-quality services since 2007.
Commercial Moving
Commercial moving is our specialty. Advanced office movers in Mountain View will help you to pack and relocate all kinds of office equipment, including large pieces of furniture, electronics, and delicate stuff. All-inclusive relocation includes packing services (we provide all supplies), transportation, and unpacking in a new office space. Professional movers in Mountain View have access to moving supplies and equipment needed. So you can focus on your business, not on moving-related challenges during the relocation.
Home Movers in Mountain View
As residential Mountain View movers, we handle stress-free house and apartment moves to, from, and within Mountain View with care and ease. Whether items you need to deliver (such as heavy furniture, appliances, piano, antique, or whatever), our squad pays strong attention to the safety of your belongings and does everything possible to protect them from any damage during transportation. All-size residential moves are welcome.
Long-Distance Moving
Long-distance moving makes you face a lot of challenges. Stressful packing, unloading, fear of damaging furniture, and assembling are almost inevitable while relocating. Plus, long-distance moving is usually quite expensive, so you have to think about your budget and prepare a proper plan. By hiring experienced Mountain View movers, you can rid yourself of all the issues since professional moving companies deal with any challenges with ease. If you're looking for long-distance movers Mountain View, Trek Movers is the best solution for any needs and budget.
Local Movers
What do professional local moving services look like? The best movers in Mountain View always provide excellent customer service, on-time scheduling, quality supplies, and professional equipment. And besides, local relocating within the county with high-skilled movers in Mountain View is more cost-effective than DIY relocation. Our local movers Mountain View will provide you with all-inclusive services and handle everything from A to Z.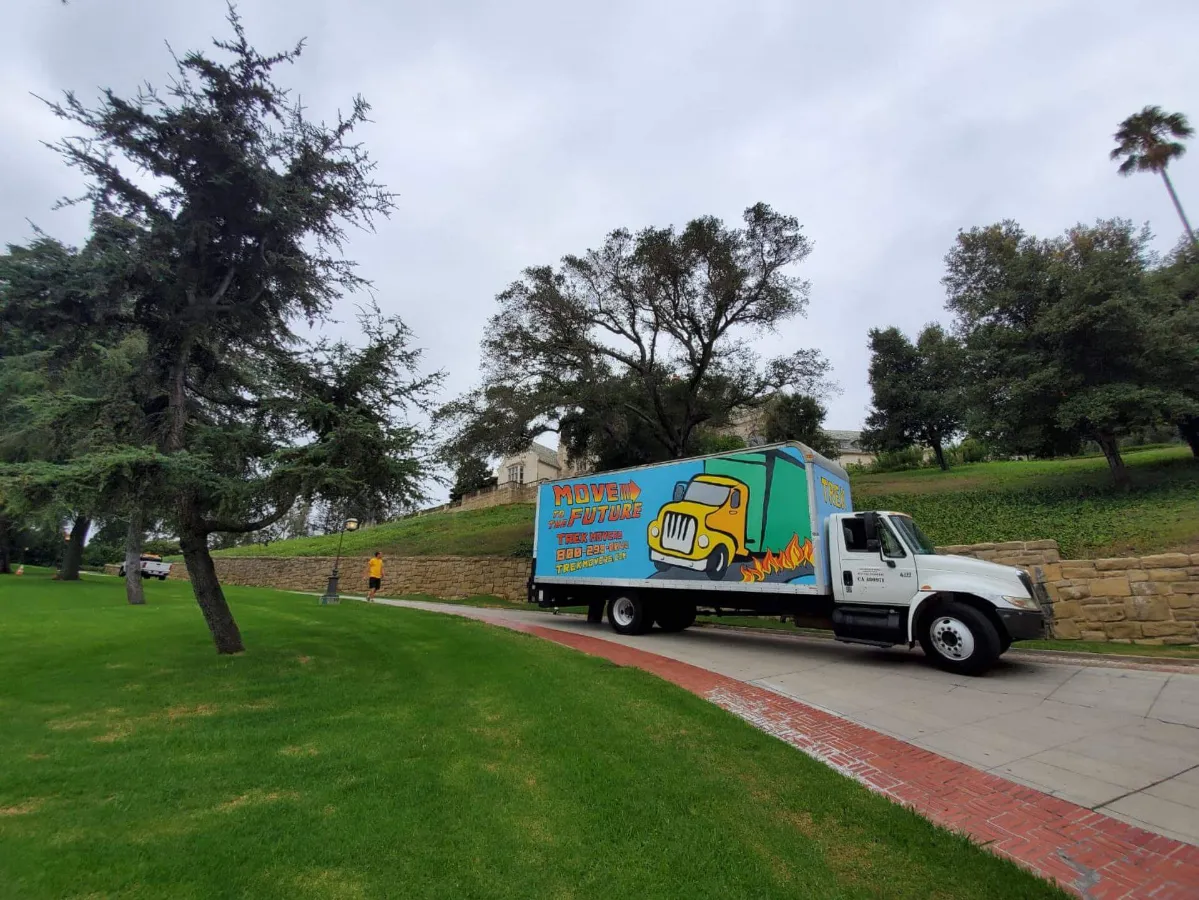 The main advantages of work with us
When analyzing the market to select the best offer for the first trip, you must pay attention to the price ratio, service list and quality of work. Over the years our moving company has been able to earn an impeccable reputation as a reliable, respectable partner. A special customer support program helps at any time to see where the truck is controlling its movement along the route. Among the main advantages of cooperation with us we can especially note several:
The ability to offer the customer the most optimal route for delivering his belongings to a specified location. Booking a convenient loading time for him, schedule flexibility without changing the amount of the bill of lading.
Individual work with everyone helps to fully satisfy all the needs of the customer. We can move the office to a neighboring street or family to another city by providing the most convenient trailer.
We always follow by all the points of the signed bill of lading. We strictly adhere to the approved schedule, we solve the problems that arise along the way ourselves without attracting customer's finances. If the truck breaks down on the way, the order for a new truck is at our expense.
Moving company in Mountain View CA will transport any volume of things as quickly as possible, carefully, efficiently. We will get rid of all the hassle of porosity. We pack, load, transport, unload, put in place.
Having approved the amount of the bill of lading, you do not have to worry that it will increase during the move. Until the end of the work, the cost of services will not change. No hidden fees or additional charges.
This is not a complete list of our benefits. You can learn more about the company's offers by talking to a dispatcher. He will answer all questions in detail, give advice on organizing the move.
The Mountain View moving company you can trust
Professionals with solid practical experience can easily take care of the task completely eliminating the necessary hassle. You do not need to think about how to pack things, puzzle over how to protect furniture from scratches, where to put plants or fragile household appliances. All the troubles of moving we take upon ourselves. You need to contact us and just wait until all the property is in a new place. Full calculation is performed only after completion of work.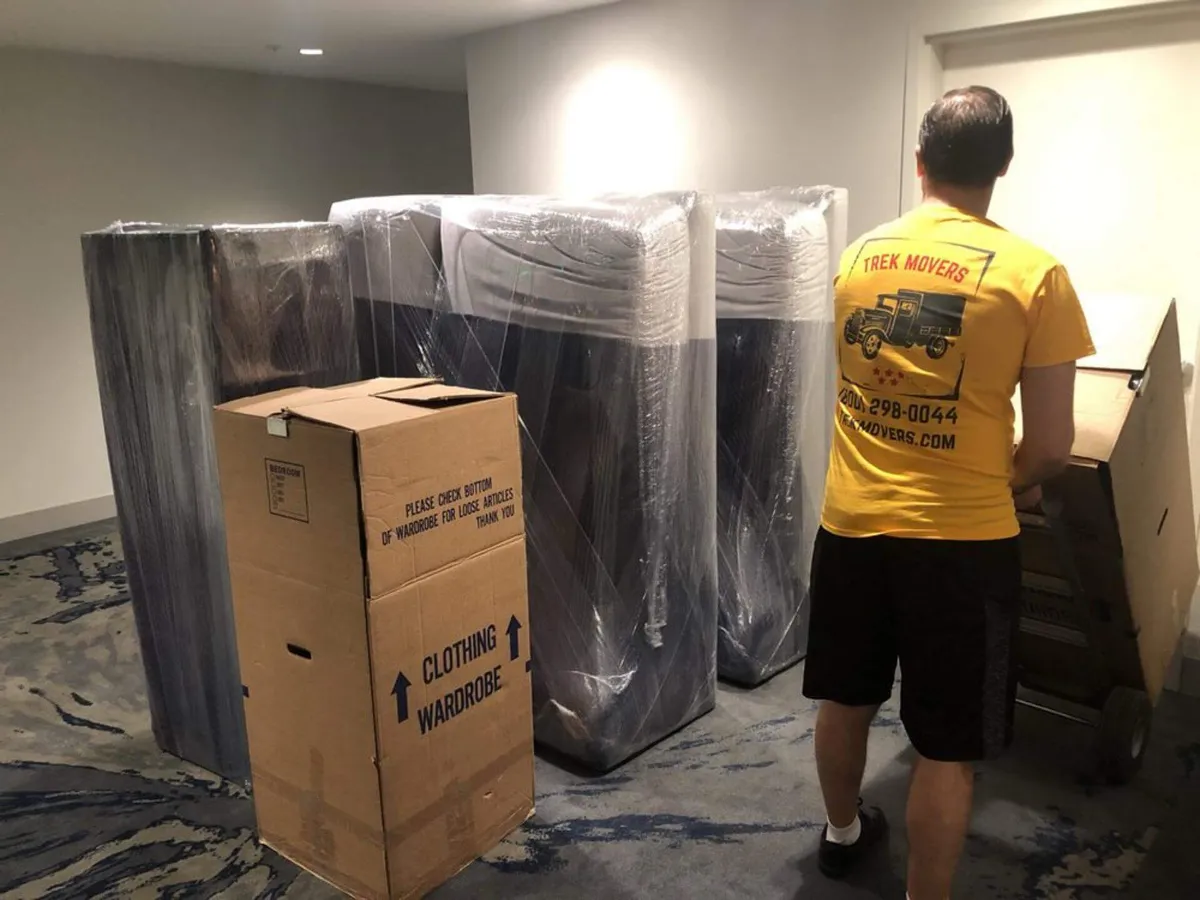 Easy to organize fast moving without the hassle with Trek Movers
There is no need to go to the office if you need to arrange a move. Send SMS or e-mail message, and the dispatcher will immediately contact you. He will answer every question in detail, select the most convenient route, take the time for the truck to be delivered. You need to correctly indicate the name and surname, place of loading and unloading, the estimated volume, arrange the amount of the bill of lading. At the indicated place at the appointed time the truck will arrive and two loaders. Furniture will be protected by special film, household appliances, personal belongings, dishes, houseplants will be placed in special drawers. Clothing is placed in a closet thanks to which you can almost immediately dress after delivery.
And after loading the customer will be sent SMS so that he will pay the first fifty percent. Using the cash, he receives a ten percent discount. In around 30 minutes before arrival at the indicated unloading point the customer will be sent an SMS or e-mail message so that he can meet the truck and control the unloading.
Resources
Contact us
1401 N Shoreline Blvd, Mountain View, CA 94043, United States
Monday - Saturday
8:00am - 8:00pm
Pacific Time

Saturday
8:00am - 8:00pm
Pacific Time