Professional Movers in Downtown LA
There is an opinion that one move equals two fires. Many people are terrified of the need to change their place of residence or work for fear that serious difficulties will arise. Asking Trek Movers to help eliminates many difficulties associated with relocation. The staff will easily perform the work assigned to it, and take care of the safety of household appliances, furniture, clothes. Movers in Downtown Los Angeles CA can easily transport an office or personal items to a new home. The customer will just have to pay for services without any participation in the difficulties that lie in waiting on the way.
Check all-inclusive rates
Booking application
No difficulty placing an order remotely. It is absolutely not necessary to go to the office or meet with the manager. It is enough to send an SMS or e-mail message, fill out a special form on the site. The main thing is not to forget to write two phones for emergency calls, indicate the place of loading and a convenient time for you, agree on a timetable by specifying the place of unloading. Write your name and surname, the estimated volume and area of ​​things intended for moving. If necessary, you can change the time of work – for this there is no penalty or increase in cost, just notify the administrator at least the day before planned shipping. Moving company in Downtown Los Angeles will transport any amount of cargo on time, cheaply, efficiently.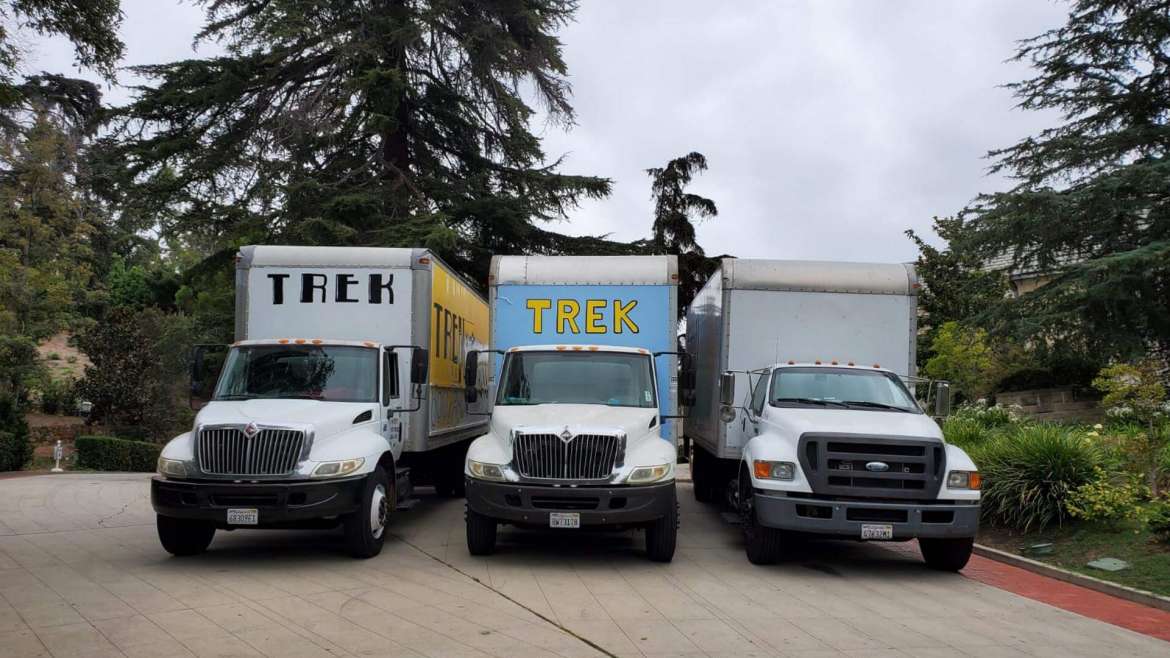 Packing and loading
At the right time a truck and two loaders will be served. The carrier provides free of charge any amount of packing tape, stretch film, boxes for storage on the way home appliances. In the back there is a special closet where you can hang clothes so that they do not wrinkle on the road. Each refrigerator, TV, computer is packed in a box guaranteeing one hundred percent protection against possible damage.
Furniture is tightly wrapped with a film that protects the polished facade from scratches. Furniture items are located in the back of the carriage and are tightly fastened to the walls with wide slings. Such a precaution will not allow them to fall during sudden braking or turning the machine. Household appliances must be checked for operability before packaging, which eliminates possible misunderstandings during unloading. After completing the loading the customer is sent an SMS or e-mail message, and he transfers fifty percent of the agreed amount.
Travel contingency insurance
The type of insurance policy and the amount is determined by the customer. The carrier takes care of the rest. With any difficulties on the road the customer does not need to allocate additional funds to solve complex issues. If the truck breaks down and you need to quickly provide a new truck, the moving company takes over all the related issues to complete the overload. The carrier pays for overtime, liability insurance. Moving services in Downtown Los Angeles is always convenient, reliable, safe, cheap.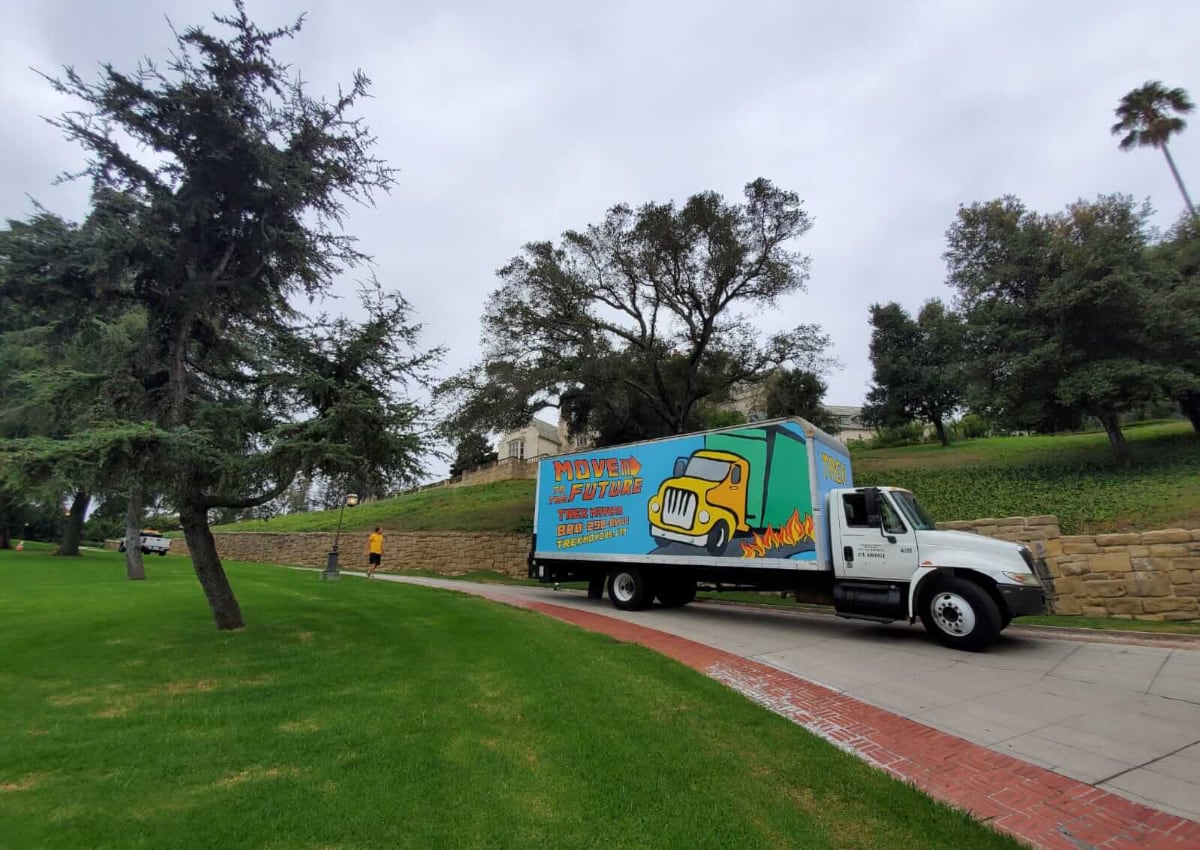 Unloading and payment
When driving, the approved schedule is strictly adhered to. When approaching the destination, the customer is sent an SMS or e-mail message so that he is ready to meet the car. All things will be raised free of charge to the desired floor, furniture is placed in the specified place, the equipment must be unpacked and checked for performance. Only after making sure that all work is completed in full the final payment for the service is made.
If the customer uses the cash, then he receives a five percent discount since you do not need to pay the bank for card service. The coupon available on the site used in the application for the transportation of things will help reduce costs.
Local Movers Cost in Downtown LA
Below you see the average cost of movers per hour for short-distance relocations:
Home
Size
# of Movers
# of Hours 
Cost per
hour 
Average Moving
Cost 
Studio/1-
bedroom
2 and a truck
3-4
 $120-160
$420+
2-
bedroom
3 and a truck
6-7
 $180-200
$1080+
3-
bedroom
4 and a truck
8-12
 $220-240
$1,760+
4+ house,
office
move
4+ and a truck
Vary on the size
of the
house/office
 $220-240
$1,760+
As you can see, the average cost of our movers is quite reasonable. And if you're looking for a more accurate estimate, contact us, and we'll be happy to provide you with a quote!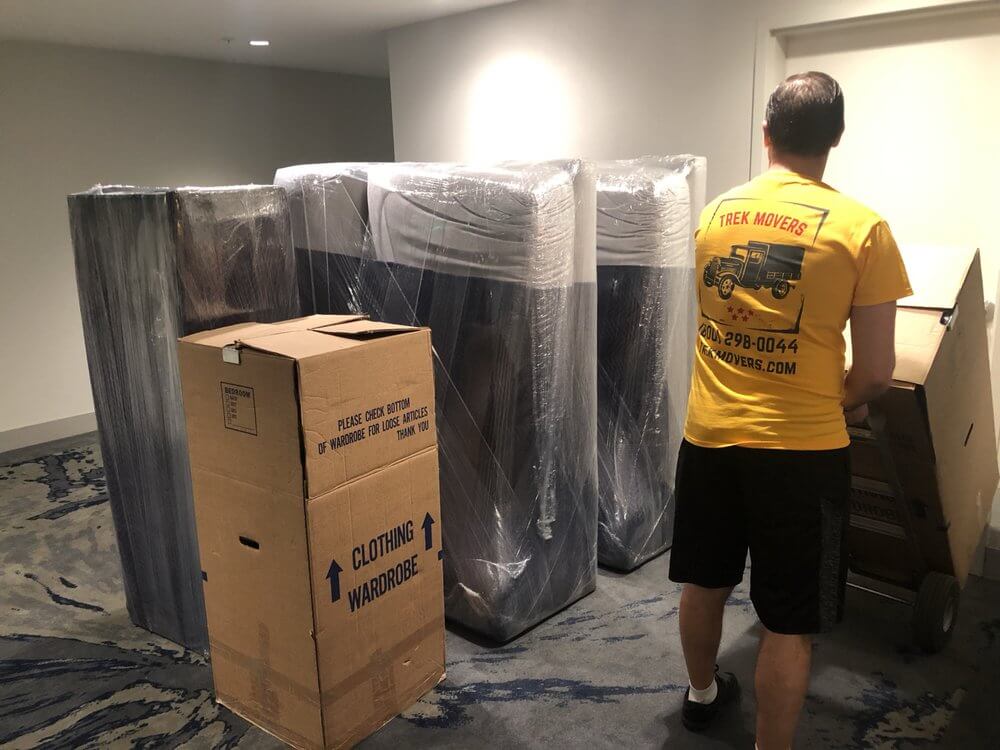 Professional Office, Local and Long Distance Movers in Downtown LA
So you're excited to relocate to a new home in Downtown LA soon? It's essential to find professional movers and packers Downtown LA. Trek Movers is an experienced Downtown LA moving company that has provided customers with reliable, high-quality services since 2007.
Office Movers Downtown LA
Commercial moving is our specialty. Advanced office movers in Downtown LA will help you to pack and relocate all kinds of office equipment, including large pieces of furniture, electronics, and delicate stuff. All-inclusive relocation includes packing services (we provide all supplies), transportation, and unpacking. Professional movers in Downtown LA have access to moving supplies and equipment needed. So you can focus on your business, not on moving-related challenges during the relocation.
Long Distance Movers Downtown LA
Long-distance moving makes you face a lot of challenges. Stressful packing, assembling, loading, and fear of damaging furniture, are almost inevitable while relocating. Plus, long-distance moving is usually quite expensive, so you have to think about your budget and prepare a proper plan. By hiring experienced Downtown LA movers, you can rid yourself of all the issues, since professional moving companies deal with any challenges with ease. If you're looking for long-distance movers Downtown LA, Trek Movers is the best solution for any needs and budget.
Local Movers Downtown LA
What do professional local moving services look like? The best movers in Downtown LA always provide excellent customer service, on-time scheduling, quality supplies, and professional equipment. And besides, local relocating within the county with high-skilled movers in Downtown LA is more cost-effective than DIY relocation. Our local movers Downtown LA will provide you with all-inclusive services and handle everything from A to Z.
Resources
Contact us
11111 Brookshire Ave Downey, CA 90241, United States
Monday - Saturday
8:00am - 8:00pm
Pacific Time

Saturday
8:00am - 8:00pm
Pacific Time