Changing households is a time consuming endeavor, especially when you have to pack all your household stuff on your own. When should you start packing to move? If you are anticipating a move anytime soon, give yourself plenty of time in order to make sure you don't end up in a chaos. Carefully develop a plan to move all your important items in an organized manner so that you can get everything done using minimum time and resources.
Where to Start
Moving can be frustrating. A lot of this frustration can be avoided if you know where and when to start packing for a move. Before you move so much as a hair pin, make a list of the items you will be taking with you to the new place. How to start packing to move is a question that comes later. You may have stuff that you don't use anymore or that is not worth the hassle of moving. You may also be planning to move temporarily, in which case you can put some items into storage. Whatever the case, make sure that you know what things you are taking with you and what you are leaving behind.
How to Start Packing
When you have decided what should and should not be moved, it is time to start collecting the necessary supplies for packing. Begin with boxes, big and small. These will be used to pack small items including your books, cutlery, decoration items etc. Ask you friends and colleagues if they have empty boxes lying around in their basements. Alternatively, you can purchase complete packing or moving kits from online stores or companies that specialize in moving.
Pack non-essentials first. They probably are in specific places at your current home so they will be an easy job. For example, if you are moving in winters, pack all your summer clothes first. Also include your photo frames and other such items.
Put well-defined labels on the side and the top of each box. Mention the contents of the box on the label and the location of the house where they are to be placed. Also clearly mention if there are any fragile items in the box that need care while handling in order to avoid any mishaps during transport. This will save you a lot of time and frustration as the movers will know the intended location of each box as well as any boxes that need a soft hand while moving. Moreover, with the complete list of items on the box, you will save time opening and looking through boxes labeled "bathroom" just to find the shampoo.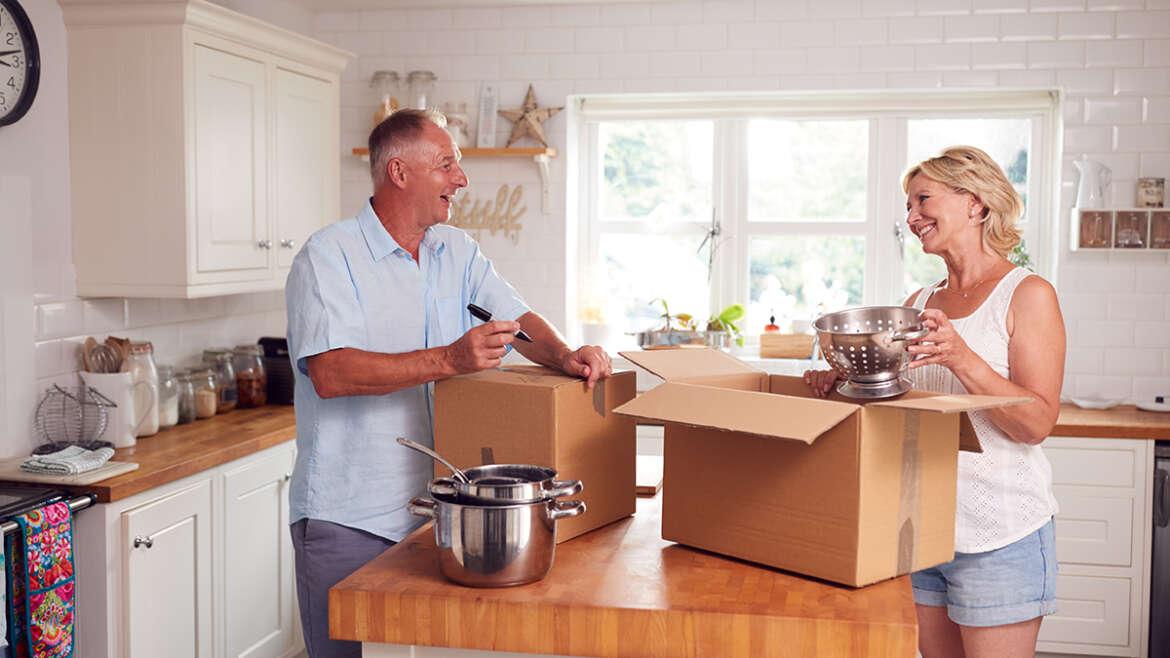 Make Sure Your Stuff Arrive Safely
As mentioned earlier, clearly label boxes with instructions on how to handle the box. You can make the stickers on your own computer and get them printed or you can buy them at an office supply shop.
Towels, clothes and linens are your best friends while moving. They can be used to pack fragile items in order to keep them from breaking in case a box is dropped or if the road to your new place is bumpy. But make sure that you mark them on the box as well for when you are unpacking. You don't want the person unpacking the items to throw aside your crystal vase wrapped in a shirt thinking it is just a piece of cloth.
You should also consider using bubble wrap for items that are particularly fragile. These include picture frames, plates and mirrors etc. Be particularly careful about the corners and use multiple layers of bubble wrap where needed. Bubble wrap is a cheap and one-time expense that can save you a lot of frustration. It will protect fragile items and prevent them from bumping against each other.
Also packing tape or any other kind of tape to bind together items that have a similar form and shape. For instance, you can tape together your hockey sticks, brooms, lampstands and mops together to carry them in one go easily.
In order to prevent getting yourself or anyone else from getting an injury while moving your boxes, keep the weight of each box manageable. Ideally the weight should not be more than 40 pounds but in any case 50 pounds is the limit. Wherever it is impossible to respect these limits, you should clearly label the box in order to prevent others from getting injured.
Moving Furniture
Moving furniture is one of the most difficult tasks that comes to your mind when you think about where to start packing when moving. With bigger furniture, you usually have different smaller components that are joined together using screws, nuts and bolts. Losing these fasteners is a headache you really want to avoid. It might be a good idea to use self-locking plastic bags to keep them together and safe. Tape each bag to a component of the furniture it belongs to. If you are moving a bed, unscrew the headboard slat and put the screws in the self-locking plastic bag. Then tape the bag to the legs of the slat. If you are disassembling a table, unscrew the legs and tape the screws and bolts to the underside of the table. Tape the legs together and if needed, tape them to the underside of the table as well in order to protect them from scratches and dents.
For furniture that is prone to scratches, wrap it in protective padding. For instance, table tops, headboards and coffee tables should be well protected against bruises and scratches while moving. You can rent furniture padding from a storage facility or a moving company. Don't use your linens for this purpose as they may get torn or stained. Furniture padding is produced for this specific purpose so make use of it.
Disassemble every furniture part to make it easy to transport. An assembled table will occupy much more space than a table with its legs disassembled and taped together. Desk drawers should be emptied to reduce weight. Desks are lighter without the drawers in them. Where convenient you can move desks with drawers and contents inside as well. But make sure to tape the drawers to prevent them from sliding out and falling. You don't want the hassle of picking up all the drawer contents if they fall out.