Organizing for a long-distance or cross-country move can be difficult, and the expenses around it can be complicated to get a handle on. Even local moving budgets can be challenging to predict.
What do you need to consider other than movers so that your budget is accurate? Let's find out what you need to include when calculating moving expenses.
Many details around moving budgets should be taken care of – finding and hiring a truck and the movers, buying packing materials, paying for transportation, and much more. This guide will assist in planning your moving budget.
Pick an affordable Moving Company
Moving company expenses is always a most significant part of your budget. That's why it's necessary to get estimates from different moving companies. So choose wisely. Get a quote from 3-5 moving companies, so you have a wide choice and a general understanding of the most significant part of the budget you can expect.
Research to understand what services different companies are offering is necessary. Some provide flat rates, while others work with the hourly rate. Do those offers include all kinds of services, or are there plenty of hidden charges that will surprise you by the end of the project?
An important note to remember is that you want to hire movers that provide a final quote that will be the most accurate. Also, remember to ask what they include in that price, what they offer as a complimentary service, and what extra charges you can expect.
In TrekMovers, we provide both – not to exceed flat rates and all-inclusive hourly rates for your convenience, with no hidden charges at any point.
Amount of Packing Supplies Needed
Packing by yourself is always a good idea to shorten moving expenses. There is a wide choice of packing materials to wrap, pack and cover your belongings. However, some items, like upholstered or big furniture and electronics, require special packing supplies. Make sure your movers can take care of it, and for what price?
If you decide to pay for packing services, then those services may or may not include the cost of packing supplies. Ask for a pricelist of labor and materials for packing assistance from your moving company.
Getting packing materials yourself is another expense you can add to your budget. Moving kits cover general packing material needs depending on the size of the move, or you can get everything individually. Also, you can find cardboard boxes for free from local businesses, which can help to cut down the budget.
For our customers, we offer reusable packing equipment (such as moving blankets, wardrobe boxes, and TV boxes) free of cost for the moving project duration. At the same time, the rest of the materials (such as shrink wrap, bubble wrap, duct tape, and even cardboard boxes) are free of cost.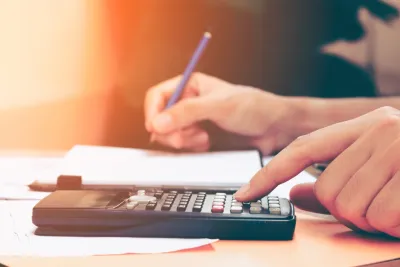 Plan Your Itinerary
In long-distance moves, an itinerary is another big part of your budget. Hiring a truck to drive it yourself is a solution to reduce that expense.
While calculating that, apart from rent and gas expenses, remember to include an overnight stay if required and any meals you need to consume. Staying with friends and packing your meals can reduce costs, which is only sometimes possible, depending on your circumstances. As well, consider the time you will spend while driving.
There are also different solutions if you hire a moving company to do that for you. A shared truck is cheaper, but in that case, your loading and unloading dates may vary, regardless of your preferences. Getting a dedicated truck allows you to plan exact dates, and expect a precise arrival date, so you can hire laborers to unload it.
Remember to include in the budget the cost of transportation for yourself and your family to your new address.
Travel expenses will likely be a substantial part of the budget you're putting together for your move, so you need to be aware of that. Check for hotels and travel deals to cut expenses on this part of your move.
Our company offers dedicated trucks and drivers. For your comfort, the same crew leader is responsible for loading, transporting, and unloading supervision.
Is Storage Required?
You're downsizing, and some of your items require long-term possession. Or there is an intermission between moving out and moving into a new place. In such situations, you need to sort out storage of some sort.
The most budgeted way to do so is to use a friend's or parent's garage or an unrequired room, especially if it's available, non-in-use, and nearby.
Many storage facilities and moving companies, especially national ones, offer storage rental services. Depending on your needs, they may provide daily, weekly, or monthly rental options. The price may differ depending on the storage room's condition, size, and location. They could offer you a discount if you are going for long-term rent. Research the options which are available around your area. Shorter distances will help you save money on delivery. Think of the number of items you need to store and decide on the storage volume. Keeping smaller boxes on large furniture will help you to save space. Compare prices and pick the best option.
Start Preparing
Estimating the budget is the first step in ensuring your move is going efficiently. Now you know how to calculate expenses, just put them together, and you are ready to move.
We wish you a smooth moving experience!
You can also read our articles:
When is The Best Time to Move?