Known as a vacation spot, Orange County attracts with its awesome beaches, theme parks, and of course, Disneyland. With long beaches for sunbathers and surfers on the Pacific Ocean or the gorgeous Santa Ana Mountains for hikers, Orange County offers locations to fit any lifestyle.
Considering relocation, you might be wondering where to live in Orange County — sun-lit cities with suburban communities, low crime rates, and growing employment opportunities seem a dream destination for families, retirees, and young singles.
Orange County boasts the lowest unemployment rate (6.4%) in Southern California. Despite the higher cost of living (67.7%) than the country average, the quality of life in Orange County is pretty high due to the higher average salary (many top-tier companies are headquartered in Southern California).
As for real estate, the median home price in Orange County is about $869,600 (compared to LA's average of $583,000) and a typical rent is around $1,850. Although the price tag seems impressive, almost half of houses are in the range of $400-$750k.
As for education, Orange County hosts excellent preschools, school districts, and a variety of private schools. UC Irvine is listed in the top 50 college programs for the sciences, arts, and medicine in the country.
Now that you are moving to Orange County, let's compare the best cities to live in Orange County regarding living costs, safety, job markets, education, and the overall quality of life.
Here are the best places to live in Orange County, CA:
Irvine
Irvine is often considered the safest place to live in Orange County, CA, and quite rightfully. Bordering Newport Beach and Santa Ana, Irvine is a dream place in many aspects: reputable schools, a modern business hub, shopping, amazing green parks (21 community parks and 45 neighborhood parks), and outdoor facilities.
This is one of the best places to raise kids — Irvine's school districts are among the best across the nation. University California, known as the alma mater for David Benioff, Game of Thrones co-creator, Roy Fielding, computer scientist and HTTP co-author, Geoffrey Pyatt, US Ambassador to Greece, and many other eminent personalities, is also located in Irvine.
Obviously, Irvine is one of the best places to live in Orange County for families — in recent years, Irvine has become a popular destination for people moving from other California areas. Wide streets and open spaces differ from typical compact living in South California. Additionally, the employment market is filled with many recognizable brands, including Amazon, Google, Toshiba, Endologix, Johnson & Johnson Institute, Blizzard Entertainment, and many others.
If you move to Irvine, contact TrekMovers, one of the most reputable and reliable Irvine movers, that offers full-service local and long-distance relocation relieving you from stress typically associated with the transition.
The Average Cost of Living in Irvine
Santa Ana
Santa Ana is the second-largest city in Orange County and its administrative center — the city is ranked #4 across the country by population density. The mild climate, outdoor sports facilities, and beautiful parks make Santa Ana a great place to live. Add here clean air ensured by Southern California air regulations, and you can understand that Santa Ana residents don't like leaving the place.

The unemployment rate is below the national average, and the cost of living is not too high compared to other cities in California, so Santa Ana is an affordable place for young families. Over the last few years, Santa Ana's economy is on the rise thanks to business investments and development: many hi-tech companies are headquartered in Santa Ana, so moving to Santa Ana you may find plenty of career opportunities.
The Average Cost of Living in Santa Ana, CA
Newport Beach
Newport Beach is considered the wealthiest city in Orange County: the median property value in Newport Beach is $1.9 million, the median rent is about $2,250, and the median household income is $127,223. Before moving to Newport Beach, you'd better get ready for the high living costs in the area and have a job offer. However, you probably won't regret any cent spent on buying a house in Newport.
The luxury property reflects in favorite outdoor activities too — sailing is very popular among Newport residents. In fact, Newport Beach is an ideal place for all kinds of water-based activities, such as rowing, kayaking, surfing, and paddle-boarding. Newport's harbor hosts five private yacht clubs.
The Newport Bay Nature preserve and ecological Reserve expands to 1000 acres and provides an incomparable experience of walking, hiking, and biking across the untouched wilderness. Not to mention top-tier schools, sports facilities, restaurants & cafes — an awesome place for families with kids.
The Average Cost of Living in Newport Beach, CA
Laguna Beach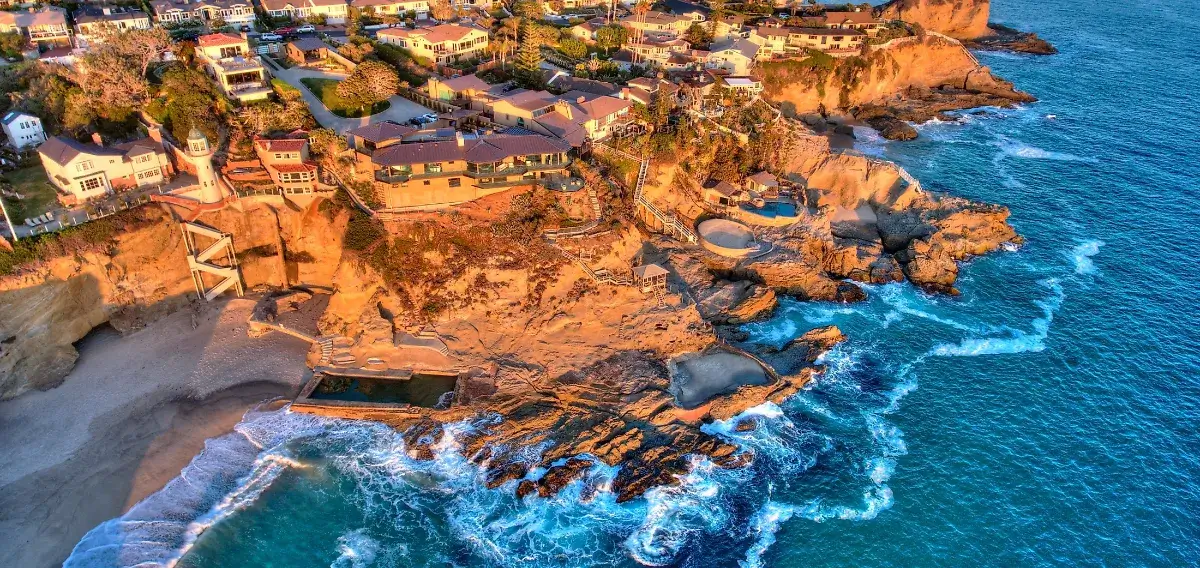 Located in Southern Orange County, Laguna Beach with its gorgeous beach, parks, and several employers listed in Fortune 500, is one of the best places to live in Orange County for singles.
Laguna Beach is famous for its art community, music festivals, theater shows, and stylish restaurants; millions of tourists visit Laguna Beach yearly — thanks to strong environmental protection the city feels like a seaside paradise. The city is in a league of its own: the best schools, surfing, and art galleries — high-end lifestyle in the truest sense of the word.
If you consider moving to Laguna Beach, you need to be ready for high real estate prices: the median rent is $2,300 and the median house price is just a tiny bit below Newport Beach's — $1.8 million.
The Average Cost of Living in Newport Beach, CA
Dana Point
With its unique combination of art scenes, fantastic beaches, and great school districts, Dana Point is one of the best places to live in Orange County (CA). This is one of the most magnetically attractive ocean-front cities in Orange County for young families.
Welcoming green parks, a friendly community, numerous dining and sports facilities, employment options, including technology and defense industries, — Dana Point attracts more and more young specialists yearly.
The median home price is $861,600, which is lower than in other seaside cities in Orange County.
The Average Cost of Living in Dana Point, CA
Seal Beach
Despite its proximity to Los Angeles, Seal Beach is the most affordable place to live in Orange County. The median house value is $371,600; it attracts many families and retirees that look for safe areas with a mild climate.
In recent years, Seal Beach has become popular among young professionals specializing in aircraft technology and space exploration: Boeing, an aerospace giant, has several facilities in the area.
The city's coast is a fantastic place for surfing or beach walks. And Seal Beach National Wildlife Refuge is a dream place for nature enthusiasts — you can observe and picture wildlife across the 965-acres.
The Average Cost of Living in Seal Beach, CA
San Clemente
San Clemente, also known as SurfCity USA, is an ocean-front city in the southern part of Orange County. The climate here is notably warmer and drier than in other cities of Orange County. The city is famous for several surf competitions held during the year.
Families with school kids might feel assured about education as San Clemente hosts one of the best school districts in Orange County. Housing prices are higher than the national average, but significantly lower than in Newport Beach.
The Average Cost of Living in San Clemente, CA
Aliso Viejo
Aliso Viejo is one of the cheapest places to live in Orange County. With a population of only about 50,000, the city has a unique suburban spirit. Excellent schools and affordable housing prices make Aliso Viejo an attractive option for families with kids. There are numerous family-friendly dining options and plenty of recreational activities, including the Grand Park Aliso and Wood Canyon Wilderness Park.
Residents enjoy their quiet and safe life and for outdoor activities go to Irvine and Laguna Beach, which are located a short drive away.
What is the safest city in Orange County? Aliso Viejo. Crime rates here are even lower than in Irvine. Moving to Aliso Viejo won't break the bank: the median home price is $444,000, which is lower than the average in Orange County — $869,600.
The Average Cost of Living in Aliso Viejo, CA
Mission Viejo
You won't miss the ocean coast while living in Mission Viejo — the city has its own lake. Fantastic lakeside property and water activities attract many families. Homes in Mission Viejo range from budget-friendly condos and townhomes, to houses with spacious backyards and premium-level real estate.
Mission Viejo is a great place to raise kids: excellent recreational activities and the Mission Viejo Youth Athletic Park provide tons of opportunities to enjoy your free time.
The Average Cost of Living in Mission Viejo, CA
Turtle Rock
Turtle Rock, in southwestern Orange County, California, has become very popular in recent years as many companies moved their offices to the city. Affordable housing and job opportunities appeal to many young families. Turtle Rock is a member of the California Association of Independent Schools (CAIS) and Orange County Public Schools (OCCS); over the past five years schools in Turtle Rock marked a significant increase in enrollment.
Warm and dry weather all year round makes Turtle Rock a great place to live, let alone attractions like Disneyland and the Anaheim Packing District.
Living in Orange County, you are not far from LA and San Diego, and the best ocean beaches are within reach for weekends or holidays. Obviously, it is not easy to choose the best city to live in Orange County because all the above-mentioned areas are dream destinations for many Americans.
When you decide on the new destination, contact the best moving company — Orange County-based TrekMovers. One of the most reputable California movers, TrekMovers knows how to make your relocation easy and stress-free. Request a free quote and free virtual/in-person estimation of your move size and rest assured that your belongings are safely packed and transported to your new residence.