TrekMovers – Seal Beach Moving Company
I am sure, you are not a fan of moving? Nobody is, to be honest. Packing, lifting, and loading are things that no one loves to do. But do you know what you can fall in love with? New stages in life and new dwellings to call your family. And we are here to glorify that joy by dwindling the moving burden from you. At TrekMovers, we hire expert movers who have the ability to ensure the greatest possible care for your belongings and memories. We are always delighted to go above and beyond the extra mile to ensure your satisfaction and well-being.
Check all-inclusive rates
Professional Office, Local and Long Distance Movers in Seal Beach
So you're excited to relocate to a new home in Seal Beach soon? It's essential to find professional movers and packers Seal Beach offers you a wide variety. Trek Movers is an experienced Seal Beach moving company that has provided customers with reliable, high-quality services since 2007.
Commercial Moving
Commercial moving is our specialty. Advanced office movers in Seal Beach will help you to pack and relocate all kinds of office equipment, including large pieces of furniture, electronics, and delicate stuff. All-inclusive relocation includes packing services (we provide all supplies), transportation, and unpacking in a new office space. Professional movers in Seal Beach have access to moving supplies and equipment needed. So you can focus on your business, not on moving-related challenges during the relocation.
Home Movers
As residential Seal Beach movers, we handle stress-free house and apartment moves to, from, and within Seal Beach with care and ease. Whether items you need to deliver (such as heavy furniture, appliances, piano, antique, or whatever), our squad pays strong attention to the safety of your belongings and does everything possible to protect them from any damage during transportation. All-size residential moves are welcome.
Long-Distance Moving
Long-distance moving makes you face a lot of challenges. Stressful packing, unloading, fear of damaging furniture, and assembling are almost inevitable while relocating. Plus, long-distance moving is usually quite expensive, so you have to think about your budget and prepare a proper plan. By hiring experienced Seal Beachmovers, you can rid yourself of all the issues since professional moving companies deal with any challenges with ease. If you're looking for long-distance movers Seal Beach, Trek Movers is the best solution for any needs and budget.
Local Movers
What do professional local moving services look like? The best movers in Seal Beach always provide excellent customer service, on-time scheduling, quality supplies, and professional equipment. And besides, local relocating within the county with high-skilled movers in Seal Beach is more cost-effective than DIY relocation. Our local movers Seal Beach will provide you with all-inclusive services and handle everything from A to Z.
Packing Services
Our favorite thing about relocating with a moving company is how smooth the whole process is. As the professional mover Seal Beach, Trek Movers does a majority of the organizing and logistics. So you always ensure everything goes right at every step. Because our team members clearly realize what is required to relocate to or within the Seal Beach area, we can easily anticipate the type of packing supplies, gear, and vehicles you will need for your specific move. We'll pack and load up your belongings carefully using proper equipment and covers to protect furniture, doors, and floors in the house.
We'll also pack and mark all your stuff in the right way to protect it during transportation (and it will help avoid frustration when you're preparing to move into a new apartment or office space). Even delicate items stay safe since we use a diversity of packing materials and right-sized boxes while packing.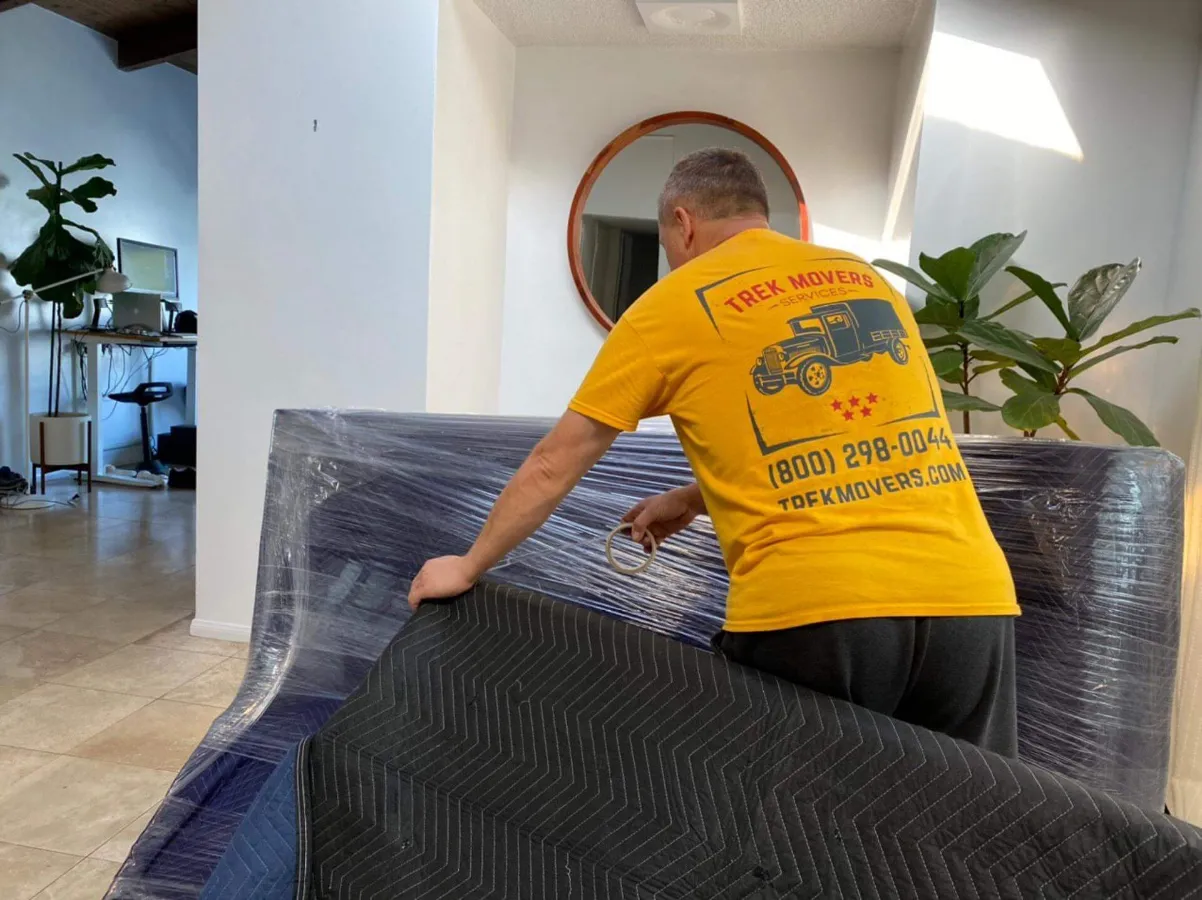 How much do movers cost?
When it comes to moving to or out of Seal Beach, there is no one-price-fits-all. The ultimate cost of your relocation project in Seal Beach will depend on multiple factors, including the size of the move, whether it is commercial or residential transportation, the presence of exclusive items like pieces of art or antiques, heavy/bulky items, the destination to overcome, extra services that may be involved to relocate efficiently, and many other aspects that require negotiation.
All-inclusive hourly rates for all local moves in the city cost as low as $120 per hour for a crew of two movers and a fully-equipped moving truck. The involvement of an extra mover or/and truck will add $30/$50 per hour to the final cost. Apply for a free moving quote to figure out how much your specific relocation in Seal Beach is going to cost you.
The average cost of movers per hour (full-service moves) is as follows:
| | | |
| --- | --- | --- |
| Number of movers | Cost per Hour (Cash Rate) | Cost per Hour (Credit rate) |
| 2 Movers & Truck (Studio, 1 Bedroom) | $120 | $140 |
| 3 Movers & Truck (2-3 Bedrooms) | $160 | $180 |
| 4 Movers and Truck (House, Office) | $200 | $220 |
Choose Professional Movers in Seal Beach
Committed to delivering the first-in-excellence moving services in Seal Beach and all over California, our company is able and willing to handle any relocation project, whether big or small, with utmost efficiency, professionalism, and transparency. Being in the business since 2017, we have managed to earn a reputation as a reliable local mover in Seal Beach that is genuinely interested in the success of your removal.
Your peace of mind is our paramount priority. Our team consists of well-trained and highly experienced movers. Our moving company in Seal Beach, will take care of every instance of your relocation project, from the beginning to the end, while you just sit back and enjoy how things are being done as needed.
We have our offices all over California, which enables us to offer you any moving services that you may need in this wonderful state.
We aim to please, and this is proved by numerous positive reviews and a tell-tale 5-star rating that we have earned over these years. Choose Trek Movers, if you want your moving in Seal Beach to be done smoothly, efficiently, and affordably.
Get a Free Moving Quote
It is a very simple process if you decided to move in Seal Beach with our Seal Beach Movers. Getting a moving cost is made in two steps. First of all provide the information where, when and what you are moving. At the next step you can submit a request to get all the additional information and check the availability for your preferred date. The easiest way to book a spot for your move is to contact us through phone: (800) 298-0044 At the same time don't hesitate to get online a quick and accurate quotation including professional moving guidance.
Resources
Contact us
2201 Seal Beach Blvd, Seal Beach, CA 90740, United States
Monday - Saturday
8:00am - 8:00pm
Pacific Time

Saturday
8:00am - 8:00pm
Pacific Time