Orange County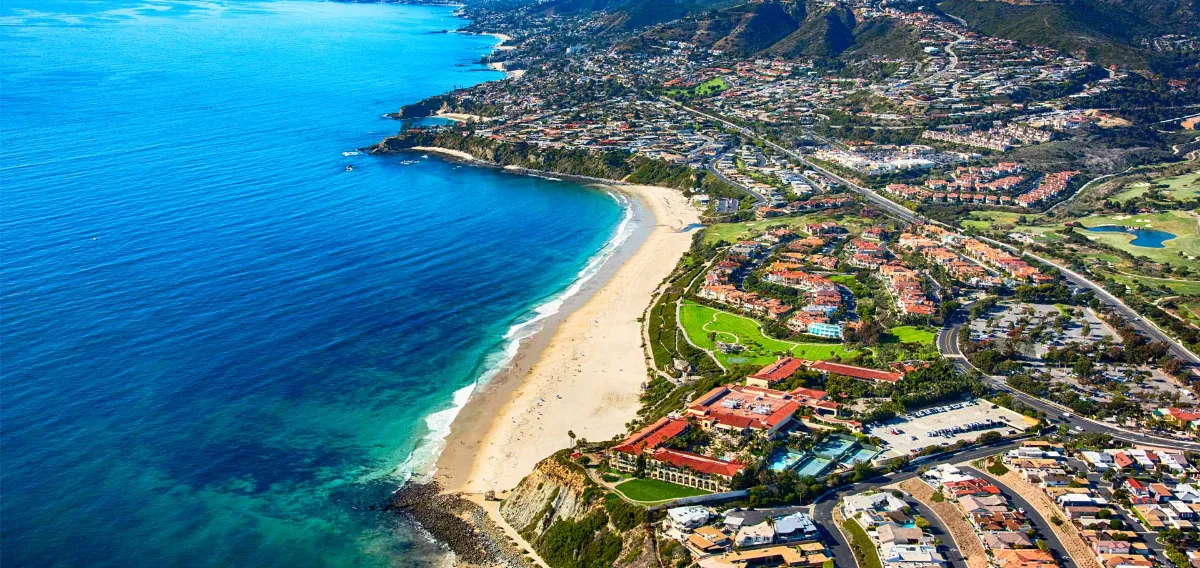 Orange County Movers
Orange County has been called a perfect place for those who dream of stress-free suburban life with nice outdoors, highly rated schools, fancy stores, and trendy hipster restaurants. The third biggest county in California attracts both older couples ready to retire and young people enjoying a peaceful and relaxed lifestyle. Moving to Orange County is also a dope place to live since the location is just an hour away from LA and San Diego. So you can enjoy a slow suburban life, the southern beaches of California, and the big cities' lights at the same time
Check all-inclusive rates
Moving to Orange County?
Located in the metropolitan area of Big Los Angeles in SoCal, OC has a population of over three million people (and it's the third-most populous county in the state). The biggest and the most populous cities of Orange County are Anaheim, Santa Ana, Irvine, Costa Mesa, Newport Beach, and Aliso Viejo. To inspire you to choose OC as a stunning place to live, we've raised the key benefits of moving to Orange County.
From frankly weird postmodern buildings to super-luxury mansions, Orange County is known for its fantastic diversity of real estate options. No matter what you are searching for, OC offers plenty of houses and apartments for rent and sale.
Basically, life in OC is much quieter and less stressful without the LA rush and 24 hours traffic jams. If you enjoy relaxed living in the suburbs, Orange definitely could be a good place for you. The county contains dozens of small cities next to each other that bring you the chance to explore different environments every weekend.
Beautiful beaches. Not many regions in California can hold a candle to the local beachfront of OC with its clear water, ocean cliffs, natural wonders, and super peaceful vibrancy as well. The most charmed are Laguna Beach, Newport Beach, and Huntington Beach.
Are you excited about pleasant sunny days? The climate of Orange County will bring you a lot of joy! If you are here for beachside living, you can take your daily dose of 'vitamin Sea' almost all year round. Aren't you dreaming about that?
A lot of historical sites
OC is a fascinating place for all those history lovers. For your information, Orange County has the second concentration of historic buildings in the state of California. Some of them were built over a century ago.
Really strong education system
There are some top universities in OC, including Chapman and Concordia University in Irvine, Anaheim University, and California State University in Fullerton. There are thousands of students around OC cities who specialize in business, law, management, and arts (especially professional filmmaking, after all, California is a filmmaking capital of the world).
Are you concerned about crime? Well, here's the good news for you. Comparing the crime rate in LA vs. OC, Orange County is a much safer area. Furthermore, according to the latest FBI crime statistics, most local cities have ranked among the top twenty safest places to live on the West coast.
OC is definitely one of the best places for family fun in California. Disney California Adventure Park is the most hyped local attraction. Also, take some time to see beautiful Dana Point Harbor, Balboa Island with its family amusement park, Irvine Spectrum Center, Huntington Beach pier, and many more spots. You also find a lot of outdoor activities, including long foothill hikes, biking, kayaking, beach windsurfing, canyon zip-lining, etc. Wine lovers are welcomed in numerous local wineries, usually full of delicious food and drinks.
By the way, Orange County is one of the most expensive places to live in the Golden State. Statistics data show that the cost of living in OC is over 50% higher than the national average. The Top five of the most expensive places in the county include Irvine, Laguna Beach, Surfside, Newport Beach, and Dana Point. The median home price starts at $885 per Sqft here. At the same time, real estate in Orange County is generally more affordable than in West LA, with its fancy neighborhoods and luxury houses.
Professional Office, Local and Long Distance Movers in Orange County
So you're excited to relocate to a new home in OC soon? It's essential to find professional movers and packers Orange County. Trek Movers is an experienced Orange County moving company that has provided customers with reliable, high-quality services since 2007.
Office Movers
Commercial moving is our specialty. Advanced office movers in Orange County will help you to pack and relocate all kinds of office equipment, including large pieces of furniture, electronics, and delicate stuff. All-inclusive relocation includes packing services (we provide all supplies), transportation, and unpacking. Professional movers in Orange County have access to moving supplies and equipment needed. So you can focus on your business, not on moving-related challenges during the relocation.
Home Movers
As residential Orange County movers, we handle stress-free house and apartment moves to, from, and within OC with care and ease. Whether items you need to deliver (such as heavy furniture, appliances, piano, antique, or whatever), our squad pays strong attention to the safety of your belongings and does everything possible to protect them from any damage during transportation. All-size residential moves are welcome.
Long Distance Movers
Long-distance moving makes you face a lot of challenges. Stressful packing, assembling, loading, and fear of damaging furniture, are almost inevitable while relocating. Plus, long-distance moving is usually quite expensive, so you have to think about your budget and prepare a proper plan. By hiring experienced Orange County movers, you can rid yourself of all the issues, since professional moving companies deal with any challenges with ease. If you're looking for long-distance movers Orange County, Trek Movers is the best solution for any needs and budget.
Local Movers
What do professional local moving services look like? The best movers in Orange County always provide excellent customer service, on-time scheduling, quality supplies, and professional equipment. And besides, local relocating within the county with high-skilled movers in Orange County is more cost-effective than DIY relocation. Our local movers Orange County will provide you with all-inclusive services and handle everything from A to Z.
Movers and Packers Orange County
Our favorite thing about relocating with a moving company is how smooth the whole process is. As the professional mover Orange County, Trek Movers does a majority of the organizing and logistics. So you always ensure everything goes right at every step. Because our team members clearly realize what is required to relocate to or within the OC area, we can easily anticipate the type of packing supplies, gear, and vehicles you will need for your specific move. We'll pack and load up your belongings carefully using proper equipment and covers to protect furniture, doors, and floors in the house.
We'll also pack and mark all your stuff in the right way to protect it during transportation (and it will help avoid frustration when you're preparing to move into a new apartment or office space). Even delicate items stay safe since we use a diversity of packing materials and right-sized boxes while packing.
Why Trek Movers is the best moving company in Orange County
Looking for reliable commercial and home movers Orange County CA with reasonable prices? Trek Movers won't let you overpay! We really love what we do, and there are some short reasons why customers call us the best movers in Orange County.
Quick and easy scheduling and booking process.
Regularly serviced professional gear and vehicles.
The friendly, highly-trained staff cares a lot about your goods and their safety.
The licensed and insured moving company from California you can count on.
Best pricing for businesses and individuals with fixed rates per hour.
We accept different forms of payment, including cash and credit cards.

Contact us to get a free quote or book your move to Orange County, CA, fully supported by the Trek Movers team.
Check all-inclusive rates
Trustworthy Reviews
Verified customers share their experience