Moving is not an easy task itself. And choosing a suitable moving company could be challenging. Here we list the main criteria for making the right choice. Let us explain to you how TrekMovers takes it to another level.
Definition of legit Moving Company. License, Insurance, Certifications.
First things first. You definitely want to refrain from engaging with dubious service providers. License is mandatory, and presenting a USDOT number should be fine for registered companies. Same with Certification and Insurance. Without checking this information, you never know whom exactly you trust with all your belongings.
Trek Movers is a licensed moving company based in California with an active moving permit issued by the Bureau of Household Goods and Service Division of Household Mover, regulated by the Department of Consumer Affairs and the California Public Utility Commission.
We proudly maintain a stellar reputation as a local and long-distance moving company in California, officially registered with all regulatory divisions. Trek Movers is regulated to provide a wide range of local and long-distance moving services for all residents and businesses within the Golden State.
For your reassurance, Trek Movers maintains all Certificates of Insurance at the top level to ensure all parties are protected, including Cargo Insurance, Worker's Compensation Insurance, General Liability, PL PD, BIPD, Limited Liability / Actual Value / Full Value Contents Coverage.
All-inclusive services and affordable, transparent rates.
There are numerous ways how a moving company can charge you extra. For example, fees for gas, packing materials, and disassembly work may be expected. Surprising are charges for staircases, heavy lifting, or walking distance. Who knows what else? The creativity of how exactly you can get scammed is unscalable. Well, we came up with a reasonable solution.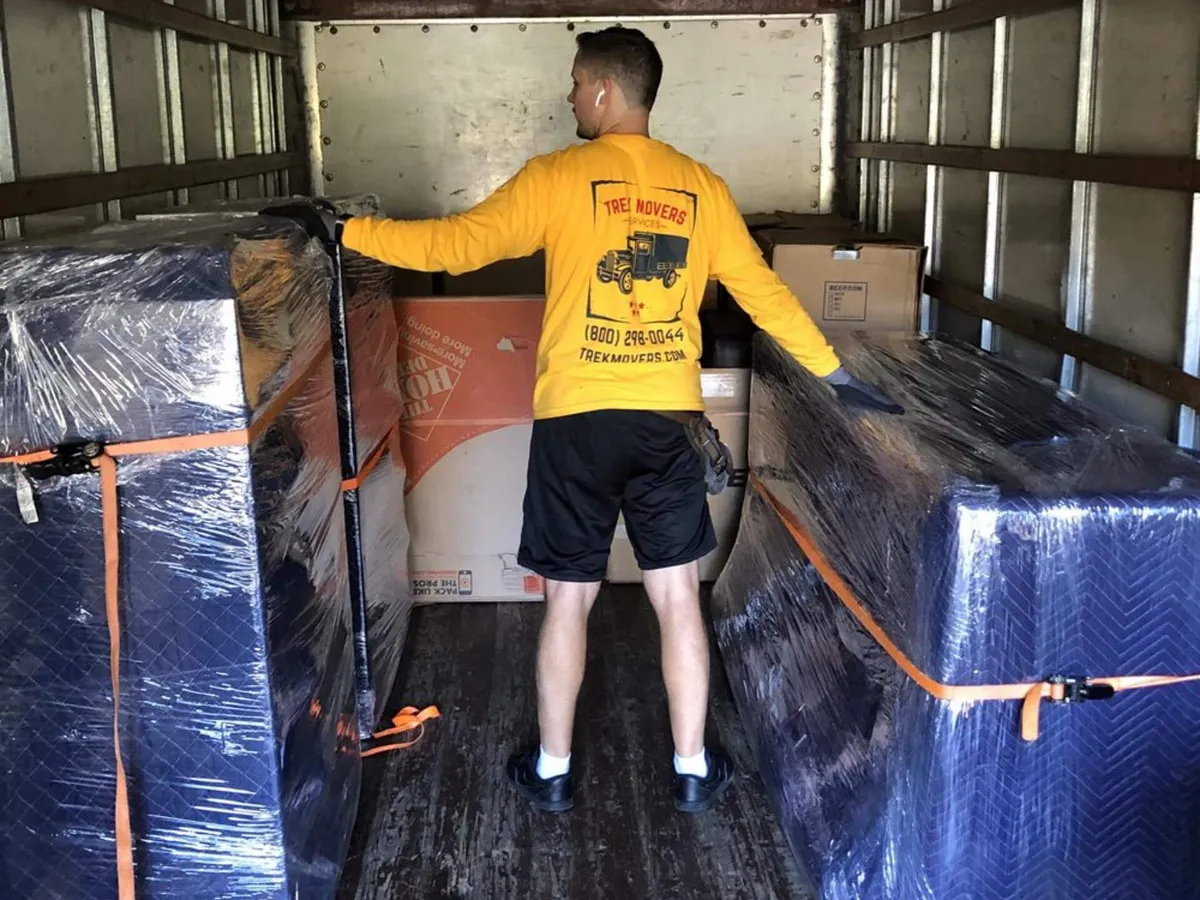 For the commodity of our customers, at TrekMovers, we offer hourly rates and flat rates. 
Flat rate targets big or long-distance moves. There is nothing to hide. Based on a virtual walk-through video call, our professional estimating department releases a flat rate for your moving project. That's it. You know exactly how much you pay. The rest is on us.
Hourly rate is different, but we did it as easy as possible. For your local move the procedure is as follows: you get an hourly rate, which depends on the size of your crew, moving date, and distance from the area of service. Following the company's policies and CPUC regulations, we apply three hours minimum and double drive time in case when distance is more than ten miles.
Service we include in your hourly rate:
The truck is included, obviously. We don't charge you more for a bigger truck. We assign a best-fitting vehicle for your project with no additional fees.
Protective furniture wrapping. We cover your furniture with moving blankets and plastic wrap to prevent it from being damaged and to keep it clean during the move.
Packing services. No matter if you need full packing assistance or just for a few fragile items that you left unpacked. It is included in the hourly rate. Just share with us your moving inventory list.
And to make it even more pleasant for our customers, TrekMovers offers you a list of on request services that are complementary:
All reusable packing materials, such as moving blankets, wardrobe boxes, TV boxes, are offered free of charge for the duration of moving project.
We provide you with cardboard boxes, bubble wrap, and plastic wrap in the required quantities for the needs of your move. Free of cost.
All necessary furniture disassembly and reassembly services are offered. You don't need to pay extra for that.
Extra stops for additional loadings or multiple unloadings are free. The truck is at your service.
We unmount your TV from the wall and carefully pack it into the box. You pay nothing for unmounting, nor use of a TV box, as mentioned.
Blank Certificate of Insurance for your Building Association, to reserve parking space and elevator.
And, of course, you pay nothing for staircases, walking distance from parking, heavy items, gas, cubic volume or total weight of your items, etc. No extra charges or hidden costs. And not to mention free quotes and booking. Just let us know 48 hours prior in case of reschedule or decision not to move, and we will figure that out. No deposits or down payment for local moves.
Trustworthy professionals.
Established in 2007, TrekMovers keeps the indisputable reputation of a reliable moving company. With thousands of moving projects and hundreds of reviews on various platforms from satisfied customers.
We perform only dedicated delivery without sharing truck space. The industry's best highly trained packers and movers with years of experience are all insured and background-checked. This way, our customers can be sure they are served and protected legally.
High-level service, personal online cabinet, support line, and pleasant interaction with representatives. Every move with a Trek Movers team is supported by a dedicated project manager who assists you at every step of the relocation.
Our commitment to exceeding your expectations is the cornerstone of our company. This is why we are considered the best moving company by thousands of delighted customers.