Even the idea of moving an apartment can be overwhelming and lead to a higher stress level. At one point we all dream to hire a magical moving company that will relocate all our belongings while we are asleep. Unfortunately, the reality requires massive planning and an exhausting workload to finalize the apartment move. You have to find apartment movers, manage logistics and timing, clear all utility bills, pack all belongings, and fit into the budget.
A Checklist for Moving Into Your First Apartment
To help you keep everything under control, take advantage of the Apartment Moving Checklist that splits the entire process of apartment moving into 7 week-long steps.
7 weeks before the move: Give a notice and select a moving company
Apartment managers often require an 8 weeks notice, so to avoid any potential problems, you need to give a notice beforehand. Additionally, positive references for the on-time notice are beneficial too. Make it official — give your notice in a written form. Besides, you can ask about any special requirements for apartment moving, whether you have to arrange a schedule or get any permits from building management or parking.
Next, do some research about moving companies. Every situation is unique; you may need a local or long-distance moving company, full-service or only truck rent. Check out rates, a range of services, insurance, and customer reviews. For example, TrekMovers, a California-based moving company, offers a full spectrum of services that you may choose from; besides, you can get a free online quote for your unique move and even free in-person or virtual estimation.
Another important aspect is to stop buying new things. Whether you hire movers or opt for DIY moving an apartment, the more you own, the more you have to move.
6 weeks before the move: Get organized
Based on your research, choose and book an apartment moving company. You'd better finish some formal requests now.
You can agree with the moving company about the in-person estimation of your apartment move — do not skip this step as you need to be ready financially to avoid any unpleasant surprises later. Some full-service companies do not charge for this service. Discuss and arrange the date of your move.
Try to establish a moving budget that includes the cost of movers, packing supplies (for DIY packing), and anything you might need for your new apartment during the first days.
5 weeks before the move: Planning
Once you have made the major arrangements, you can proceed to detailed planning. If you do not book packing services, this is high time to order or collect your packing supplies.
Do not forget to get a floor plan for your new apartment to simplify the sorting of your belongings. You still have plenty of time to sell furniture items you won't need at your new place.
Do research on doctors, vets, sports clubs, and other facilities and services in your new location.
Arrange a special folder or bag for all important documents to keep close at hand. As your home is getting into sorting and packing, it is easier to find documents if you know they are stored in a dedicated place.
4 weeks before the move: Sorting out and decluttering
Next, you come to the most tedious stage of your apartment moving checklist — sorting out all your belongings. Actually, moving an apartment is a great reason to get rid of things that are broken or not used. Decluttering is particularly important when you downsize and move from a larger apartment or house to a smaller apartment.
First of all, sort out the things you don't need in a specific place. Throw away all broken items. Next, you have several options to free up the space (and reduce the total move cost) from items that are in good condition but you don't need anymore:
Garage sale. Arrange the date and inform neighbors about the upcoming Garage sale. You may even prepare some smaller presents for customers.
List some items on Craigslist. You can sell some home décor items or furniture that won't fit in your new apartment and earn some extra money to add up to your apartment moving budget.
Charity. Check for local drop-off stations of Goodwill, ClothingDonation.org, or other charity organizations or schedule a pick-up. Make sure your items are not broken and in good condition.
3 weeks before the move: Make all arrangements
Many tasks may go entirely out of your mind: tackle down cancellation for your utilities and apply for services at your new place, and make changes in your address for the services you use regularly. Sort out all aspects of your moving and renters insurance. Do not forget to cancel memberships you won't need anymore, for example, gym or mail service.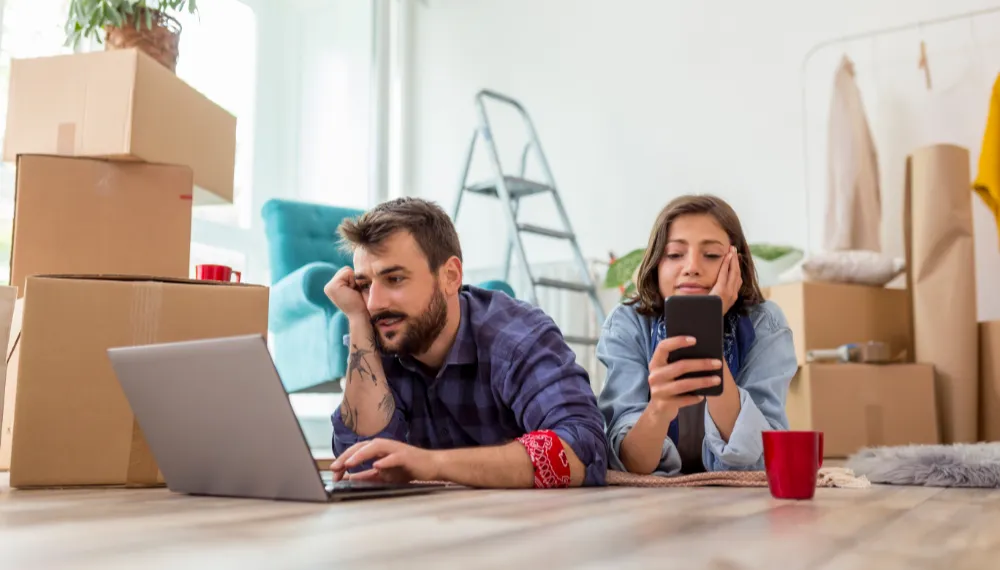 If you have pets, try to plan a visit to the vet and update all vaccines, certificates, and medication. By the way, you can ask the vet for recommendations for a new vet clinic at your new location.
2 weeks before the move: Packing and cleaning
If you book full-service movers, they will provide all packing supplies and do the packing. Full-service companies might seem costly, but they save you a great deal of time and free you from all the packing hassle, making your apartment move headache-free.
When you opt for self-packing, you'd better get packing. The rule of thumb states that you always have more things than you think. Start with items you don't use regularly, such as books, home décor, off-season clothes, home appliances, etc. Label all boxes by room and attach shortlists of items — this will simplify unpacking at a new place.
Learn more: How to pack books for moving, How to pack pictures for moving
Remember to set aside an "essential box" and keep it aside from all other boxes.
Based on your budget, make your old apartment move-in ready, clean the place or schedule a cleaning service.
1 week before the move: Checking everything
As the moving day comes closer, finish packing up. It feels great to see everything packed ahead of time.
Now is the time to change your address for banks and credit cards. Prepare some cash for tipping movers.
Get all confirmations from the moving company, and double-check that utilities are ready in your new apartment. Now all your worries about how to move into an apartment are vanishing into thin air as you are halfway through.
Look through your apartment moving checklist once more to ensure you didn't forget something important.
Moving Day
The day you've been getting ready for the last several weeks. Whether you go with professional movers or do a DIY move, keep up with your pre-arranged schedule.
Confirm with the movers timing and prepare your personal luggage. Load your car or check the airline schedule (if you move long-distance).
Check your now-old apartment to be clean and ready to move-in in compliance with your rental agreement. In some cases, you need to do a walk-through with a property manager to ensure the apartment is ready for new rentals. Document the condition of the apartment — this is important to get your security deposit back.
Make sure to return your apartment key before leaving for your new place. That's it.
You are most likely to arrive at your new location ahead of the movers, so you will have time to prepare a parking slot, and unlock gates and doors.
Learn more: What to do on Moving Day
FAQ
| | | |
| --- | --- | --- |
| Home size | Number of Movers | Number of Hours |
| Studio/1-bedroom apartment | 2 movers & truck | 3-4 hours |
| 2-bedroom apartment | 3 movers & truck | 6-7 hours |
| 3-bedroom apartment | 4 movers & truck | 8-12 hours |

Perhaps you weren't aware of seasonal discounts for moving services. Yes, moving rates vary based on the season. Summer months are considered a high season because many families plan their moves during school holidays. Thus, the best time to move into an apartment is during winter and fall when rates are lower — you can cut down on apartment moving costs.

The cost of local and long-distance moves varies significantly and largely depends on the scope of work and the distance (for long-distance moves).

Approximate rates per hour for local moves:

2 movers & truck (studio or 1-bedroom apartment): $120-$140 per hour.

3 movers & truck (2 bedrooms): $160-$180 per hour

4 movers & truck (3 bedrooms): $180-$220 per hour.

Approximate long-distance moving rates:

1 bedroom: $1,500 – $5,000

2 or 3 bedrooms: $2,300 – $8,900.

If you need moving help, do not hesitate to contact TrekMovers and inquire about your specific situation and the services you need. Employing a professional approach to all aspects of relocation, from free estimation service to final unpacking at your new apartment, TrekMovers make your apartment move easy and stress-free.