Known as the majestic Golden State, California is the dream destination for many Americans and foreigners. But the state isn't uniform in its lifestyle: sun-lit LA (aka City of Angels) with endless entertainment and attractions can't be more different from misty SF (aka Golden Gate City) famous for its redwood forests and urban lifestyle. San Francisco vs Los Angeles: Where is it better to live?
Moving from San Francisco to Los Angeles
Is There Sense in Moving from San Francisco to Los Angeles?
California, and Los Angeles in particular, is considered one of the happiest places in the world. According to numerous researches, residents of Los Angeles are far happier than people living in other states or even other cities in California. San Francisco is a tech hub that magnetically attracts IT specialists by high salary rates and proximity to the ocean. Watching life in these two cities differs from living there. Before planning relocation, you need to know the distinctive features of these two cities.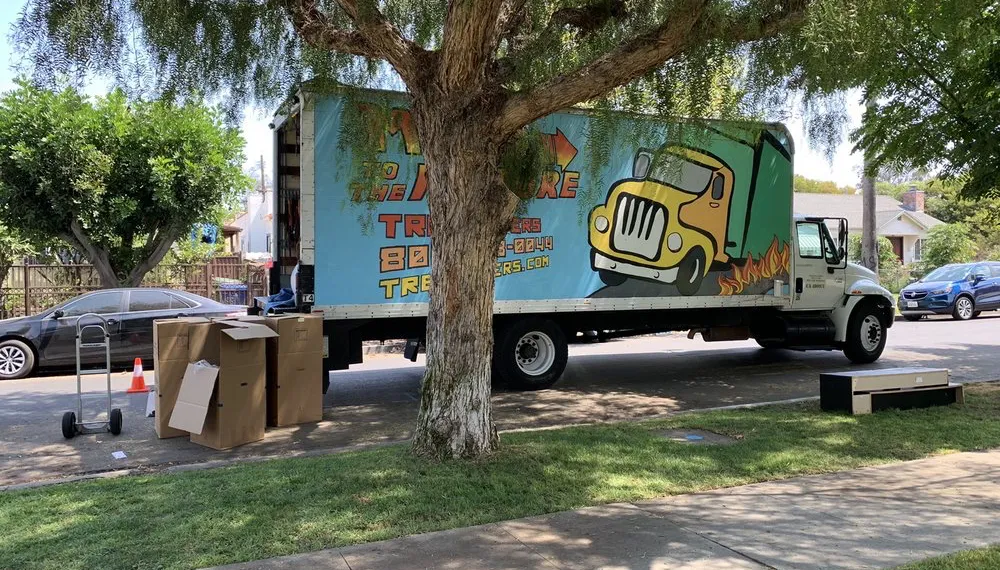 LA vs. SF: Pros and Cons
It is a well-known fact that the climate in California is fantastic and good for life. Though both cities are located in the same state and characterized by the Mediterranean climate, there are slight differences in weather, facilities, transportation, and quality of life. Both cities have fantastic neighborhoods, Silver Lake and The Mission, full of great places to eat, tree alleys, and bike paths.
Relocating from San Francisco to Los Angeles, you will appreciate warmer and less rainy weather. However, annoying SF fog wins over typical LA smog in the "LA vs. SF" battle. Generally, to maintain the same level of life (in a rented apartment) in San Francisco and Los Angeles you will need around $8,340 and $6,400 respectively.
Real estate, more precisely, prices for apartments and houses, is the main downside of living in both San Francisco and Los Angeles. However, the cost of living in San Francisco is 35% higher than in LA, even though both locales are in California.
But let's see in detail all the advantages and disadvantages of living in both cities.
Pros and cons of living in Los Angeles
If you move from San Francisco to Los Angeles, you will feel LA as vast and huge after the quite compact infrastructure of SF. The LA climate is heaven with mild and sunny days around the year. LA beaches are better: less rocky, sandier, and warmer (it is a few degrees warmer in LA compared to SF).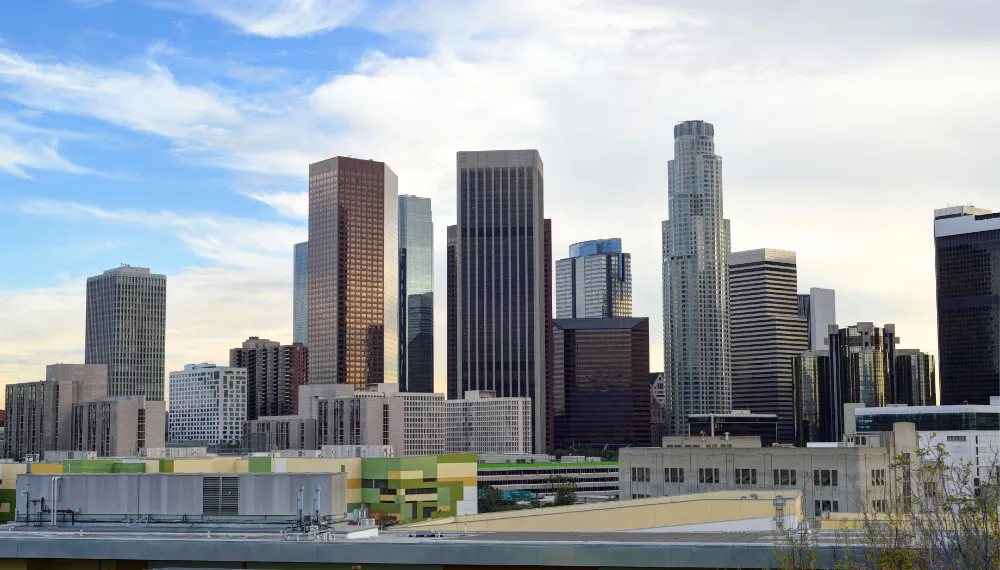 Traffic & Transportation
New LA residents are getting frustrated with terrifying LA traffic. You can hardly notice public transportation in LA. While the north of the state can be proud of its well-developed public transportation network, LA is renowned for its auto crowds, traffic jams, and commuting delays. So, getting around Los Angeles is not the best experience.
Relocating from San Francisco to Los Angeles, you might notice typical LA smog (yes, heavy traffic is the main reason) — the worst ozone pollutants compared to other states. Despite ecology activists' efforts that led to some progress in environmental protection, the problem still persists.
Business & Employment
The top industries in LA are e-commerce, gaming, aerospace, medicine, biopharmaceuticals, tourism, and online media. Naturally, employment is severely influenced by the proximity of Hollywood.
Sometimes the LA employment market is called Silicon Beach which is easily explained by lengthy sandy beaches and surfing activities all year round. To name only a few from Silicon Beach companies: Google, Hulu, Snap Inc., The Aerospace Corporation, Headspace, GoodRx, SpaceX.
If 15 years ago Los Angeles was more known for its entertainment industry, now it is more of an entrepreneurial hub that hosts various tech talents and businesses, including Tinder, The Honest Company, Factual, etc.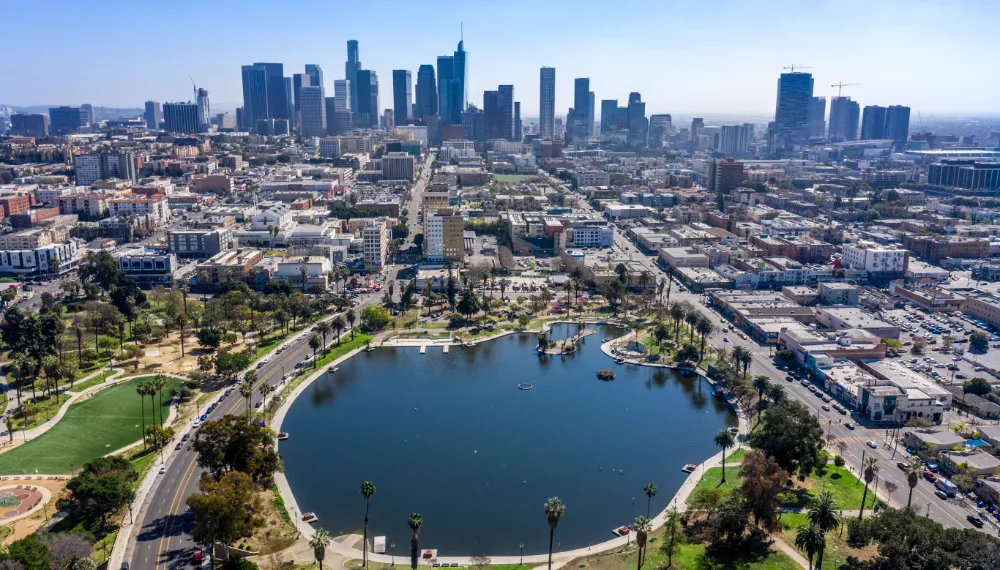 Further promotion and development of the tech industry and business are ensured by yearly graduates from UCLA, USC, Cal tech, LMU, and Harvey Mudd. Speaking about education, LA has an established network of schools, public and private. Judging by SAT results, an average result of 1070 in LA is a tiny bit higher than 1050 in San Francisco.
With many investors being residents of LA, unemployment rates are low in LA (but a bit higher compared to SF). LA is home to many tech and entertainment startups.
Activities & Entertainment
Another interesting nuance of living in LA is that you can literally run into celebrities everywhere — while shopping, getting manicured, or visiting a pet groomer.
Activities in LA won't let you feel bored or exhausted from your daily routine: sunbathing and swimming, sailing, surfing, fishing, hiking, biking, and camping are just a few options of the myriad of possibilities. Besides, you cannot just ignore Disneyland (26 miles from LA), Pacific Park, or Universal Studios Hollywood. Additionally, grand events like the Los Angeles Marathon and California Strawberry Festival are held in LA.
The major benefit of moving to LA is the lower cost of living: lower home & rent prices, lower utility bills, and even some groceries are cheaper than in SF.
Pros and Cons of living in San Francisco
SF architecture is impressive: SF residents sometimes say that SF looks like an architecture museum. Again, LA has its fantastic Disney Concert Hall, but still, it cannot beat the variety SF offers.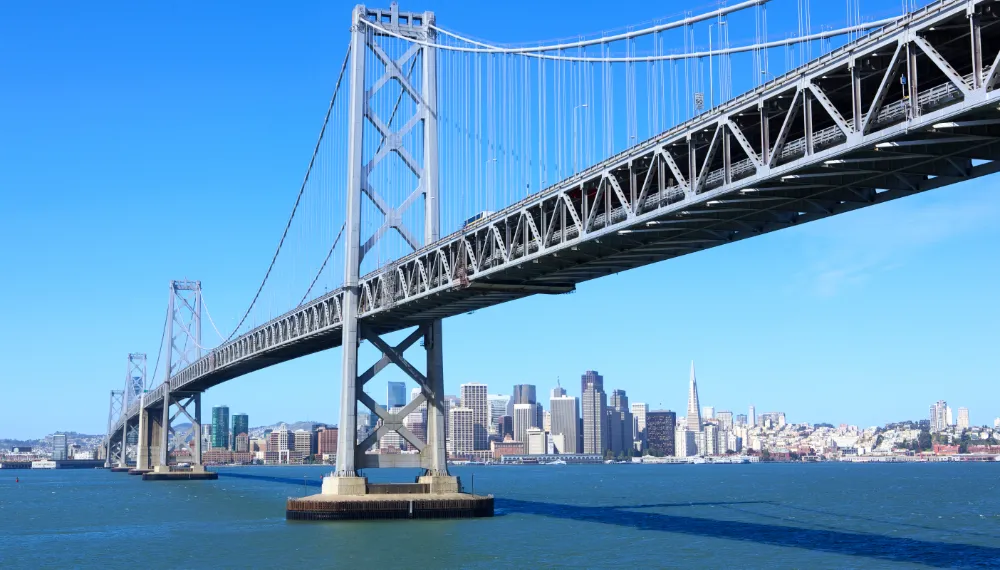 Traffic & Transportation
SF is more compact in its footprint; add here a great system of public transportation, you can get around the city with no problems. Besides, there are many walkable areas with green tree-planted parks.
Redwoods in San Francisco are gorgeous — this is definitely a thing to miss after moving from San Francisco to Los Angeles. Awesome parks in SF are a clear advantage because down south of the state the park culture is not really established at this scale. In LA you probably can't move around without a car, while you can reach almost everywhere in SF.
Business & Employment
San Francisco is the home of many companies within the tech industry. Meta, PayPal, Apple, Microsoft, Adobe, Dell, Blend Labs, Salesforce, Dropbox, Okta, Oracle, and many other world-known businesses have offices in SF.
Despite the recent growth of LA entrepreneurs, San Francisco has been dominating in the number of tech startups and business investors. Besides tech businesses, fashion apparel, healthcare, tourism, and education industries are developed in SF. This fact explains pretty low unemployment rates and high levels of salaries.
Higher education is represented by an impressive number of 25 universities. UC Berkeley (SF) is highly reputed internationally and doesn't require an introduction.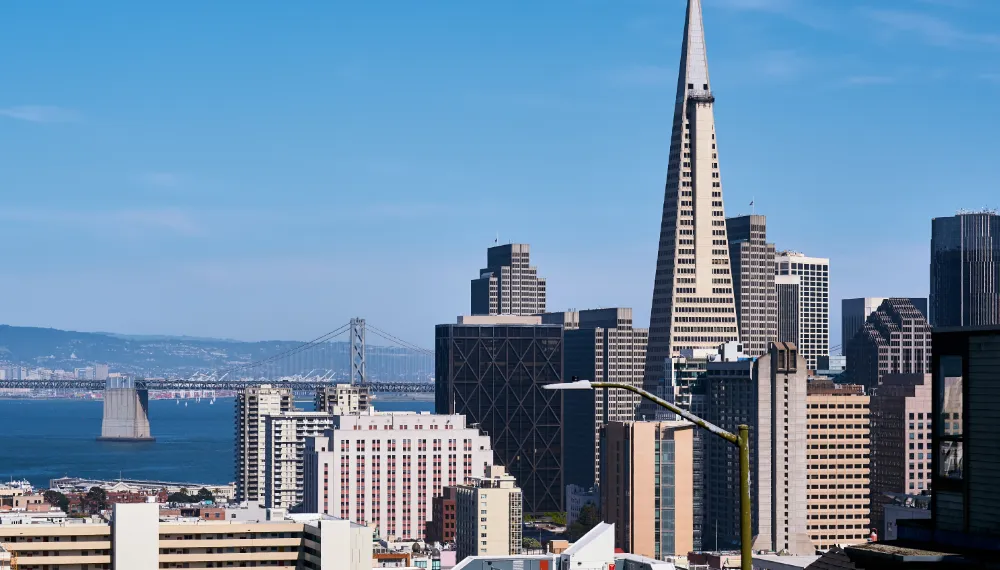 Activities & Entertainment
Entertainment in San Francisco is comparable to LA, but the main benefit is that everything is compact and you can reach places easily, walking or by public transport. You need numerous weekends to visit all the landmarks (San Francisco Opera, the awesome Golden Gate Park, and so on) around the city: museums, parks, live music spots, festivals, and high-style events.
Dining options are never a problem in SF: premium-level restaurants, Chinese & Japanese cuisine, 50+ Michelin-starred restaurants, and countless smaller cafes & restaurants. Sure, you can find top chefs' restaurants and cafes in LA, but SF takes food to an entirely new level: SF's Chinatown should be a special gastronomic landmark for tourists.
Key Takeaways
When you have doubts about moving to San Francisco you often ask yourself and search Google for the answer to the question: Is San Francisco better than Los Angeles? Jumping ahead, there is no right answer as every situation is unique.
One aspect that allows grouping SF and LA in one category is that you need to make a decent livelihood to feel comfortable in both cities. Yep, California is known for its high costs.
To summarize, let's arrange all major aspects of life for both San Francisco and Los Angeles in the following chart:
SAN FRANCISCO VS. LOS ANGELES
Param.
San Francisco
Los Angeles
Cost of living
Expensive;
average monthly cost of basic utilities $206;
rent for 3-bedroom apartment (city center) $6 852
Expensive (more budget-friendly than SF);
average monthly cost of basic utilities $148;
rent for 3-bedroom apartment (city center) $4 432
The average home price
Starting from $1.46 million
Starting from $707,000
Rent costs
The average rent is $2,900
The average rent is $2,350
Climate
Average temperature 15.6°C,
average maximum temperature 19.8°C
Average temperature 19.7°C,
average maximum temperature 25°C
Education
25 universities
10 universities
Safety
6,175 crimes/100,000 people (69% higher crime rate compared to LA)
3,115 crimes/100,000 people
Pollution
Medium, Air quality index 27 (lower pollution rate)
High, air quality index 59 (higher pollution rate)
Health Care
High level, more expensive than in LA
High level, higher than the country's average
Activities
Museums 48, parks, sandy beaches
sports facilities (20,000+ seats) 2
Museums 100, numerous parks, beaches,
sports facilities (20,000+ seats) 3
Public transport, traffic
Well-established system of public transportation; traffic is medium; 2 airports;
average commuting time 34 min
Public transportation is not developed, traffic jams; 5 airports;
average commuting time 290min
Job market
Unemployment rate 7.8%,
average salary $8 010;
job opportunities 9/10
Unemployment rate 8.7%,
average salary $5 830;
job opportunities 8.5/10
Quality of life
#34
#64
*
(out of 221 cities, source – Mercer, 2022) based on 39 criteria, including safety, education, hygiene, healthcare, environment, culture, recreation, public transport, and political-economic stability
How to Move from SF to LA
Relocation is always stressful: you change not only a city, but your habitual environment, job, kindergartens & schools for your kids, neighbors, sports facilities, and favorite dining places. If you are a student, moving to Los Angeles or any other city is pretty easy: you pack your belongings, buy a train ticket or drop suitcases into a car and get to your new destination. Relocation with a family to a new house is more complicated and requires a good deal of time. The best solution in this situation is to hire professional movers.
Whether you relocate from San Francisco to Los Angeles or from LA to SF, full-service moving companies can take over most chores associated with your move.
The shortest San Francisco to Los Angeles distance by car is a bit over 380 miles (around 600 km); if you want to enjoy the beautiful scenery on the way, you have to drive for 450 miles. So, while movers are delivering your stuff, you can drive your family to the new location and see the gorgeous Californian landscape, or simply book airline tickets.
The moving cost from San Francisco to Los Angeles
The cost of moving from San Francisco to Los Angeles may vary significantly and depends on several factors, such as distance, volume and weight of your items, additional services (packing & unpacking), and additional supplies. The average cost of relocation from SF to LA is from $1 500 to $2 500; for example, the average cost of moving a 1-bedroom apartment is around $1,400. However, full-service house moves are more expensive.
In fact, the costs of moving to San Francisco may differ slightly; thus, a free quote from TrekMovers is really helpful to get an idea of the total costs. For more precise calculations you can request in-person or virtual estimation.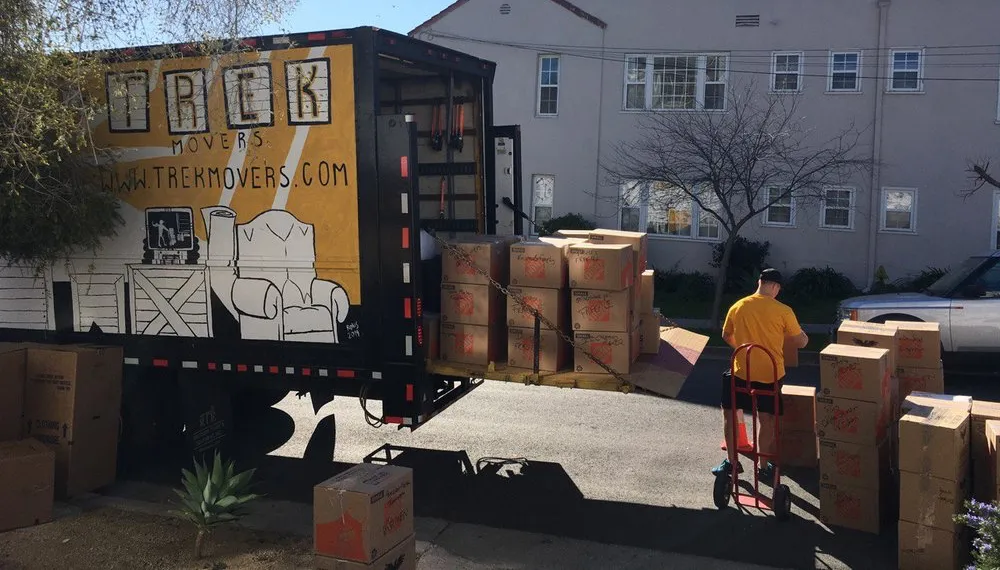 San Francisco to Los Angeles Movers
While planning a move, search for well-reputable movers to handle your relocation. Once you've made a shortlist of reliable moving services, check not only customer reviews but license and insurance details too.
If you have decided on moving from San Francisco to Los Angeles, contact TrekMovers, legit experts in long-distance moving, and get a free quote. The professional team understands your worries and provides a fully-customized move plan to ensure that your move from San Francisco to Los Angeles is easy and stress-free.