California is a dream locality for both Americans and people from all over the world — this is a stark fact. Los Angeles is famed globally. However, a new trend is getting clear — LA residents are moving from Los Angeles to San Diego. Why do more and more people leave the City of Angels for San Diego? What is the reason for moving to San Diego from Los Angeles? Let's dive in and get to know more about San Diego.
San Diego vs. LA
In fact, Los Angeles and San Diego share many things in common: California, a mild Mediterranean climate, ocean coastline, top-notch employers, and a high cost of living compared to the average across the US.
LA residents moving to San Diego will be pleasantly surprised with San Diego traffic after the daily congestion so characteristic of LA. A huge difference in traffic can be explained by the higher density of population in LA. The San Diego population is 1.39 million — this is around one-third of the total number of LA residents.
The less tense San Diego lifestyle attracts leading specialists in many industries not only by well-paid jobs but by uncountable recreational opportunities and outdoor activities. The San Diego climate is milder than in Los Angeles and warmer than in San Francisco; it is favorable for all sorts of beach activities, as well as biking, hiking, and various outdoor sports. You'll have to spend a couple of hours in a car before you can dip yourself in the ocean.
One of the key benefits of moving from Los Angeles to San Diego is the lower cost of living: still pretty expensive but not sky-high housing, and a less fierce job market with higher average salaries compared to LA.
| | | |
| --- | --- | --- |
| | San Diego, CA | Los Angeles, CA |
| Median home cost | $812,100 | $883,400 |
| Homes owned | 43.5% | 34.1% |
| Average rent | $2,649 | $2,665 |
| Studio rent | $1,344 | $1,370 |
| Commute time | 24 min | 53 min |
| Cost of living/month | $5,900 | $6,160 |
| Unemployment rate | 6.6% | 10.6% |
| Median household Income | $85,507 | $67,418 |
| Population | 1.39 million | 4.04 million |
| Air quality | Moderate | Low, smog |
| Average salary | $5,476 | $5,830 |
Sources: bestplaces.net & datausa.io & versus.com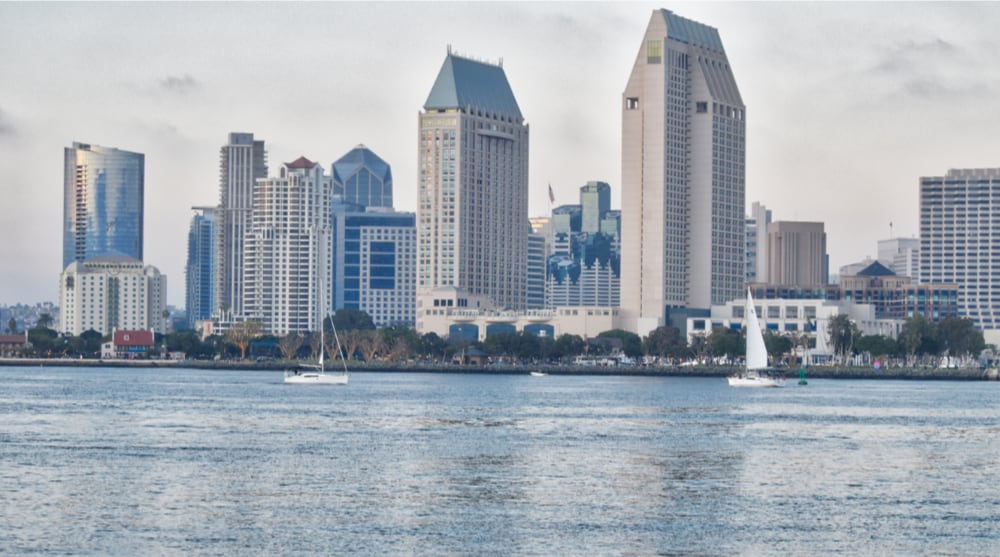 Life in San Diego
Less crowded and a bit less expensive life in San Diego is a heaven for nature lovers and active lifestyle advocates. Natural parks (the famous Balboa Park is in SD!) and preserves (Torrey Pines State Natural Reserve) reveal the biological diversity of wildlife and provide terrific opportunities for hiking and camping. The fascinating San Diego Zoo and Legoland are must-visit places for adults and families with kids. On weekends, you may meet many San Diegans driving to the beach with kayaks and surfboards on top of their cars.
San Diego is proud of its second-largest US school district: top-qualified educators and teachers have been moving to San Diego in recent years attracted by higher salaries — several San Diego public schools are listed in the top 100 nationwide. School graduates can continue education at San Diego State University, National University, the University of California, or the University of San Diego.
Many international and national enterprises have chosen San Diego as their headquarters, including Qualcomm, Sharp HealthCare, the US Navy, Csl, Petco, Sempra Energy, General Atomics, Pulse Engineering, Amazon, UPS, etc. Companies that are specialized in hi-tech, bioscience, IT, tourism, education, and military industries are among the top employers.
If you consider moving to San Diego, you might have heard that the city is also known as the Craft Beer Capital. With 150 breweries located in San Diego, you will surely find your favorite flavor. When it comes to dining, San Diego offers restaurants and cafes for any taste and budget, from small burger cafes with open verandas to classy elegant restaurants that require dressing up. Moving to San Diego from Los Angeles in a pursuit of a less bustling lifestyle, you will most likely have no regrets: sunlit & modern San Diego makes everyone fall in love with the city.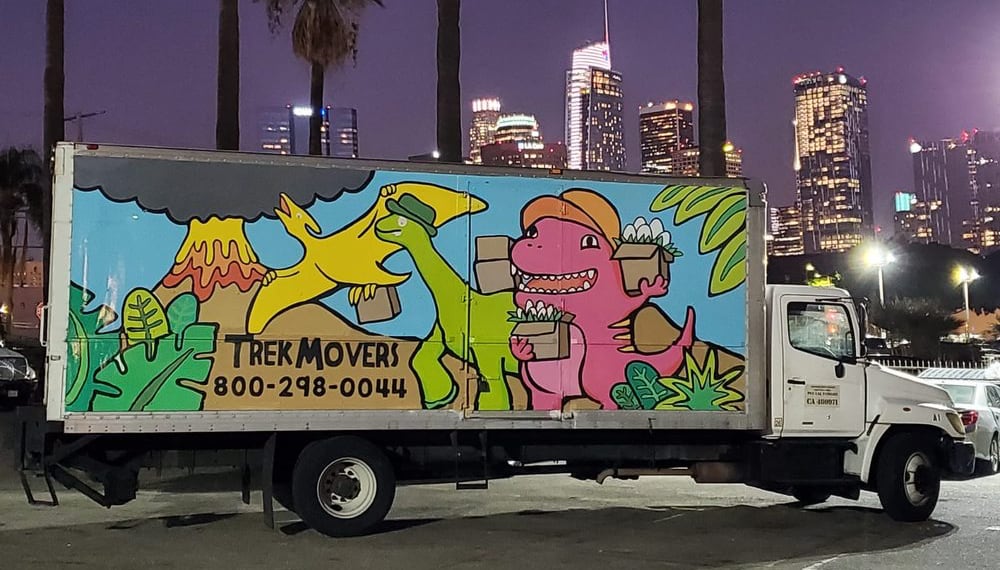 How to Move to San Diego
Moving from Los Angeles to San Diego you have several options: DIY move, portable containers, and moving companies (Los Angeles to San Diego).
A DIY option can be suitable for freshmen going to San Diego for university or college studies or single individuals with a minimum amount of possessions. If your car is large enough, you just load several boxes with personal items, and that's it. Another option is a truck rental. Simply put, you just pay rental fees but all other expenses, including fuel costs, and workload will be heaped on your shoulders. This is the cheapest option.
Portable containers represent a more flexible option because you will pack and load the container at your own pace. The company will pick it up at the specified time and deliver it to your new address. Additionally, some companies offer storage services. Rates usually depend on the size of a container you need. As a rule, PODs won't cost you much but require a significant amount of time for preparing your stuff and loading the container.
If you need a well-planned seamless transition, you should be moving to San Diego with pros. Full-service moving companies will save you time, which is priceless. Compared to other types of relocation services, movers might seem costly but keep in mind that when you hire moving companies, Los Angeles to San Diego transfer will be completed most efficiently.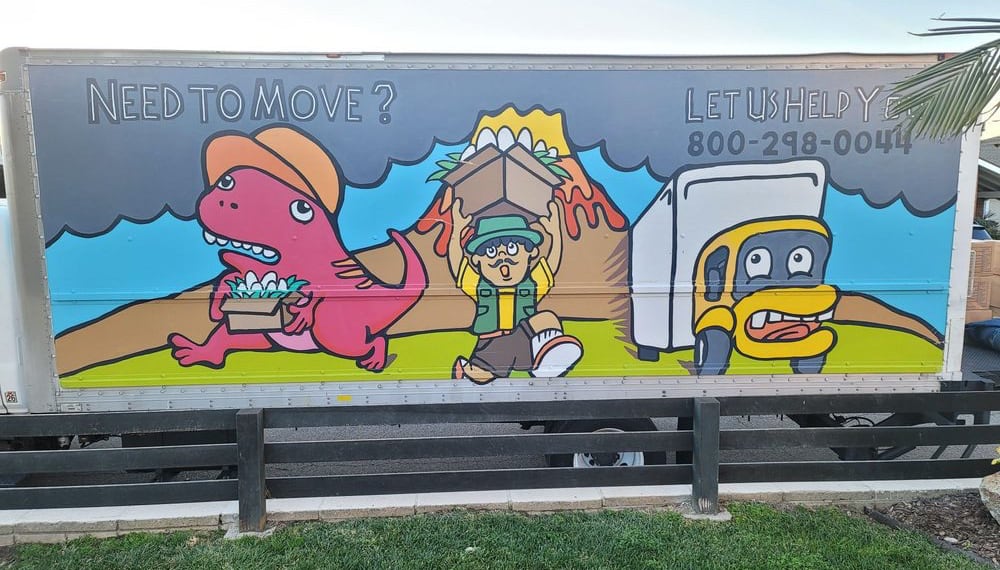 How to Find Reliable Movers: Los Angeles to San Diego
If you live in LA and need a trustworthy company, look at movers headquartered in California. With reputable movers Los Angeles to San Diego transition will be stress-free. To filter moving companies from scam, use the following checklist:
Do some research and select several companies.
Request free moving quotes and compare them.
Check if movers are fully registered, licensed, and insured.
Read online reviews on third-party platforms.
Check rankings on the BBB platform and use USDOT numbers to check for the history of operations on the FMCSA website.
Final thoughts
If you earn enough to cover the high costs of living in San Diego, you will find it the perfect place to live. Moving to San Diego from Los Angeles you will appreciate less density, lower noise level, better traffic, lower housing costs, and absence of smog which is a crucial downside in LA.
Once you've decided on moving to San Diego, look for California-based movers (Los Angeles to San Diego) — local pros are familiar with all existing state requirements and policies and offer lower prices than their counterparts headquartered in other states.