Rowland Heights Movers You Can Trust
Relocating or moving to a new home is definitely not on most people's top 10 list of personal favorites to do — or even on their top 100 list of favorite things to do. Along with being stressful, it's time-consuming and complex. But still, there are professionals in Rowland Heights who can make your moving as easy as a breeze. One of them is Trek Movers. With years of experience and hundreds of moves under our belt, we at Trek Movers' assured the safety of your items and a stress-free journey. We are always delighted to go above and beyond the extra mile to ensure your satisfaction and well-being. There would be two options: either you do all the laborious tasks on a moving day or hire the professional movers in Rowland Heights. Without a doubt, the second option is more reliable, and that's why we are here.
Check all-inclusive rates
Professional Office, Local and Long Distance Movers in Rowland Heights
So you're excited to relocate to a new home in Rowland Heights soon? It's essential to find professional movers and packers Rowland Heights offers you a wide variety. Trek Movers is an experienced Rowland Heights moving company that has provided customers with reliable, high-quality services since 2007.
Commercial Moving
Commercial moving is our specialty. Advanced office movers in Rowland Heights will help you to pack and relocate all kinds of office equipment, including large pieces of furniture, electronics, and delicate stuff. All-inclusive relocation includes packing services (we provide all supplies), transportation, and unpacking in a new office space. Professional movers in Rowland Heights have access to moving supplies and equipment needed. So you can focus on your business, not on moving-related challenges during the relocation.
Home Movers
As residential Rowland Heights movers, we handle stress-free house and apartment moves to, from, and within Rowland Heights with care and ease. Whether items you need to deliver (such as heavy furniture, appliances, piano, antique, or whatever), our squad pays strong attention to the safety of your belongings and does everything possible to protect them from any damage during transportation. All-size residential moves are welcome.
Long-Distance Moving
Long-distance moving makes you face a lot of challenges. Stressful packing, unloading, fear of damaging furniture, and assembling are almost inevitable while relocating. Plus, long-distance moving is usually quite expensive, so you have to think about your budget and prepare a proper plan. By hiring experienced Rowland Heights movers, you can rid yourself of all the issues since professional moving companies deal with any challenges with ease. If you're looking for long-distance movers Rowland Heights, Trek Movers is the best solution for any needs and budget.
Local Movers
What do professional local moving services look like? The best movers in Rowland Heights always provide excellent customer service, on-time scheduling, quality supplies, and professional equipment. And besides, local relocating within the county with high-skilled movers in Rowland Heights is more cost-effective than DIY relocation. Our local movers Rowland Heights will provide you with all-inclusive services and handle everything from A to Z.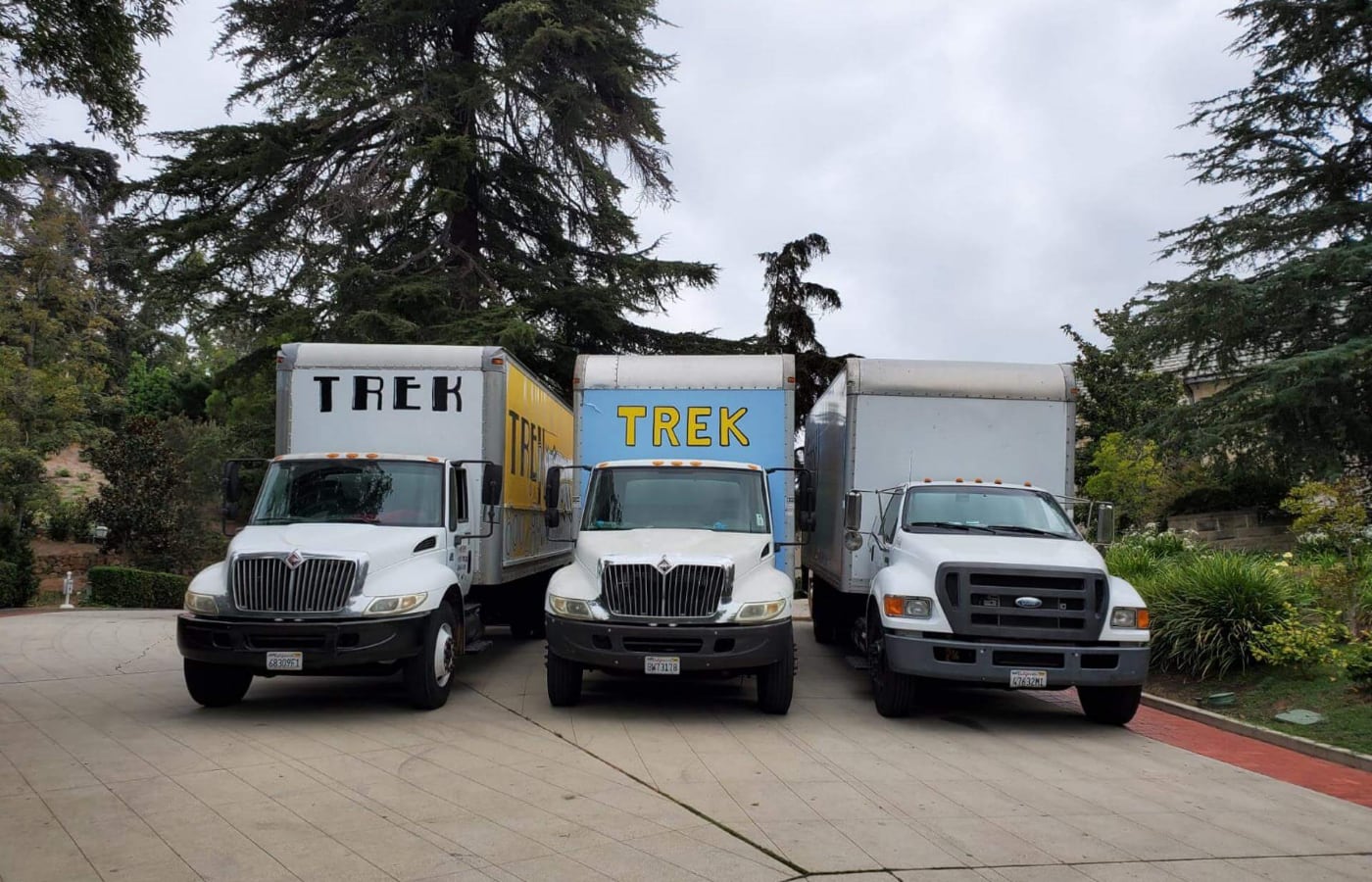 Average Local Movers Cost
Note that local moves are calculated by the cost per hour and the approximate number of hours required for completing work. Below you see the average cost of movers per hour for short-distance relocations:
Home
Size
# of Movers
# of Hours 
Cost per
hour 
Average Moving
Cost 
Studio/1-
bedroom
2 and a truck
3-4
 $120-160
$420+
2-
bedroom
3 and a truck
6-7
 $180-200
$1080+
3-
bedroom
4 and a truck
8-12
 $220-240
$1,760+
4+ house,
office
move
4+ and a truck
Vary on the size
of the
house/office
 $220-240
$1,760+
As you can see, the average cost of our movers is quite reasonable. And if you're looking for a more accurate estimate, contact us, and we'll be happy to provide you with a quote!
Why Trek Movers is the best moving company in Rowland Heights?
Still looking for reliable commercial and home movers Rowland Heights CA with reasonable prices? Trek Movers won't let you overpay! We really love what we do, and there are some short reasons why customers call us the best movers in Rowland Heights.
Quick and easy scheduling and booking process.
Regularly serviced professional gear and vehicles.
The friendly, highly-trained staff cares a lot about your goods and their safety.
The licensed and insured moving company from California you can count on.
Best pricing for businesses and individuals with fixed rates per hour.
We accept different forms of payment, including cash and credit cards.
Contact us to get a free quote or book your move to Rowland Heights, CA, supported by the Trek Movers team.
Resources
Contact us
2000 S Otterbein Ave, Rowland Heights, CA 91748, United States
Monday - Saturday
8:00am - 8:00pm
Pacific Time

Saturday
8:00am - 8:00pm
Pacific Time