TrekMovers - Moving Company in Mission Viejo
The unexpected relocation of a family or office creates a significant dissonance in everyday life. For many this is a serious test that can lead to depression or a nervous breakdown. Starting to pack things, people gradually become desperate when faced with a heap of various problems. The best way to deal with the problem is to ask professionals for support. TrekMovers can easily transport any amount of cargo, personal items, furniture, office equipment. The movers know their job thoroughly. They reliably pack fragile items, computers, televisions, refrigerators before loading and after delivery they will be sure to check. Real experts in their field will remove from the customer's shoulders all the problems associated with moving.
Check all-inclusive rates
Professional Office, Local and Long Distance Movers in Mission Viejo
So you're excited to relocate to a new home in Mission Viejo soon? It's essential to find professional movers and packers Mission Viejo offers you a wide variety. Trek Movers is an experienced Mission Viejo moving company that has provided customers with reliable, high-quality services since 2007.
Commercial Moving
Commercial moving is our specialty. Advanced office movers in Mission Viejo will help you to pack and relocate all kinds of office equipment, including large pieces of furniture, electronics, and delicate stuff. All-inclusive relocation includes packing services (we provide all supplies), transportation, and unpacking in a new office space. Professional movers in Mission Viejo have access to moving supplies and equipment needed. So you can focus on your business, not on moving-related challenges during the relocation.
Residential Movers Mission Viejo
As residential Mission Viejo movers, we handle stress-free house and apartment moves to, from, and within Mission Viejo with care and ease. Whether items you need to deliver (such as heavy furniture, appliances, piano, antique, or whatever), our squad pays strong attention to the safety of your belongings and does everything possible to protect them from any damage during transportation. All-size residential moves are welcome.
Long-Distance Moving
Long-distance moving makes you face a lot of challenges. Stressful packing, unloading, fear of damaging furniture, and assembling are almost inevitable while relocating. Plus, long-distance moving is usually quite expensive, so you have to think about your budget and prepare a proper plan. By hiring experienced Mission Viejo movers, you can rid yourself of all the issues since professional moving companies deal with any challenges with ease. If you're looking for long-distance movers Mission Viejo, Trek Movers is the best solution for any needs and budget.
Local Movers Mission Viejo
What do professional local moving services look like? The best movers in Mission Viejo always provide excellent customer service, on-time scheduling, quality supplies, and professional equipment. And besides, local relocating within the county with high-skilled movers in Mission Viejo is more cost-effective than DIY relocation. Our local movers Mission Viejo will provide you with all-inclusive services and handle everything from A to Z.
Packing Services
Our favorite thing about relocating with a moving company is how smooth the whole process is. As the professional mover Mission Viejo, Trek Movers does a majority of the organizing and logistics. So you always ensure everything goes right at every step. Because our team members clearly realize what is required to relocate to or within the Mission Viejo area, we can easily anticipate the type of packing supplies, gear, and vehicles you will need for your specific move. We'll pack and load up your belongings carefully using proper equipment and covers to protect furniture, doors, and floors in the house.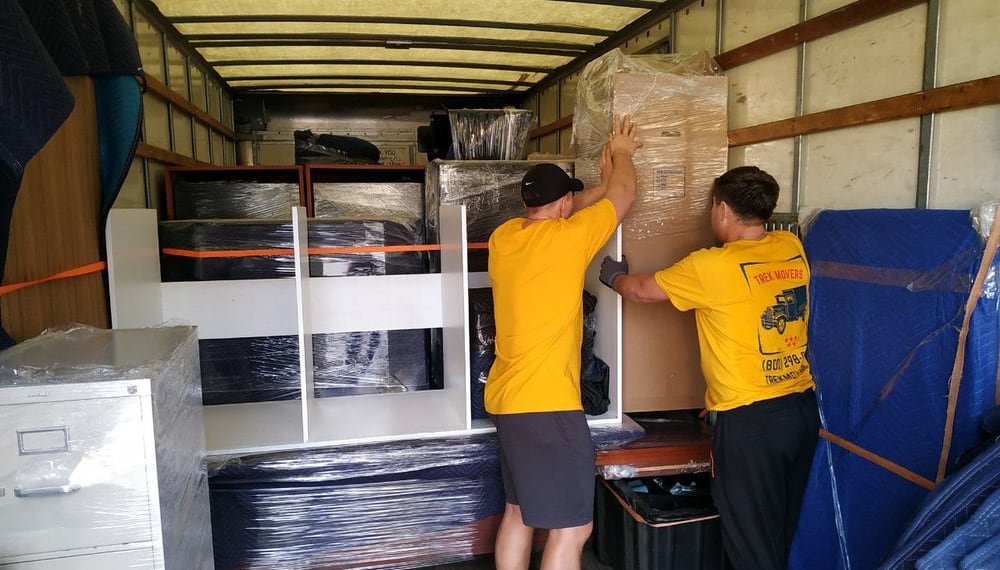 How to book an order from movers in Mission Viejo?
There is convenient, simple application form for the transportation of any amount of cargo. Moving company in Mission Viejo will instantly respond to SMS or e-mail messages. When filling out the order form on the site, do not forget to indicate the place and time of loading and unloading. Exactly, correctly spell the name, surname. Be sure to leave two phone numbers on which you can support round-the-clock communication. If you change the time, terms of loading, call the dispatcher so that you should not drive a truck in vain. A trailer and two loaders will be waiting for you at the appointed place at indicated time.
No fines or surcharges for an unexpected change in loading schedule. The concluded Bill of Lading will remain unchanged until the completion of work and full settlement. The moving company provides an unlimited amount of packaging material, boxes for packing things for free. The carrier itself insures civil liability, performs overtime payment. The company always strictly complies with its obligations. It provides fast, safe transportation of any volumes of things from one city of CA to another.
Packing and loading
Strictly at the appointed time local movers in Mission Viejo will arrive at indicated place. The customer does not have to stock up on stretch tape, scotch tape, boxes, packing material, as they are provided free of charge. Each instance of household appliances is checked and carefully packed in a box. The clothes are transported in special cabinets on hangers, thanks to this, having arrived at the place, it is ready to wear.
The surface of the furniture facades is tightly covered with a film, thus preventing possible scratches and other damage. When loading into a trailer, the furniture is tightly fastened to the sides with special slings so that it remains stationary during a sharp turn or braking. Household or office equipment must be checked during packaging and unloading. While packing is in progress, the owners can load things in a newer place or work. Having completed the preparation, a message is sent to the owner by SMS or e-mail so that he transfers the first half of the amount agreed upon in the Bill of Lading.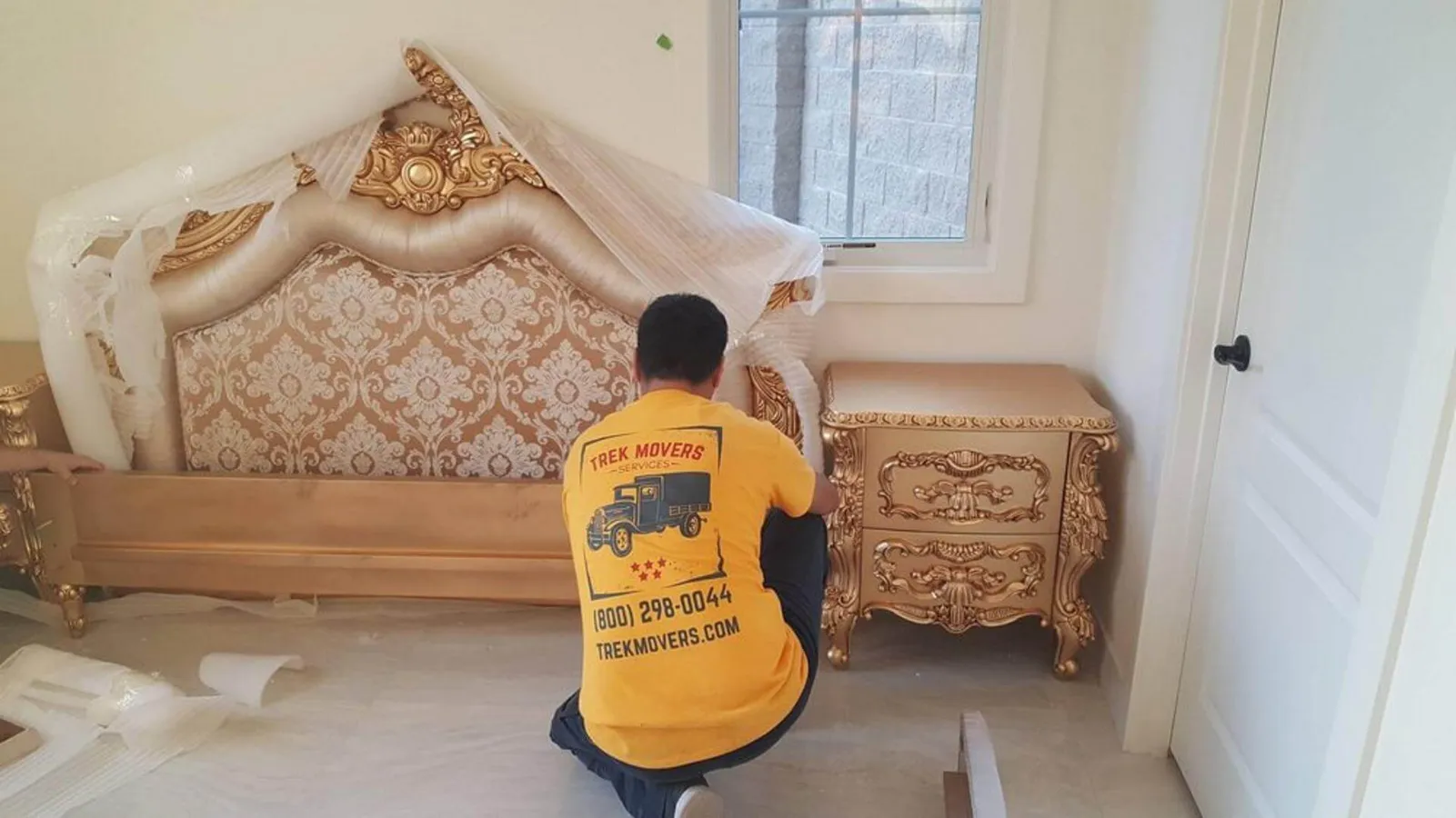 Travel contingency insurance
Movers of Mission Viejo CA will relieve the problems associated with the move, keep the customer's peace of mind. The customer chooses the type and amount of insurance. The remaining associated costs will be hold by the carrier. The problems encountered during the movement of goods are also solved by the carrier. The customer does not pay more than the agreed amount if the trailer breaks down or if it was necessary to reload things from one truck to another. The company assumes all additional costs and risks.
Unloading, calculation
In 30-40 minutes before arrival at the indicated place the customer will be sent an SMS or e-mail message. Moving companies of Mission Viejo CA will remove all the hassle associated with moving. Things are carried up to the indicated floor, unpacked, equipment is checked, furniture is arranged. Full settlement is made only after the completion of work. When paying by cash, the cost of services is reduced by five percent. When placing an order, use the special coupons available on the site to minimize costs.
Why Trek Movers is the best moving company in Mission Viejo
Still looking for reliable commercial and home movers Mission Viejo CA with reasonable prices? Trek Movers won't let you overpay! We really love what we do, and there are some short reasons why customers call us the best movers in Mission Viejo.
Quick and easy scheduling and booking process.
Regularly serviced professional gear and vehicles.
The friendly, highly-trained staff cares a lot about your goods and their safety.
The licensed and insured moving company from California you can count on.
Best pricing for businesses and individuals with fixed rates per hour.
We accept different forms of payment, including cash and credit cards.
Contact us to get a free quote or book your move to Mission Viejo, CA, supported by the Trek Movers team.
Resources
Contact us
24932 Veterans Way, Mission Viejo, CA 92692, United States
Monday - Saturday
8:00am - 8:00pm
Pacific Time

Saturday
8:00am - 8:00pm
Pacific Time