Moving to Long Beach?
Oh, Long Beach, an oceanfront paradise in the magnificent California County. Everything about Long Beach is astonishing, from its luxurious, world-renowned resorts and breathtaking natural beauties to its rich historical and cultural heritage and rapidly developing economy.
It is little wonder if you want to become a resident of this marvelous area. But, without professional moving help, your resettlement to Long Beach can turn into a conundrum given galore of arrangements to handle. Do not tarnish the excitement of moving to Long Beach with transportation travails – let a licensed and experienced Long Beach movers carry your residential or corporate valuables to this magical place with no stress or fuss of yours.
Trek Movers is a one-stop partner for all your relocation needs. Whether you are removing your private belongings, or even your business to Long Beach, we are able and eager to assist you throughout the process, saving you from any headache possible. Leveraging our expertise, prowess, and dedication, we will execute your move to Long Beach quickly, carefully, and within your budget.
Check all-inclusive rates
Full-Service Long Beach Moving Company
As a full-scope moving company in Long Beach, we offer the following services in California State and all around the nation:
This nerve-wracking procedure can kill your anticipation of moving to Long Beach, CA, but with us, you will not have to deal with this nightmare. With ultimate scrupulosity and accuracy, we will pack all your belongings, furniture, and equipment and put them in extra sturdy boxes, so all your things will reach the destination in stellar condition.
Local and long-distance moving. Whether you are moving just behind the corner or to the opposite part of the country, we offer a high-end relocation service, ensuring the whole project goes maximally smoothly.
Intermediate storage. If you need to keep your assets safeguarded while on a trip to Long Beach, you can use our intermediate warehouses where your stuff will be safely waiting for you until it is time to hit the road again.
Individual and B2B transportation. No matter you are transporting your private possessions or the entire office to Long Beach, no job is difficult for us. We handle all types of relocations and serve both private and corporate clients with plenty of attention and commitment.
Relocation is a type of project that is subject to unpredictable accidents. Since your happiness is the paramount priority to us, we provide comprehensive insurance for your assets, thus, we guarantee that you will not lose a single dollar if the unexpected happens. We are one of the leading moving companies in Long Beach. We are always here to lend professional moving help.
A one-stop partner for arranging, packing, transportation, storage, we have a fleet of modern, well-equipped trucks to execute the most complex relocation projects. Our movers can also assist you with disassembling your furniture or appliances and re-assembling them after the delivery. Our moving services in Long Beach are provided using industry-standard packing materials and loading machinery to deliver an excellent experience.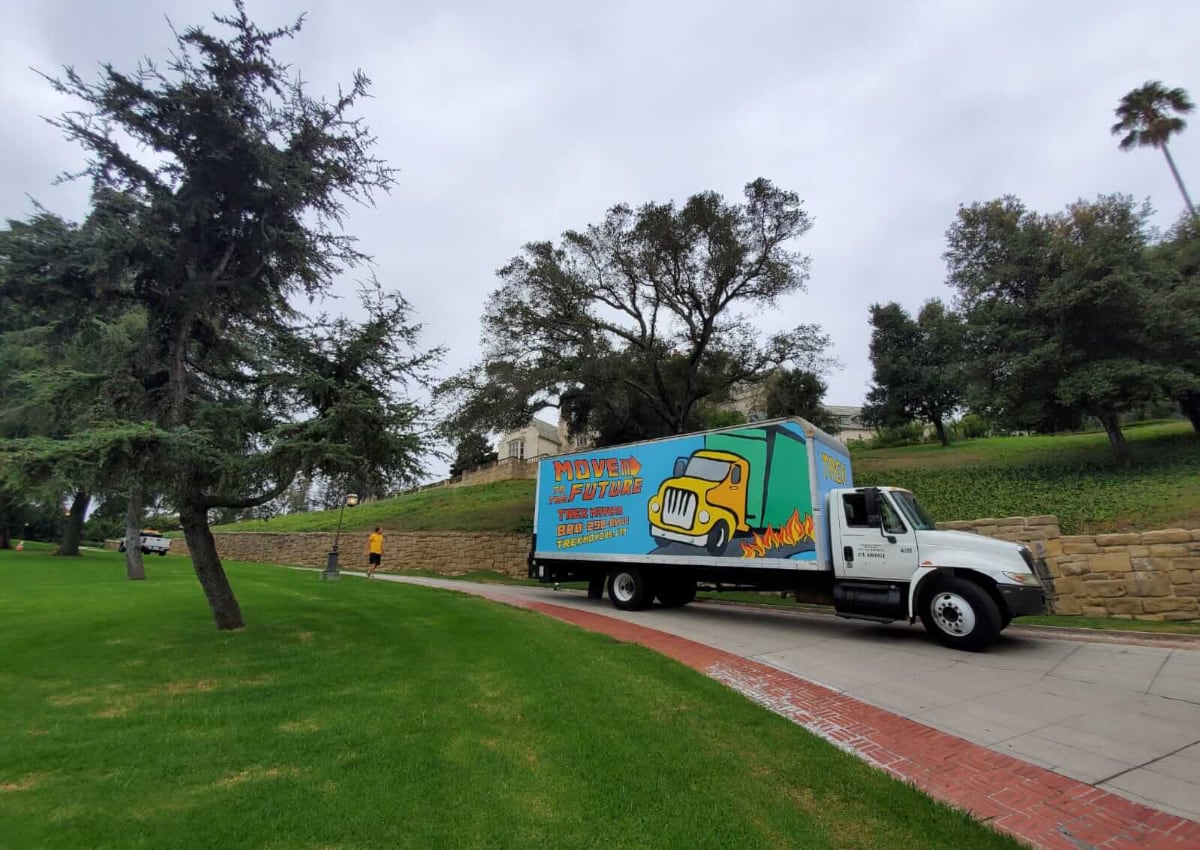 Professional Office, Local and Long Distance Movers in Long Beach
So you're excited to relocate to a new home in Long Beach soon? It's essential to find professional movers and packers Long Beach offers you a wide variety. Trek Movers is an experienced Long Beach moving company that has provided customers with reliable, high-quality services since 2007.
Office Movers Long Beach
Commercial moving is our specialty. Advanced office movers in Long Beach will help you to pack and relocate all kinds of office equipment, including large pieces of furniture, electronics, and delicate stuff. All-inclusive relocation includes packing services (we provide all supplies), transportation, and unpacking in a new office space. Professional movers in Long Beach have access to moving supplies and equipment needed. So you can focus on your business, not on moving-related challenges during the relocation.
Home Movers
As residential Long Beach movers, we handle stress-free house and apartment moves to, from, and within Long Beach with care and ease. Whether items you need to deliver (such as heavy furniture, appliances, piano, antique, or whatever), our squad pays strong attention to the safety of your belongings and does everything possible to protect them from any damage during transportation. All-size residential moves are welcome.
Long-Distance Moving
Long-distance moving makes you face a lot of challenges. Stressful packing, unloading, fear of damaging furniture, and assembling are almost inevitable while relocating. Plus, long-distance moving is usually quite expensive, so you have to think about your budget and prepare a proper plan. By hiring experienced Long Beach movers, you can rid yourself of all the issues since professional moving companies deal with any challenges with ease. If you're looking for long-distance movers Long Beach, Trek Movers is the best solution for any needs and budget.
Local Movers Long Beach, CA
What do professional local moving services look like? The best movers in Long Beach always provide excellent customer service, on-time scheduling, quality supplies, and professional equipment. And besides, local relocating within the county with high-skilled movers in Long Beach is more cost-effective than DIY relocation. Our local movers Long
How Much Do Movers Cost Per Hour?
The average cost of movers per hour (full-service moves) is as follows:
| | | |
| --- | --- | --- |
| Number of movers | Cost per Hour (Cash Rate) | Cost per Hour (Credit rate) |
| 2 Movers & Truck (Studio, 1 Bedroom) | $120 | $140 |
| 3 Movers & Truck (2-3 Bedrooms) | $160 | $180 |
| 4 Movers and Truck (House, Office) | $200 | $220 |
Some moving companies add additional fees, such as packing supplies fees (if requested), oversized furniture fees, and high and/or narrow staircases. Besides, if movers do a good job and you are satisfied with the work done, you might consider moving tips.
Why Trek Movers is the best moving company in Long Beach, CA
Still looking for reliable commercial and home movers Long Beach CA with reasonable prices? Trek Movers won't let you overpay! We really love what we do, and there are some short reasons why customers call us the best movers in Long Beach.
Quick and easy scheduling and booking process.
Regularly serviced professional gear and vehicles.
The friendly, highly-trained staff cares a lot about your goods and their safety.
The licensed and insured moving company from California you can count on.
Best pricing for businesses and individuals with fixed rates per hour.
We accept different forms of payment, including cash and credit cards.
Contact us to get a free quote or book your move to Long Beach, CA, supported by the Trek Movers team.
Resources
Contact us
3287 Industry Dr, Signal Hill, CA 90755, United States
Monday - Saturday
8:00am - 8:00pm
Pacific Time

Saturday
8:00am - 8:00pm
Pacific Time