Moving to Carson?
Carson is situated in Los Angeles County, California, just a dozen miles away from downtown Los Angeles. Actively developing and growing, Carson is mainly a manufacturing community. It is home to numerous factories, refineries, and various businesses. But nature is also admirable in this area, thanks to the close location to the Pacific Ocean. With its favorable marine climate and booming economy, Carson is a good place to reside in.
Check all-inclusive rates
Professional Office, Local and Long Distance Movers in Carson
If you are willing to move to this wonderful city, you may want to hire professional Carson movers who are well-versed in moving people and their belongings all over Los Angeles County and beyond. Trek Movers is a one-stop moving company who has both competence and dedication to arranging smooth relocations, helping you to settle in a new place without any stress or mess.
Office Moving Carson, CA
Commercial moving is our specialty. Advanced office movers in Carson will help you to pack and relocate all kinds of office equipment, including large pieces of furniture, electronics, and delicate stuff. All-inclusive relocation includes packing services (we provide all supplies), transportation, and unpacking in a new office space. Professional movers in Carson have access to moving supplies and equipment needed. So you can focus on your business, not on moving-related challenges during the relocation.
Home Movers
As residential Carson movers, we handle stress-free house and apartment moves to, from, and within Carson with care and ease. Whether items you need to deliver (such as heavy furniture, appliances, piano, antique, or whatever), our squad pays strong attention to the safety of your belongings and does everything possible to protect them from any damage during transportation. All-size residential moves are welcome.
Long-Distance Moving
Long-distance moving makes you face a lot of challenges. Stressful packing, unloading, fear of damaging furniture, and assembling are almost inevitable while relocating. Plus, long-distance moving is usually quite expensive, so you have to think about your budget and prepare a proper plan. By hiring experienced Carson movers, you can rid yourself of all the issues since professional moving companies deal with any challenges with ease. If you're looking for long-distance movers Carson, Trek Movers is the best solution for any needs and budget.
Local Movers
What do professional local moving services look like? The best movers in Carson always provide excellent customer service, on-time scheduling, quality supplies, and professional equipment. And besides, local relocating within the county with high-skilled movers in Carson is more cost-effective than DIY relocation. Our local movers Carson will provide you with all-inclusive services and handle everything from A to Z.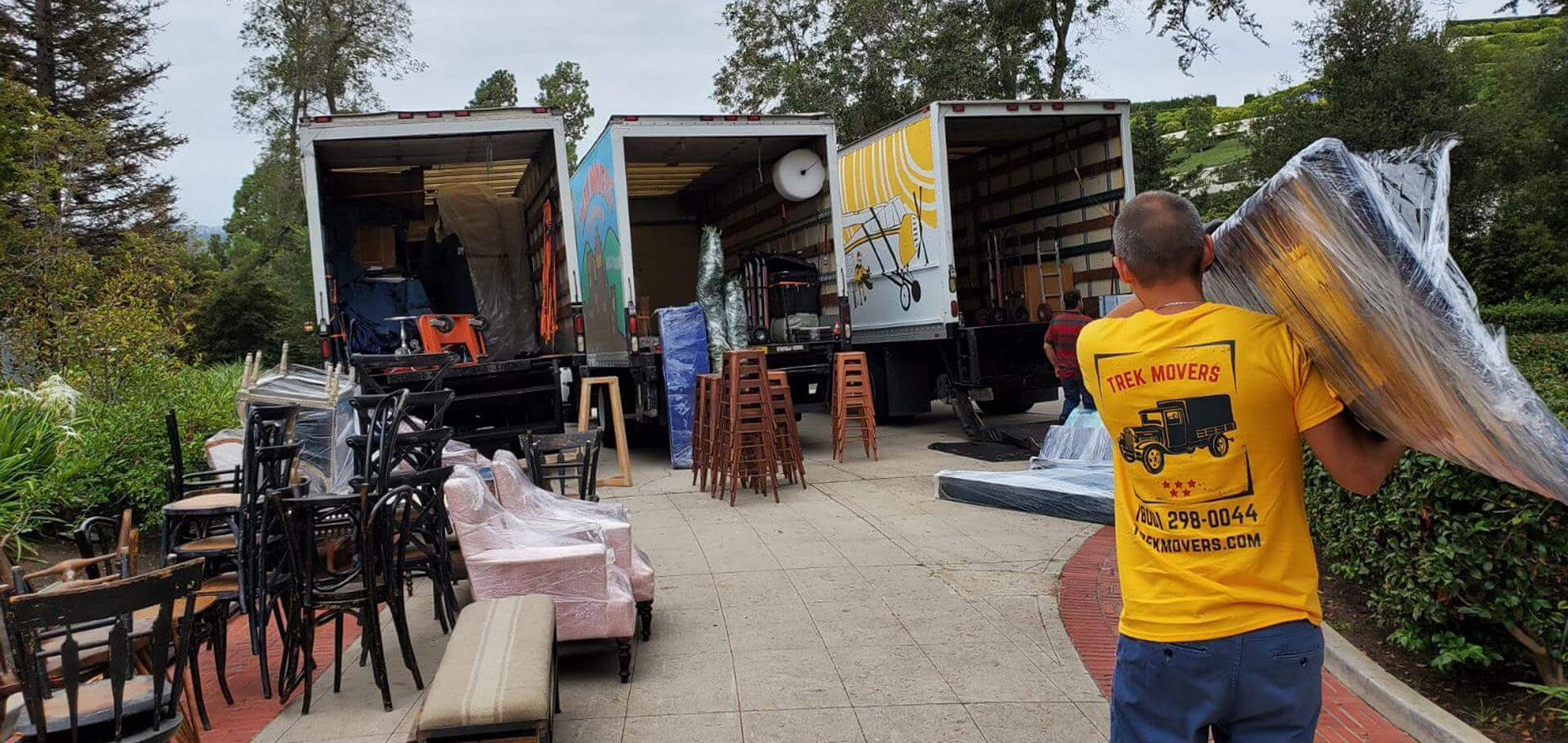 Carson Local Movers Cost
Note that local moves are calculated by the cost per hour and the approximate number of hours required for completing work. Below you see the average cost of movers per hour for short-distance relocations:
Home
Size
# of Movers
# of Hours 
Cost per
hour 
Average Moving
Cost 
Studio/1-
bedroom
2 and a truck
3-4
 $120-160
$420+
2-
bedroom
3 and a truck
6-7
 $180-200
$1080+
3-
bedroom
4 and a truck
8-12
 $220-240
$1,760+
4+ house,
office
move
4+ and a truck
Vary on the size
of the
house/office
 $220-240
$1,760+
As you can see, the average cost of our movers is quite reasonable. And if you're looking for a more accurate estimate, contact us, and we'll be happy to provide you with a quote! 
Reliable Carson Movers
When it comes to relocation, you definitely do not want to stumble across a mediocre contractor. Trek Movers is a reputable moving company you can safely delegate your relocation project to. Committed to the complete satisfaction of our clients, we are a full-service company that makes safety and customer convenience its top priority.
We work within your schedule and budget, delivering results that go beyond your expectations. We offer a full scope of moving works, from packing and loading to transportation and arranging at a new place. If necessary, we can keep your possessions in our storage facilities unless it is time for them to continue their journey.
As for household relocations, we will take special care of all the items, including bulky furniture, fragile glassware, and appliances. For office moving, we will properly treat your electronics, furniture, and everything else that must be safely relocated.
Your peace of mind is of paramount importance to us. We are fully licensed and insured movers in Carson, CA, offering adequate coverage for the entire freight that you decide to relocate with our help. Using industry-standard packing materials and modern, well-equipped trucks, we will transport your belongings with ultimate security, so they will arrive at the destination as good as new.
As a trusted moving company in Carson, California, we render both local and long-distance moving services. So, if you wish to move, we are your tried-and-true partner that is entirely into making your relocation maximally smoothless.
If you decided to move to Carson, below we have indicated some helpful resources:
Contact us
701 E. Carson St Carson, CA 90745, United States
Monday - Saturday
8:00am - 8:00pm
Pacific Time

Saturday
8:00am - 8:00pm
Pacific Time