Transitioning to a new home is pretty challenging in any case but piano owners face an additional quest. A piano is bulky, heavy, and fragile at the same time (it has over 10 000 moving parts, some of which are very sensitive). The task seems particularly tough considering stairs, narrow passages, elevators, etc.
The optimal solution to move a piano is hiring experts in handling larger musical instruments. If you decide on transporting it yourself, you should prepare in advance and ask relatives, friends, and colleagues for help.
Hence, the recommendations on how to move a piano might be useful to save time and effort, let alone stress.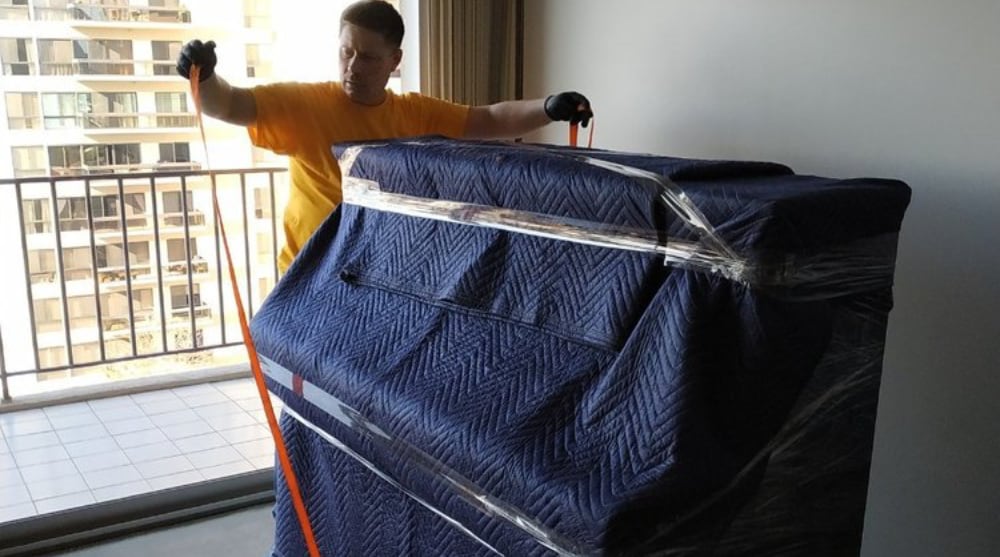 Tips on How to Move a Piano Safely
First of all, you should study a floorplan of the new home to ensure that the piano fits. Next, check that doors, staircases, and elevators won't be an obstacle for carrying the awkward item.
Moving a piano by yourself you'll need a special four-wheel furniture dolly, let alone strong straps to ease carrying, as well as blankets and pads to protect the item from potential collisions or scratches. Consider getting locking straps and a hump strap that ease lifting bulky and heavy objects. You might need a dedicated piano board (known also as a skid board) for safer lifting and carrying of the fragile instrument.
It is important to lock the piano keyboard carefully; close and firmly secure the piano's lid – keys are very prone to displacement and damage; hence, they should be heavily-protected. If the lid has no lock, close it and secure it with pads and straps. Keep in mind that tape isn't a good option as it can damage the surface.
Before moving a piano, take special care of wrapping all the corners, securing protective padding with tape. Awkward in their shape, all kinds of pianos can damage floors, doors, and walls. When possible, remove swinging doors and use special pads to protect the flooring.
Lifting a piano might be also challenging. Besides the heavyweight, the piano is fragile, so you must ensure its stable upright position on a dolly. Do not attempt to put the piano on its side — the inner mechanisms are very vulnerable to changing the piano's position. Lifting a piano by its legs is not a good idea — the legs aren't strong enough. The best variant is to put straps under the instrument's bottom on each side and then lift the instrument onto a dolly or a moving truck. You'd better have four people to secure four corners. Fix the piano on the dolly by straps.
Put a piano in the truck and secure it firmly. The best and the only safe variant is to put a piano along the back wall of the truck. In this case, a piano is the first item to load and the last one to unload at your new place. The experienced crew recommend using wood planks for leveling flooring and relieving pressure on the casters. Ensure that the piano is tied down securely.
Unloading an item from the vehicle and carrying it to the new home. In fact, all the recommendations for lifting a piano are applicable. If you have to deal with tighter spaces, such as elevators and narrow staircases, you'd better hire a piano moving company.
Tuning a piano. Despite being bulky and heavy, pianos are very sensitive to any movement. Thus, you will need a professional tuner to make the delicate musical instrument sound perfect.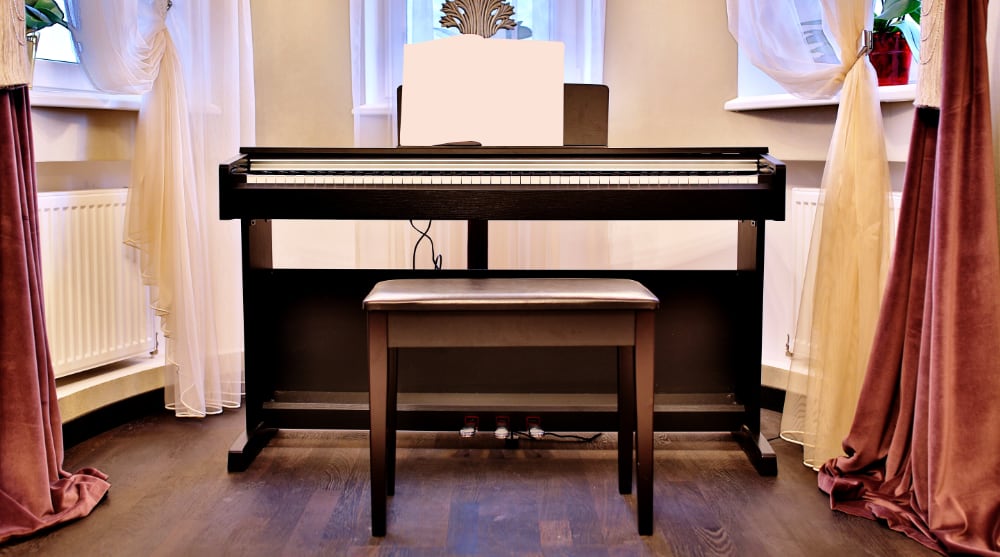 What Not to Do When Moving a Piano?
Pianos are heavy and delicate, so handling and transporting them requires thorough planning. For a better understanding of the volume of work just think that some piano models weigh somewhere between 500 and 1 400 pounds.
Do not turn down help if you consider DIY piano moving. Lifting and moving a piano typically requires at least 4 adults.
When transporting a grand piano, you should remove the legs; the pedals should be also removed or secured properly.
Do not attempt to lift a piano without proper equipment. Well, dollies vary in size and configuration. For piano moving, get ready with a four-wheel dolly and special straps for securing the musical instrument.
Do not use tape on the piano surface as it may damage the wood surface.
Piano casters aren't designed for moving an item long-distance: they are weak and get jammed often.
In any event, handle piano relocation in an unhurried manner considering all potential risks and complications. Pianos are extremely delicate, so sudden falls or shaking might result in irreversible damage, let alone potential health injuries, scratches on walls and floors.
Well, DIY piano moving is cheaper but risky; hence, requesting expert assistance may be a better and more reasonable option that will save a significant deal of time, effort, and money (if anything accidentally goes wrong).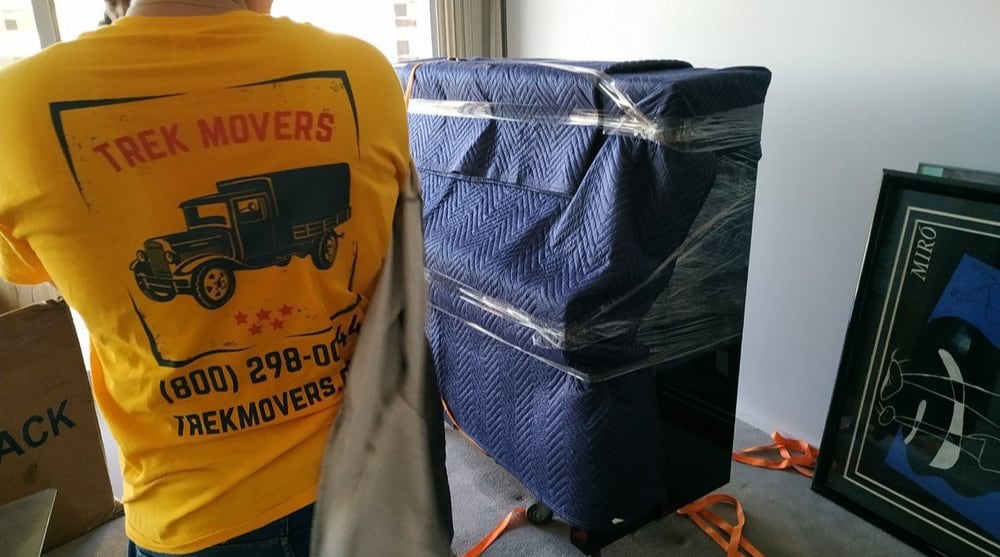 Hire Professional Piano Movers
As you've read above, piano moving requires special care and equipment for lifting and carrying. Hence, hiring qualified piano movers might be the best option: pros have all the required equipment and expertise for lifting fragile and bulky items. Besides, they will free you from stress and backache — the experienced crew is equipped with harnesses and belts shaped into the strap system that simplifies carrying and prevents potential injuries.
When you request a quote, the cost seems not budget-friendly. Upon consideration, you realize that the estimate includes all required packing materials, including padding, blankets, tape, equipment and labor costs. A piano skid alone might cost you around $150-$200 apart from straps, blankets, floor protection, and so on.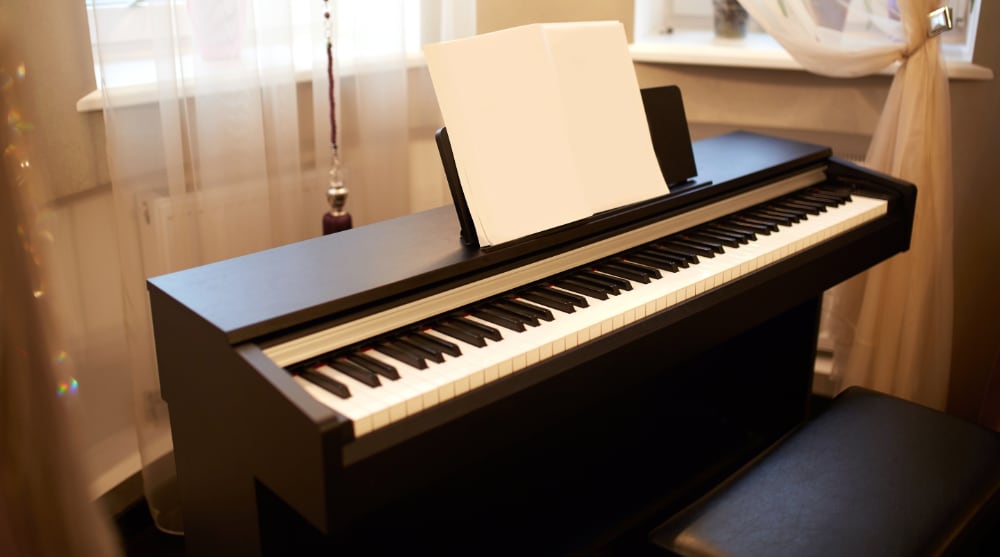 How Much Does It Cost to Move a Piano?
The piano moving costs may vary significantly and typically depend on whether you decide to move a piano on your own or request a dedicated piano moving service. Before finalizing the choice of relocating an instrument yourself or getting help from a local professional service, weigh all pros and cons and calculate costs.
If you are set to do it yourself, estimate incremental costs for packing supplies, fuel, insurance, truck rental, labor and time, equipment rental, etc. For example, piano skids are relatively expensive and cost from $150 to $300.
If you decide on getting pro help, you should consider tipping movers after the job is done and include tips in the final cost estimate. In most cases, tips may vary from $20 to $100.
Local piano movers might charge from $300 to $1,300 based on the musical instrument's size and weight, as well as the distance to move. Other factors interfering with costs are stairs and elevators. For a cross-country move you can expect to pay around $3 000, and international transportation can reach $5 000.
Before you sign a contract, check if the price includes moving services, all packing materials and packing services, truck rental & fuel, insurance, etc.
Given all circumstances, the delicate nature and heavy weight of all kinds of pianos, hiring local piano movers pays off in the long run. Pros are fully equipped for transporting bulky and delicate items; besides, the risk of injuries is much lower due to the expertise and time-proven techniques applied while lifting and carrying a grand or upright instrument.
As complex and tricky a task of moving a piano can be, local qualified piano movers are trained and equipped to relocate the delicate instrument safely and fast.