When putting down important considerations and plans to move houses, you might want to consider your animals. Knowing how to move with pets is crucial to this process. While you may feel that moving with a dog or any pet will cause you to stress, this is also stressful for the pet. The following useful tips will ensure that you get a stress-free process when moving with a pet. Without consulting pet moving services you can do this all by yourself. Moving with a pet most times require certain DIY approaches. The following are important tips for moving with pets.
In the first scenario, you need to approach the relocation from the perspective of the pet. Cats are sensitive pets and fancy familiar environments. Moving with a dog can appear easier since dogs adjust more easily to new environments compared to cats.
One important tip when moving with cats and dogs involves sticking to your normal routine after the move. You should maintain the same schedule for the bedtime, grooming, and treats of the pets. Walk with your dog often to enable it to adapt to its new environment.
Getting your pets ready for the move
One of the first things to do when helping your cat get ready for the day of moving is to make sure that she gets used to the pet carrier. Moving with pets, they are usually safe with a pet carrier. New pets should be slowly introduced to a carrier if they have never been in one.
When she becomes comfortable with your pet carrier, the pet can be made to familiarize herself with car travel. When moving with cats, their anxiety usually decreases as they get used to the noises of car travel.
When packing your stuff, make sure not to isolate the dog in his crate.
Rather, put the crate of the dog among your move boxes. Let them see what is going on. If you isolate your dog and leave it in a single spot while other members of our family pack up their items, the dog will likely become anxious. This will cause the dog to show stress-related attitudes such as jumping, barking, or hyperactivity.
How to handle your pets on moving day
On the day of your planned move (weather permitting), you should safely put your cat in the cat carrier. If the weather is extremely cold or hot, then you might want to consider the bathroom. You should make available the cat carrier, a litter box, water and food – and of course, a closed door. You should also get a sign that indicates – "CLOSE THE DOOR ALWAYS – ESCAPE PET INSIDE!" Pet moving services do this a lot. Whether you are moving with fish or moving with birds, this is important.
Then again, in the case of dogs, you will need to assign someone in the family, to be the dog sitter for the day. You might choose someone who is not a part of the packing. But, to ease off the stress on the day of your move, you might want to get a friend that likes dogs.
Preparing your pets for a long-distance home move
People looking to move long-distance during their home relocation will have to properly groom their pets before the planned move date.
When the move day comes, the pets should have dog collars. These include updated rabies tags which include the new address of your home and your contact phone number.
For people driving, plan various points where you can stop along your route. This will make sure that you get hotels that are friendly to your pets. People who will be travelling with their pets through the air will need to ensure that they ask important travel requirements for pets from their airlines.
Make sure that you have a copy of the veterinarian records of your pets inside your handbag luggage.
Having your cat in your new home
Before letting your cat to your new home, ensure that you inspect the home from the perspective of the cat. Look everywhere both inside and outside. Try to get rid of any dangling cables from blinds or drapes to ensure the safety of your cat. The moment that your cat arrives at your new home, ensure keeping the windows and doors closed. Also, block out all crawl spaces and holes to stop the cat from planning to reach them.
Once you get to your new house, expect to have your cat disappear for some days. The cat could choose her cat carrier, under her bed, or a closet. Cats that just move into new houses may suffer from something called feline anxiety syndrome. Without witnessing familiar sounds and sights, the cats may go looking for places to hide (dark places are better). Cats who usually eat lots of meals might need a lot of coaxing to eat up their meals. Other cats could appear to be slightly moody and tend to forget about their litter box. They could try to run out through the door at the front trying to find surroundings that they are familiar with.
The cat will try to replicate your general mood, therefore, ensure that you stick to your usual routine and let the cat know that everything should come back to being normal. Let the cat eat the usual way that she normally eats and try not to have visitors. Try to do any helpful thing to help make things normal.
Try to get her a conducive room to act as her private place of safety, complete with water and food, bed, litter box, and scratch post – everything comfortable with your old home. Also, you can add anything that has your old scent in them, like your worn T-shirt. The moment she feels comfortable and starts exploring the other parts of your new home. Try to position another litter box close to the place that you plan to permanently keep one. With time, the cat will see that your new home is nothing that they have to be scared of. Before long, she will be back to acting normally.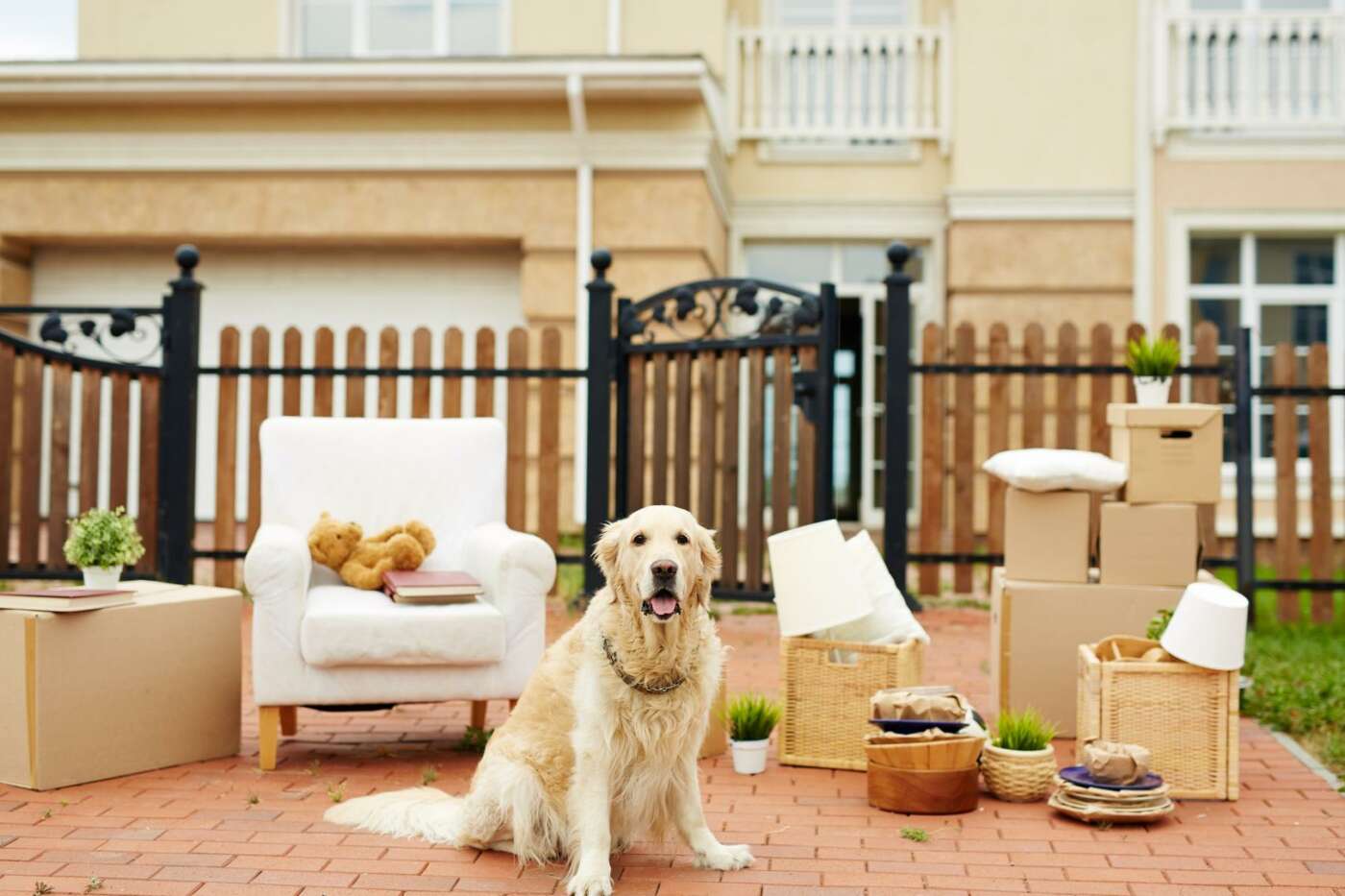 How your dogs adjust to a new environment
It is most likely that your dog wants to be taken on a tour around its new home. The moment that the movers are no longer around and you are all alone with the dog in the home, let it move in and out of the house. Walk the dog around on a leash during its first introduction to the home. This will improve its sense of safety around your new home.
Since it will be needing room and space to exercise, the dog will be needing more time for adjustment when changing from a bigger house to a relatively smaller apartment or house. In the same way as cats, your dogs will cherish moving back to a more established routine whenever this is possible. You should take walks at the usual time and try to stick to your one route all the time. This will help the dog adjust very fast.
You could spend some time with the dog and skip work for few days. You can return to work by gradually making the dog stay home by itself. During the adjustment period for the dog, make sure that you stay with your dog in their new space. Some dogs are known to skip over fences in trying to go back to their old environments.
Moving houses with your pets: A veterinarian advice
People looking to move houses to long distances can now use this opportunity to ask their new neighbours to send them recommendations for a new pet veterinarian. Try to schedule a visit to familiarize your pets with the vet as soon as possible. This will be useful in the case of an emergency for your pet.