TrekMovers Is Your Devoted San Bernardino Moving Company
Do you need to move shortly? Or, maybe, you are going to relocate your family while the lockdown to the countryside? Or do you want to change your life radically by moving to San Bernardino county? In any case, professional moving services might come in handy.
Let's get through how to choose a moving company in San Bernardino. The first and the only tip we'll give to you: do not stop, just contact Trek Movers. We are the best moving company in the county and throughout the California state.
Why should I entrust you, you may ask? We have som logical pros and no cons of our work. They are the following.
We have been working in San Bernardino for a few years already and have full-house of content customers.
We work legally being a licensed moving company in San Bernardino county.
We are bonafide movers who provide clear calculations, no extra costs and always deliver on our promises.
Let us build a quote for your move
Our Merits as a San Bernardino Movers
Let's talk about what makes us different from other local San Bernardino movers.
We are highly customers-orientated Our dedicated support and care managers will fulfill all your requirements and solve every problem.
We are also a full-service company so you do not need to handle your move to several companies. All the task will be performed by our team members.
By the way, a few words about the personnel in TrekMovers. We work with permanent workers only, no day laborers are allowed. Each team member is experienced and constantly improves his skills.
We also differ from other local movers in San Bernardino, CA by our modern truck park and equipment. We send fully equipped truck to each address and our craftsmen provide moving services quickly, precisely and carefully due to the use of modern solutions.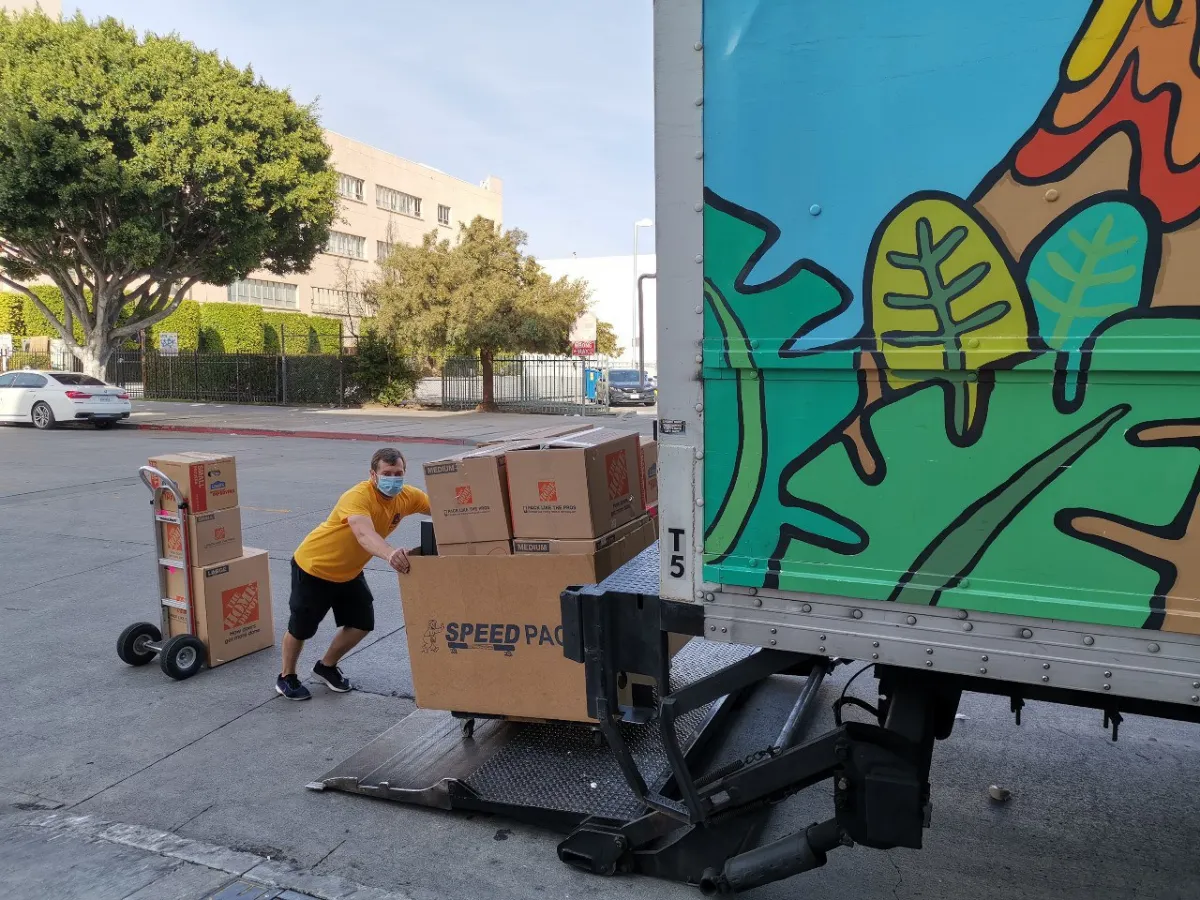 Our Moving Services Include
We are glad to present our services. We divided them into three sets.
Local move for San Bernardino county area. We provide fast and high-quality services for those who want to move within the county.
Distant moves within or outside the state of California. Here, we can help you but this option is not our main one. To get a quote on how much it will cost to move for you, please contact our managers.
A commercial move is also in our power. We'll help to relocate your office, enterprise or institution.
How Much do Movers Cost in San Bernardino?
The question of pricing is always a burning issue for those who want to relocate. But in Trek Movers you'll get all services for a cheap cost. We fully agree with the statement that the move is a costly performance and we do not want to make it even more expensive for you. On the contrary. You'll save your time and money with Trek Movers. We do not require extra fees or some hidden payments for our services. We'll calculate the price for you beforehand and after the work is done you'll have only to pay your bill. We do not need advanced payment as we calculate the cost per hour and only after the work is 100% we can give you the total. But we can bet, even the most complex move performed by our staff will be affordable for you.
The average cost of movers per hour (full-service moves) is as follows:
| | | |
| --- | --- | --- |
| Number of movers | Cost per Hour (Cash Rate) | Cost per Hour (Credit rate) |
| 2 Movers & Truck (Studio, 1 Bedroom) | $120 | $140 |
| 3 Movers & Truck (2-3 Bedrooms) | $160 | $180 |
| 4 Movers and Truck (House, Office) | $200 | $220 |
If you need services of movers in San Bernardino County, California, we are waiting for your application!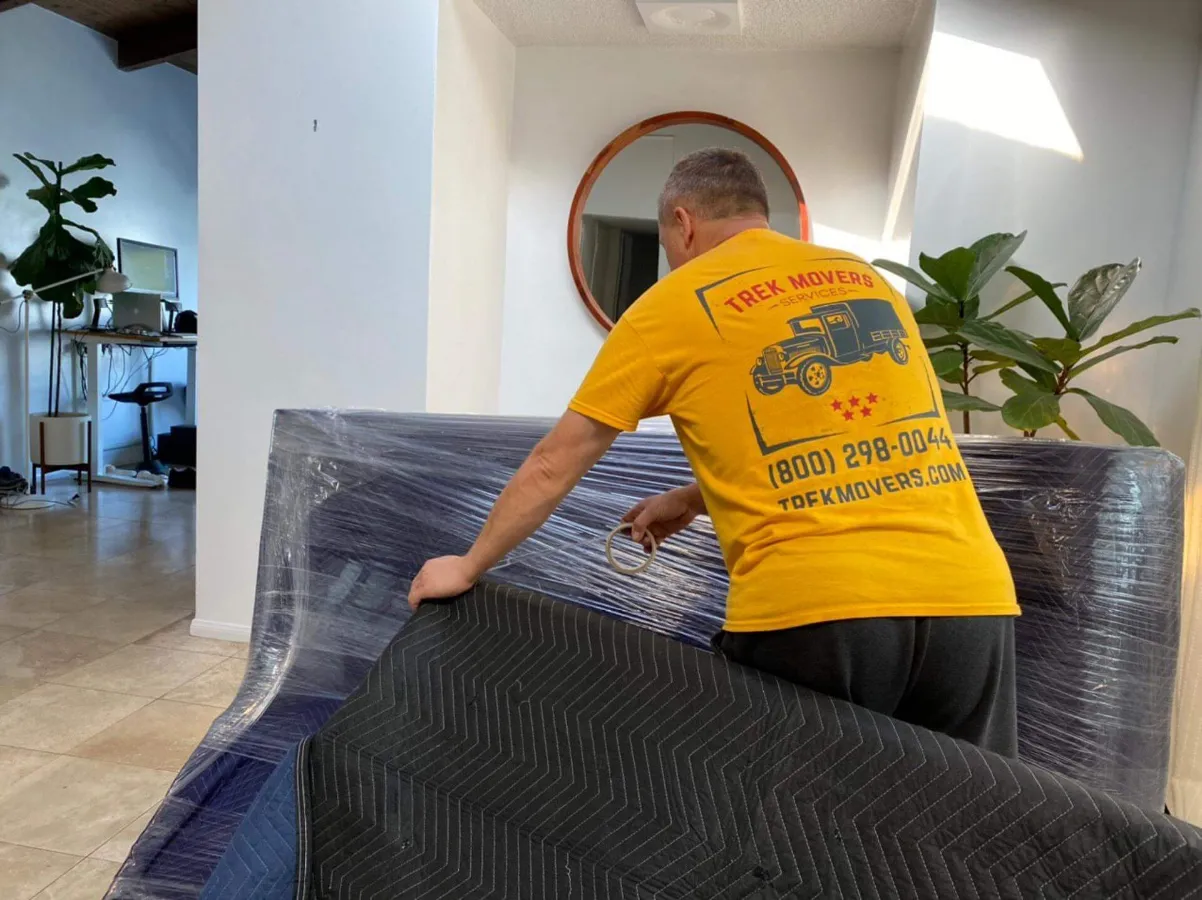 Local movers San Bernardino
What do professional local moving services look like? The best movers in San Bernardino County always provide excellent customer service, on-time scheduling, quality supplies, and professional equipment. And besides, local relocating within the county with high-skilled movers in San Bernardino is more cost-effective than DIY relocation. Our local movers San Bernardino will provide you with all-inclusive services and handle everything from A to Z.
Long Distance Movers San Bernardino
Long-distance moving makes you face a lot of challenges. Stressful packing, assembling, loading, and fear of damaging furniture, are almost inevitable while relocating. Plus, long-distance moving is usually quite expensive, so you have to think about your budget and prepare a proper plan. By hiring experienced San Bernardino movers, you can rid yourself of all the issues, since professional moving companies deal with any challenges with ease. If you're looking for long-distance movers San Bernardino County, Trek Movers is the best solution for any needs and budget.
Contact us
1535 W 4th St, San Bernardino, CA 92410, United States
Monday - Saturday
8:00am - 8:00pm
Pacific Time

Saturday
8:00am - 8:00pm
Pacific Time