TrekMovers - Moving Company in Foster City, CA
When planning the transportation of personal belongings or office equipment, it is better to opt for qualified moving companies who can quickly find the best options for solving complex problems. Movers in Foster City will never let you down, they will provide a comfortable transfer not only from one area to another, but also to any city in the country. TrekMovers will deliver any volume of cargo, for both short and long-distance moving. The truck is arriving exactly on schedule. The company informs the customer of the exact location of his property at all stages of the journey. It is also solves all issues arising on the road independently, without attracting a customer or requiring additional financing.
Check all-inclusive rates
How movers in Foster City can be booked?
If there is a need to urgently move property to a new home or move an office while expanding your business, Foster city movers will take the burden of problems off your shoulders. It is enough to send an e-mail or SMS request for the company to call back immediately. The manager will give all the necessary explanations, tell you how the cost is formed, what is included in the package of services. When filling out the application form on the site, do not forget to use the available coupons to minimize costs. Specify the time and place for submitting the transport for loading and unloading. Completely transfer personal data from the documents, indicating the correct surname, first name. Be sure to give two phone numbers for vehicle movement data transmission.
In case of unexpected changes in the route, loading time, inform the company so as not to drive the vehicle in vain. There will be no fines, no price increase for this. After the conclusion of bill of lading the cost of services will remain unchanged until the company fully fulfills its obligations. Foster City moving company has a comprehensive approach to solving the assigned tasks. Any number of boxes and stretch tapes for packing items is provided. Liability insurance formalities, overtime payments, problems with replacing a broken truck on the way are taken over by the company. We transport goods from California or to other states. We guarantee safety, reliability, fast delivery.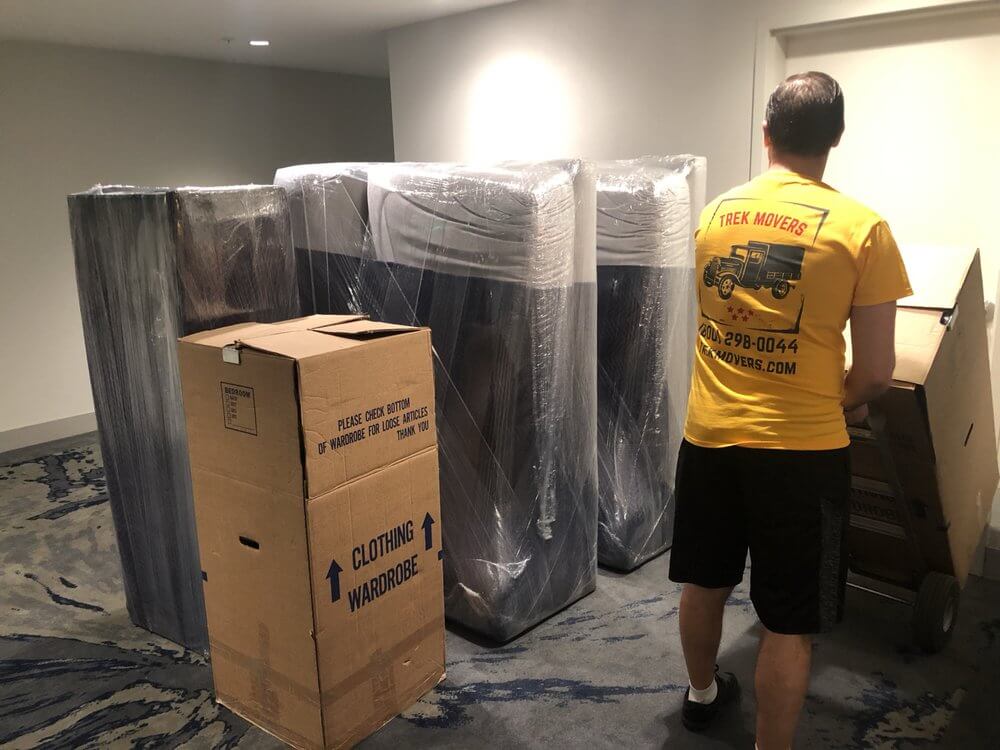 Packing and loading
Exactly at the specified time a truck and a couple of loaders are waiting for the customer. The customer will only need to provide free access to the property. Each item will be carefully packed. Electronics, glass, dishes, porcelain, paintings, household items are packed into special boxes. Clothes are hung in a wardrobe in the back of the truck, so they arrive at their destination in perfect condition. Polished furniture fronts are wrapped with foil providing one hundred percent protection against scratches.
Each piece of furniture is attached with special slings to the sides of the vehicle, which guarantees safety during sudden braking or turning. The customer does not need to spend money on the purchase of packaging material. Everything needed is provided for free by the moving company in Foster City, CA. Any unexpected problems along the way will be solved without involving the customer or additional costs on his part. Using the services of trusted brokers with an impeccable reputation, there will never be any problems when moving.
Insurance and unloading
The type and amount of insurance is chosen by the customer. It is up to you to pick the method of payment too. If you use cash, costs are reduced by five percent. An hour before arriving at the place of unloading the customer receives an SMS or e-mail message in order to be able to prepare for the meeting.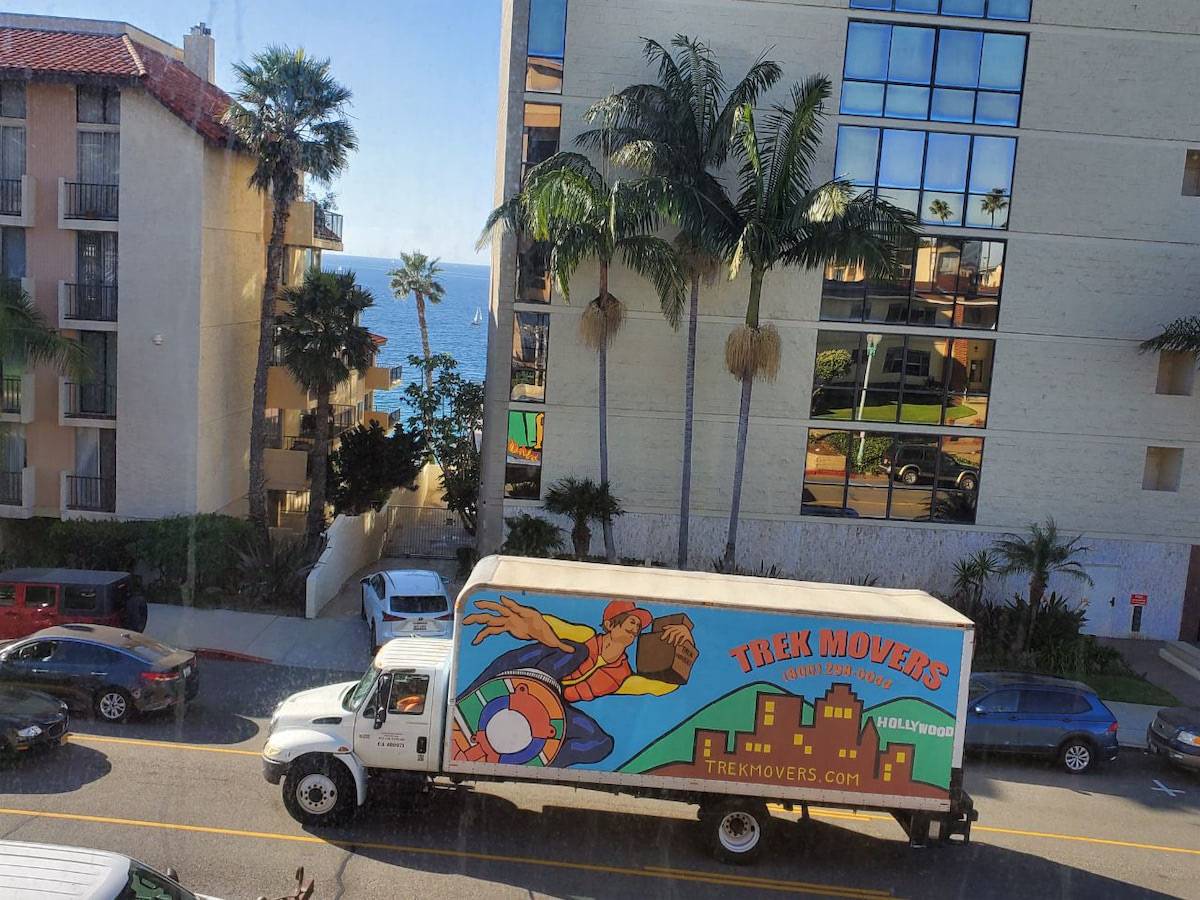 Average Moving Cost
As a rule, local moves are charged at hourly rates, and the total costs depend on the size of your move. For long-distance moves, flat rates are usually applied, and the estimation depends on weight, the scope of work, and distance.
Here is an estimate of our average cost of moving services:
| | | |
| --- | --- | --- |
| Type of Move | Low Estimate | High Estimate |
| Local move | $ 500+ | $3,000+ |
| Long-distance move | $ 2,500+ | $11,000+ |
Things to Know Before You Move to Foster City
Relocating to a new city can be an exciting but daunting prospect. There are so many things to think about and plan for! If you're thinking about making the move to Foster City, here are a few things you should know in advance.
Foster City is a picturesque community located in the San Francisco Bay Area. The city is known for its beautiful views, excellent schools, and ample recreational opportunities. Housing costs in Foster City can be high, but there are many affordable options if you know where to look. And although the cost of living is higher than in some other parts of the country, it's important to remember that wages in the Bay Area are also significantly higher. 
Foster City is also conveniently located near many major employers, including Facebook, Google, Apple, and LinkedIn. So if you're looking for a job in the tech industry, Foster City is definitely worth considering. 
Housing Market Foster City CA
The housing market in Foster City, CA is on the rise. In October 2022, the median listing home price was $1.5M, trending up 11% year-over-year.
As of November 13, 2022, the average rent for a 1-bedroom apartment is $2,870, a 3% increase from the previous year. With prices and rents both on the rise, now is a good time to invest in the Foster City housing market.
There are a variety of housing options available in Foster City, from apartments and townhomes to single-family homes and luxury condos. There are also a number of 55+ communities in Foster City for retirees. 
Cost of living in Foster City CA
Foster City, California's cost of living is 104% higher than the national average, according to PayScale's cost of living calculator. The cost of living in any area can vary based on factors such as your career, its average salary and the real estate market of that area. In Foster City, these costs are especially high. Housing expenses are 264% higher than the national average and the utility prices are 34% higher than the national average. Transportation expenses like bus fares and gas prices are 43% higher than the national average. Even grocery prices in Foster City are 30% higher than the national average. Healthcare in Foster City is also 23% higher than the national average. These costs can make it difficult to live in Foster City, especially if you're not earning a high salary. If you're considering moving to Foster City, be sure to factor in these cost of living expenses.
Job market
As mentioned above, one of the reasons people move to Foster City is for employment opportunities. With major employers like Facebook, Google, Apple, and LinkedIn all located nearby, there are plenty of job prospects for tech professionals. 
Transportation
Foster City is located about 20 miles south of San Francisco and about 30 miles north of Silicon Valley. It is considered part of the San Francisco metropolitan area. 
Foster City is accessible by car via Highway 101 and Interstate 280. The closest airport is San Francisco International Airport, located about 15 miles away. There is also public transportation available in Foster City, including bus service through SamTrans and Caltrain commuter rail service. 
The Views
One of the best things about Foster City is its location— nestled right on the San Francisco Bay, there are stunning views to be enjoyed from every angle. Whether you're out for a walk or enjoying a meal at one of the city's excellent restaurants, you'll always have a beautiful view to admire. 
Education
Another great thing about Foster City is its schools. The city has some of the best public schools in California, so if you have kids, they'll be getting a top-notch education. The San Mateo Foster City School District and the San Mateo Union High School District are both highly ranked, and the city is also home to a campus of the San Mateo County Community College District. In addition, there are several private schools in Foster City, so no matter what your child's needs are, you'll be able to find a school that's right for them. Whether you're looking for a traditional education or something more specialized, Foster City has you covered.
The Recreation
If you enjoy being active outdoors, you'll love all the recreation opportunities that Foster City has to offer. From hiking and biking trails to sailing and windsurfing on the bay, there's something for everyone to enjoy. 
Natural Disasters
Finally, it's important to note that Foster City is located in one of the most earthquake-prone regions in the world. If you're not used to living with the risk of earthquakes, this may take some getting used to! But don't let this deter you from moving to Foster City—just be sure to take some basic precautions (such as earthquake insurance) and familiarize yourself with earthquake safety procedures. 
Is Foster City a good place to live?
If you're thinking about moving to Foster City, there's a lot to consider—but there's also a lot to love about this community! From its beautiful views and excellent schools to its abundant recreational opportunities and major employers, there are many reasons why people choose to call Foster City home. So if you're looking for a place to relocate, be sure to add Foster City to your list!
The Advantages of Our Moving Company
Well-equipped trucks ensure 100% items safety.
The customer can always find out where his cargo is thanks to special support.
Experienced loaders will pack things quickly and efficiently.
Movers will check the efficiency of the equipment, lift it to any floor for free, arrange furniture.
Resources
Contact us
1149 Chess Dr, Foster City, CA 94404, United States
Monday - Saturday
8:00am - 8:00pm
Pacific Time

Saturday
8:00am - 8:00pm
Pacific Time