TrekMovers - Moving Company in Foster City, CA
When planning the transportation of personal belongings or office equipment, it is better to opt for qualified moving companies who can quickly find the best options for solving complex problems. Movers in Foster City will never let you down, they will provide a comfortable transfer not only from one area to another, but also to any city in the country. TrekMovers will deliver any volume of cargo, for both short and long-distance moving. The truck is arriving exactly on schedule. The company informs the customer of the exact location of his property at all stages of the journey. It is also solves all issues arising on the road independently, without attracting a customer or requiring additional financing.
Let us build a quote for your move
How movers in Foster City can be booked?
If there is a need to urgently move property to a new home or move an office while expanding your business, Foster city movers will take the burden of problems off your shoulders. It is enough to send an e-mail or SMS request for the company to call back immediately. The manager will give all the necessary explanations, tell you how the cost is formed, what is included in the package of services. When filling out the application form on the site, do not forget to use the available coupons to minimize costs. Specify the time and place for submitting the transport for loading and unloading. Completely transfer personal data from the documents, indicating the correct surname, first name. Be sure to give two phone numbers for vehicle movement data transmission.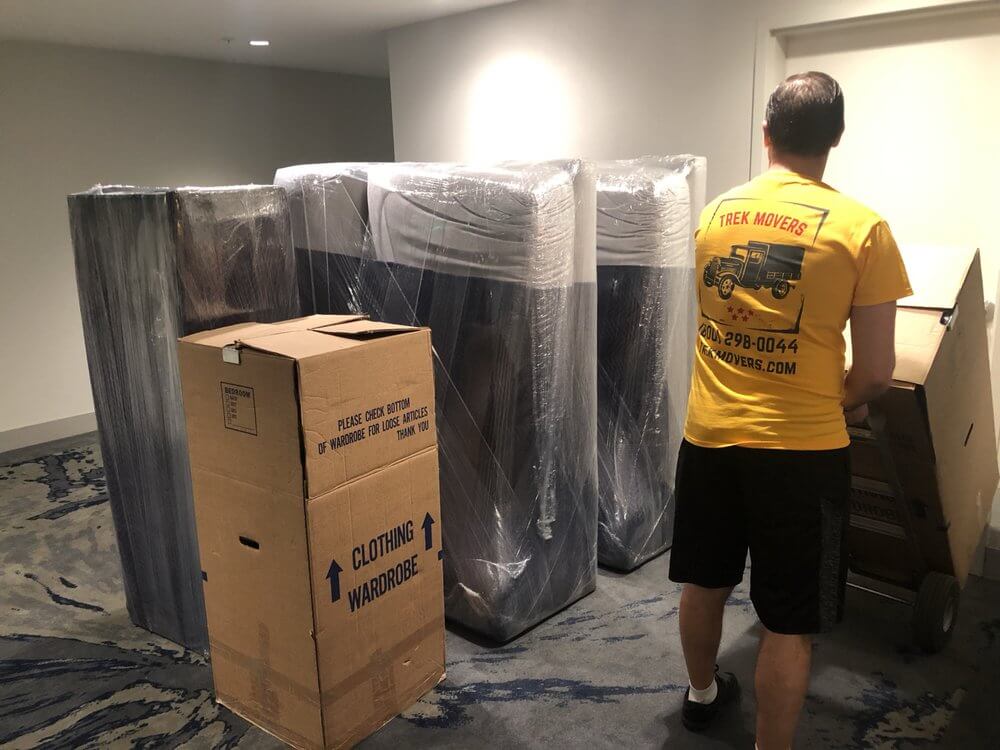 In case of unexpected changes in the route, loading time, inform the company so as not to drive the vehicle in vain. There will be no fines, no price increase for this. After the conclusion of bill of lading the cost of services will remain unchanged until the company fully fulfills its obligations. Foster City moving company has a comprehensive approach to solving the assigned tasks. Any number of boxes and stretch tapes for packing items is provided. Liability insurance formalities, overtime payments, problems with replacing a broken truck on the way are taken over by the company. We transport goods from California or to other states. We guarantee safety, reliability, fast delivery.
Packing and loading
Exactly at the specified time a truck and a couple of loaders are waiting for the customer. The customer will only need to provide free access to the property. Each item will be carefully packed. Electronics, glass, dishes, porcelain, paintings, household items are packed into special boxes. Clothes are hung in a wardrobe in the back of the truck, so they arrive at their destination in perfect condition. Polished furniture fronts are wrapped with foil providing one hundred percent protection against scratches.
Each piece of furniture is attached with special slings to the sides of the vehicle, which guarantees safety during sudden braking or turning. The customer does not need to spend money on the purchase of packaging material. Everything needed is provided for free by the moving company in Foster City, CA. Any unexpected problems along the way will be solved without involving the customer or additional costs on his part. Using the services of trusted brokers with an impeccable reputation, there will never be any problems when moving.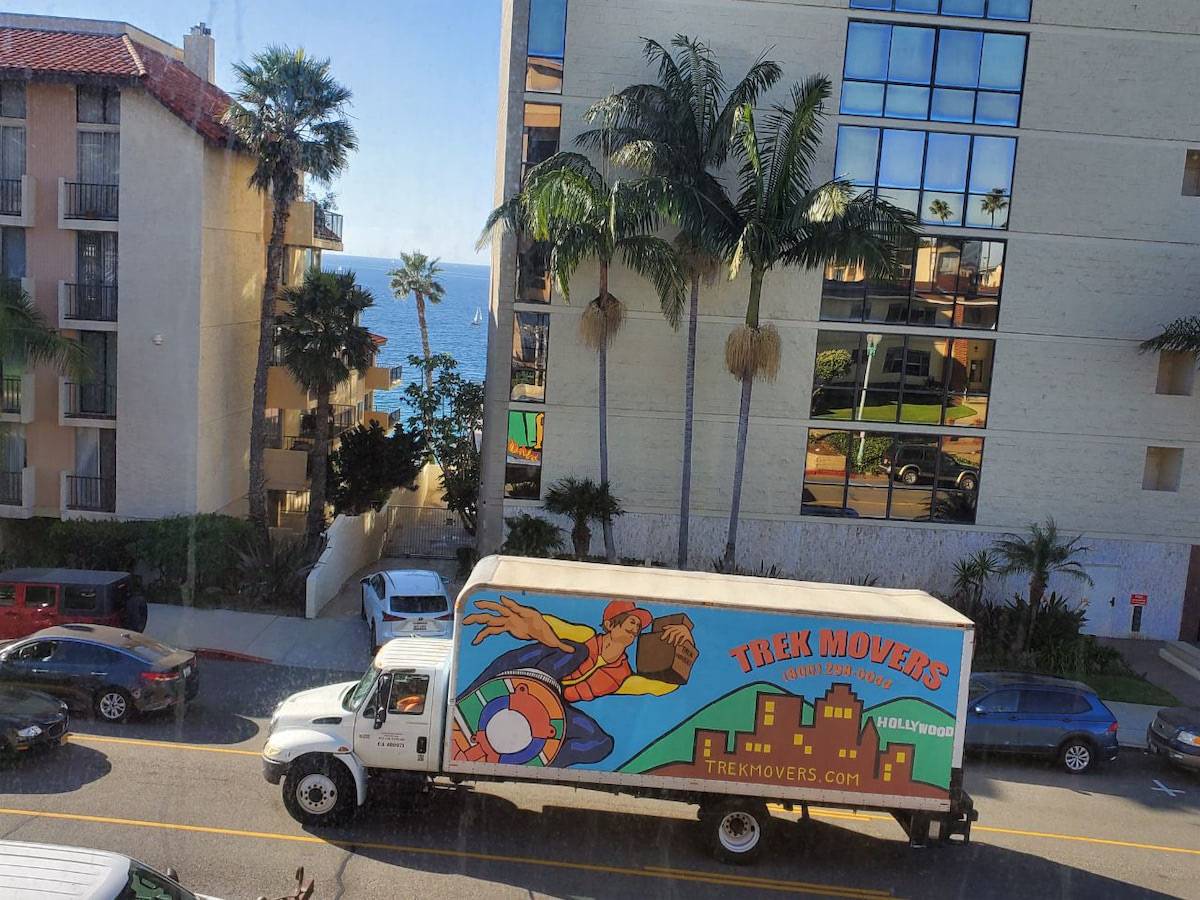 Insurance and unloading
The type and amount of insurance is chosen by the customer. It is up to you to pick the method of payment too. If you use cash, costs are reduced by five percent. An hour before arriving at the place of unloading the customer receives an SMS or e-mail message in order to be able to prepare for the meeting.
Average Moving Cost
As a rule, local moves are charged at hourly rates, and the total costs depend on the size of your move. For long-distance moves, flat rates are usually applied, and the estimation depends on weight, the scope of work, and distance.
Here is an estimate of our average cost of moving services:
| | | |
| --- | --- | --- |
| Type of Move | Low Estimate | High Estimate |
| Local move | $ 500+ | $3,000+ |
| Long-distance move | $ 2,500+ | $11,000+ |
The Advantages of Our Moving Company
Well-equipped trucks ensure 100% items safety.
The customer can always find out where his cargo is thanks to special support.
Experienced loaders will pack things quickly and efficiently.
Movers will check the efficiency of the equipment, lift it to any floor for free, arrange furniture.
Our Moving Services in Foster City
Our Foster City moving pack includes:
Packing services
Sorting and packing are notorious time-grabbers. A single thought of disassembling your heavy furniture and wrapping your expensive electronics can completely destroy your desire to move to the beautiful city of Foster City. Our company aims to save you from this headache by doing everything for you. Your furniture, appliances, electronics, and all the items will be accurately sorted out and carefully packed in robust, made-to-measure boxes, so all your belongings will arrive at the destination safe and sound.
Intermediate storage
If you, for some reason, want to delay the relocation, we can help you with getting your things to one of our intermediate storage warehouses. We have modern, well-equipped, and secure facilities where you can keep your stuff as long as you wish until it is time to continue your relocation in Foster City.
Commercial and residential moving
Trek Movers is a trusted moving company that offers a variety of options for office relocation and apartment moving in California and neighbouring states.
Whether you are relocating your household inventory or entire office to, around, or over Foster City, our company specializes in all types of transportation, offering customized moving support services both for private and corporate clients.
Long-distance moving
Whether your relocation takes you to a different city or even a different state, the whole project may turn into a nightmare if you go without professional help. Our team renders high-end long-distance moving services that are fully compliant with federal regulations for transporting goods cross-state. Long-distance moving also demands transportation companies to have insurance policies to protect the customer's things, and this is where we never let you down.
Local moving
Trek Movers provides a wide range of local moving services for all residents and businesses. Our fleet comprises modern, fully-equipped commercial moving trucks monitored 365 days by the Department of Transportation and California Highway Patrol Division.
We take pride in hiring exclusively well-trained and experienced drivers with a stellar driving reputation to handle your Foster City moving needs. Each employee in our team is insured and vetted by the California Department of Justice and the Federal Bureau of Investigation to exclude any issues while relocating you around or beyond Foster City.
Unpacking and arranging
Unpacking, assembling, and arranging are, perhaps, the toughest elements of moving. Whether you are relocating to the new region or just to the neighboring block, unpacking afterward is the hell of a work. Luckily, you do not have to do these niggly jobs. Trek Movers offers unpacking and assembling services across Foster City and all over the country to make your life easier in a new space. No matter how many boxes you need to unpack, or how much furniture you need to assemble, we are happy to help you with bringing the order back.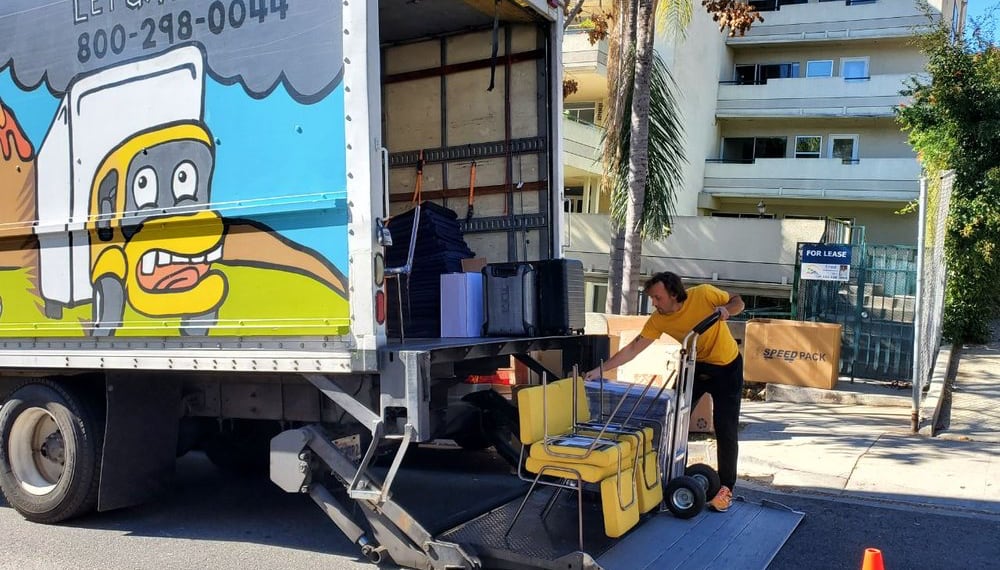 How much do movers cost?
When it comes to moving to or out of Foster City, there is no one-price-fits-all. The ultimate cost of your relocation project in Foster City will depend on multiple factors, including the size of the move, whether it is commercial or residential transportation, the presence of exclusive items like pieces of art or antiques, heavy/bulky items, the destination to overcome, extra services that may be involved to relocate efficiently, and many other aspects that require negotiation.
All-inclusive hourly rates for all local moves in the city cost as low as $120 per hour for a crew of two movers and a fully-equipped moving truck. The involvement of an extra mover or/and truck will add $30/$50 per hour to the final cost. Apply for a free moving quote to figure out how much your specific relocation in Foster City is going to cost you.
Choose Professional Movers in Foster City
Committed to delivering the first-in-excellence moving services in Foster City and all over California, our company is able and willing to handle any relocation project, whether big or small, with utmost efficiency, professionalism, and transparency. Being in the business since 2017, we have managed to earn a reputation as a reliable local mover in Foster City that is genuinely interested in the success of your removal.
Your peace of mind is our paramount priority. Our team consists of well-trained and highly experienced movers. Our moving company in Foster City, will take care of every instance of your relocation project, from the beginning to the end, while you just sit back and enjoy how things are being done as needed.
We have our offices all over California, which enables us to offer you any moving services that you may need in this wonderful state.
We aim to please, and this is proved by numerous positive reviews and a tell-tale 5-star rating that we have earned over these years. Choose Trek Movers, if you want your moving in Foster City to be done smoothly, efficiently, and affordably.
Get a Free Moving Quote
It is a very simple process if you decided to move in Foster City with our Foster City Movers. Getting a moving cost is made in two steps. First of all provide the information where, when and what you are moving. At the next step you can submit a request to get all the additional information and check the availability for your preferred date. The easiest way to book a spot for your move is to contact us through phone: (800) 298-0044 At the same time don't hesitate to get online a quick and accurate quotation including professional moving guidance.
Resources
Contact us
1149 Chess Dr, Foster City, CA 94404, United States
Monday - Saturday
8:00am - 8:00pm
Pacific Time

Saturday
8:00am - 8:00pm
Pacific Time