TrekMovers - Moving Company in Emeryville, CA
If you're looking for qualified and professional movers in Emeryville, California, you've come to the site you need! Welcome to TrekMovers! We are ready to help you with the move quickly and inexpensively.
We know perfectly well how difficult it is to organize a move to another area, let alone change the city of residence. And how often a wrong move leads to the extra cost of buying new things to replace the lost ones, depression, quarrels in the family, conflicts with bosses at work.
To avoid all this, it is enough to entrust the move to the movers, high-class specialists who will calculate every step, create comfortable conditions for you at the time of the move, and make this important step a reality! TrekMovers is such a company in the California area.
Check all-inclusive rates
Professional Office, Local and Long Distance Movers in Emeryville
So you're excited to relocate to a new home in Emeryville soon? It's essential to find professional movers and packers Emeryville offers you a wide variety. Trek Movers is an experienced Emeryville moving company that has provided customers with reliable, high-quality services since 2007.
Commercial Moving
Commercial moving is our specialty. Advanced office movers in Emeryville will help you to pack and relocate all kinds of office equipment, including large pieces of furniture, electronics, and delicate stuff. All-inclusive relocation includes packing services (we provide all supplies), transportation, and unpacking in a new office space. Professional movers in Emeryville have access to moving supplies and equipment needed. So you can focus on your business, not on moving-related challenges during the relocation.
Home Movers
As residential Emeryville movers, we handle stress-free house and apartment moves to, from, and within Emeryville with care and ease. Whether items you need to deliver (such as heavy furniture, appliances, piano, antique, or whatever), our squad pays strong attention to the safety of your belongings and does everything possible to protect them from any damage during transportation. All-size residential moves are welcome.
Long-Distance Moving
Long-distance moving makes you face a lot of challenges. Stressful packing, unloading, fear of damaging furniture, and assembling are almost inevitable while relocating. Plus, long-distance moving is usually quite expensive, so you have to think about your budget and prepare a proper plan. By hiring experienced Emeryville movers, you can rid yourself of all the issues since professional moving companies deal with any challenges with ease. If you're looking for long-distance movers Emeryville, Trek Movers is the best solution for any needs and budget.
Local Movers
What do professional local moving services look like? The best movers in Emeryville always provide excellent customer service, on-time scheduling, quality supplies, and professional equipment. And besides, local relocating within the county with high-skilled movers in Emeryville is more cost-effective than DIY relocation. Our local movers Emeryville will provide you with all-inclusive services and handle everything from A to Z.
Packing Services
Our favorite thing about relocating with a moving company is how smooth the whole process is. As the professional mover Emeryville, Trek Movers does a majority of the organizing and logistics. So you always ensure everything goes right at every step. Because our team members clearly realize what is required to relocate to or within the Emeryville area, we can easily anticipate the type of packing supplies, gear, and vehicles you will need for your specific move. We'll pack and load up your belongings carefully using proper equipment and covers to protect furniture, doors, and floors in the house.
We'll also pack and mark all your stuff in the right way to protect it during transportation (and it will help avoid frustration when you're preparing to move into a new apartment or office space). Even delicate items stay safe since we use a diversity of packing materials and right-sized boxes while packing.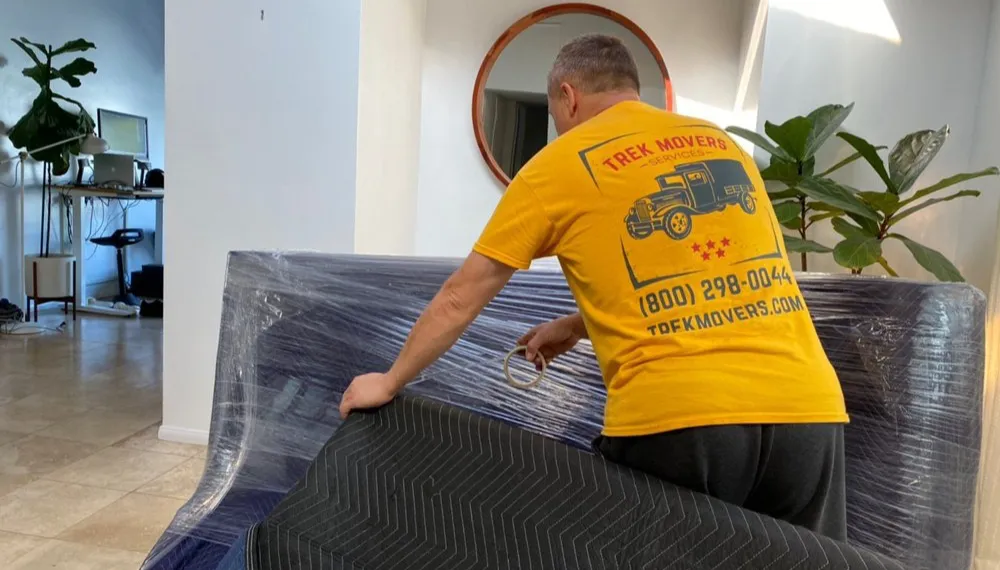 Living in Emeryville, CA: What to Know Before Moving to Emeryville
If you consider moving to Emeryville, you might have a great job offer or maybe you decided to settle down in the suburbs rather than in the larger city.
Living in California seems exciting and heavenly: proximity to the ocean, fantastic weather, picturesque palms, and Hollywood. Getting back to the earth, California is also infamous for the high cost of living and higher crime rates compared to the national average.
Actually, cities differ greatly even within a single state. Now that you consider Emeryville as a place to settle down, you examine housing rates and search for Emeryville movers. But before looking for a house and hiring an Emeryville moving company, sure enough, you want to know what living in Emeryville, CA is, and what aspects you should keep in mind.
Pros and Cons of Living in Emeryville
Known for being a compact and handsome suburb, Emeryville sits northwest of Alameda County, between Oakland and Berkeley bordering San Francisco Bay on the shore.
According to Niche, Emeryville was ranked as the #1 Best Suburbs for Young Professionals in California.
 Leaping ahead, here are the key benefits and downsides of living in Emeryville briefly:
| | |
| --- | --- |
| Pros | Cons |
| Mild climate | Crime rates |
| Proximity to San Francisco | High cost of living |
| Higher educated people | High sales tax |
Population
If you are a big city person, you may find Emeryville with a population of around 13 000 tiny. In the last 6 years, the population growth is 6.9%. The median age of Emeryville residents is 35 years old.
The median individual income in Emeryville is $77,209, while the median household income is around $103k. In fact, these numbers can be explained by the fact that many young adults work in San Francisco but rent homes in Emeryville because of lower rent rates. Actually, 92.68% of Emeryville residents are employed in white-collar job positions, including healthcare, management, IT, and business.    
Many residents consider Emeryville the best place to live in California given its urban feel and amazing landscape. Families with kids like the city for its spacious infrastructure, variety of parks, friendly community, proximity to the ocean and larger Californian cities.   
Tax Rates
According to the California Department of Tax and Fee Administration, the sales tax in Emeryville is 10.5%. For example, for any purchase of $100, you will pay $110.50 (purchase +taxes).
Housing Market
It comes as no surprise that housing in Emeryville like anywhere in California is more expensive than the US average by around 70%.
The median home price in Emeryville is $680 073 (the country's average is $291 700, while California's is $684 800, as stated by BestPlaces), and the median rent is $2 077. A recent study from Dwellics shows that the average cost of a house (single-family) in Emeryville is $1 132 624.
Note that 70% of residents rent their homes — to some extent it is explained by the fact that young professionals like Emeryville's proximity to San Francisco and enjoy lower rent rates.
The average rent in Emeryville:
| | |
| --- | --- |
| Studio | $1 306 |
| 1-bedroom apartment | $1 574 |
| 2-bedroom apartment | $1930 |
| 3-bedroom apartment | $2 552 |
Cost of Living in Emeryville
As the recent stats state, living in Emeryville, CA is 45% more expensive compared to the US average but cheaper than in Los Angeles or San Francisco. Obviously, living standards vary and depend primarily on your job position and salary, housing (owned or rented), and everyday habits.
As for utility rates, you will pay around 31% more than the national average, and transportation (gas prices and bus fares) is around 40% more expensive than the US average. When it comes to healthcare, you should be ready that rates are 22% higher compared to the country's average.
| | |
| --- | --- |
| Energy bill (per month) | $224 |
| Phone bill ()per month) | $246.5 |
| Gas | $6.12 /gallon |
| Doctor's visit | $144.5 |
According to ZipRecruiter, the average salary in Emeryville is $69 443 per year (the USA average is $31 177), ranging primarily from $49 500 to $87 500. In fact, numbers vary significantly given a job position and industry.  
Weather & Climate
The weather in Emeryville is great in August, September, and October; however, living in Emeryville you might like its mild winters too. January, the coldest month, in Emeryville is still warmer than in many other California cities.
Emeryville is sunny: on average, 265 days per year you will have the sun shining.  
Economy and Job Market
Located near San Francisco, Berkeley, the Bay Bridge, and Silicon Valley, Emeryville demonstrates rapid economic growth — many large-scale businesses open offices in the city.
Some well-known tech and pharmaceutical companies are among the major employers:
       

Pixar Studios

       

LeapFrog

       

Bayer (formerly Novartis), a biopharmaceuticals manufacturer

       

Clif Bar

       

Cetus Corporation, a biotechnology company

       

BigFix

       

Electronic arts, a popular video game maker

       

Adobe Systems  
The highest-paying jobs in Emeryville are in Finance & Insurance, Technology, Architecture & Engineering, Pharmaceutical, and Social Service industries.
The unemployment rate in Emeryville is 6.5%, which is higher than the US average (6%).  
Traffic and Transportation
There are two airports nearby: Oakland International just 9 miles away and San Francisco International Airport, which is around 25 miles away from Emeryville.
The average commute (one-way) in Emeryville is 32.1 min, which is a bit surprising for a small city given that the national average is 26.4 min.  
–          Around 47% of Emeryville residents drive to their jobs,
–          10.3% use carpooling,
–          26.1% use public transportation
–          5.8% walk to their work
–          3.3% use bicycle
Emeryville has a free bus shuttle, Emery Go-Round, from MacArthur BART Station to various locations all over the city. Besides, AC Transit connects the city with different regional locations.
Ecology
The city authorities have approved the Climate Action Plan and activities targeting reduced emissions and overall climate protection, including the development of green businesses, PACE programs, electrical vehicle charging infrastructure, sustainability of industrial development, etc.
One of the notable aspects of living in Emeryville is its high walk and bike scores, 75% and 82%, respectively. The city is one of few in California with quiet and green streets connecting all major city locations. In contrast to Los Angeles, you won't be car-dependent in Emeryville.
What to Do in Emeryville
The city hosts numerous gorgeous parks, including Davenport Park, Point Emery, Doyle Hollis Park, Emeryville Greenway, Temescal park, Stanford Avenue Park, and many others. All sorts of recreational activities for both kids and adults are available, including picnic sites, hiking, and biking trails.
Weekends won't be boring in this small city: cinemas and bars, shopping malls and nightclubs are suited to every fancy. Dining options in Emeryville will match all tastes, from larger stylish restaurants to family-run bakeries with freshly brewed coffee.
Despite its small size, Emeryville has many options to spend leisure time, from shopping in giants like IKEA and enjoying green areas to two marinas – open waterfront space is the favorite among joggers and bikers.  
Schools in Emeryville
The Emery School District has been renovated within the frame of the Emeryville Center for Community Life. The center is constructed at the site of the Emery Secondary School and incorporates a community center, elementary and secondary schools, as well as daycare and preschool.
Yu Ming Charter School, Francophone Charter School of Oakland, East Bay Innovation Academy, and AIMS College Prep Middle School are among the top public schools.
Emeryville also hosts the Ex'pression College for Digital Arts and the East Bay German International School.
Best Neighborhoods in Emeryville, CA
Moving to Emeryville, you might be curious about the best neighborhoods to settle in. The most required and appreciated Emeryville neighborhoods in recent years are:
       

Emeryville North

. The area is right next to the city center with several A-rated school options. Housing prices are higher than the average due to proximity to educational institutions.

       

Pacific Park Plaza/Bridgewater

. A stylish green neighborhood close to the waterfront — it is awesome for healthy lifestyle advocates, bikers, and joggers.

       

Emeryville Village/City Center

. A friendly community with several green parks and multiple dining options; it is within a walkable distance from all major city facilities.

       

Emeryville West. This is the neighborhood popular among young pros working remotely in Silicon Valley and San Francisco.  
Granted that Emeryville cannot be highlighted in terms of safety, according to the SafeWise report, life in the city is still peaceful. Property crime rates are relatively high, so choosing the right neighborhood when moving to Emeryville with a family is crucial.
Choosing Emeryville movers opt for companies headquartered in California — local movers often provide better logistics and rates than nationwide corporations. Familiar with the state and road network local movers can manage your relocation faster and stress-free.
Why Trek Movers is the best moving company in Emeryville
Still looking for reliable commercial and home movers Emeryville CA with reasonable prices? Trek Movers won't let you overpay! We really love what we do, and there are some short reasons why customers call us the best movers in Emeryville.
Quick and easy scheduling and booking process.
Regularly serviced professional gear and vehicles.
The friendly, highly-trained staff cares a lot about your goods and their safety.
The licensed and insured moving company from California you can count on.
Best pricing for businesses and individuals with fixed rates per hour.
We accept different forms of payment, including cash and credit cards.
Contact us to get a free quote or book your move to Emeryville, CA, supported by the Trek Movers team.
Resources
Contact us
5795 Christie Ave, Emeryville, CA 94608, United States
Monday - Saturday
8:00am - 8:00pm
Pacific Time

Saturday
8:00am - 8:00pm
Pacific Time