TrekMovers - Big Bear Moving Company
We will provide efficient, fast movement of any volume of cargo from street to street, from district to district, from city to city. Big Bear movers are able to transport personal belongings, household appliances, furniture, office equipment safely, precisely following all the wishes of the customer. The cost of TrekMovers' services is always determined by the specific needs of customer, taking into account all possible risks, distance, additional services. Our professionalism will relieve the customer of any difficulties associated with the move.
Check all-inclusive rates
Living in Big Bear: Is Big Bear a Good Place to Live?
You might have heard a lot about Big Bear but spending a vacation in a resort area is considerably different from living in Big Bear, CA.
Before looking for a Big Bear moving company, let's discover the lifestyle, climate, employment & housing markets, and cost of living in Big Bear, CA.  
PROS AND CONS OF LIVING IN BIG BEAR, CA
First of all, the Big Bear Valley belongs to San Bernardino County and comprises Big Bear Lake and Big Bear City, an unincorporated county area. Big Bear Lake is a small town with 5300 residents, while Big Bear City is a town with a population of 12 621. Located in a splendid area known for pine forests, lakes, and mountains, Big Bear Valley is known as a magnificent destination for relaxation and recreation. Is Big Bear a good place to live? Well, it depends on your lifestyle. If you are an active person inspired by big-city vibes, you might get bored after a couple of months. If you are beheld by nature and you prefer quiet and tranquil life, you might fall in love with Big Bear.  
Briefly, the advantages and disadvantages of living in Big Bear can be summarized as follows:
| | |
| --- | --- |
| Advantages | Disadvantages |
| Relatively close to the airport (27 miles) | Relatively high property prices (but lower than the average in California) |
| Variety of recreational activities | High crime rates |
| Awesome nature & wildlife | The cost of living is higher than the US average |
| High-quality water |   |
WHAT IS IT LIKE LIVING IN BIG BEAR, CA
The Big Bear Valley gives an authentic rural-suburban feel. Located 50-70 miles away from Los Angeles, the area has a nature-friendly lifestyle and peaceful community. Most homes are owned (64%) by residents.
However, as recent studies show, the population has been declining in the recent 5 years. In fact, the global pandemic situation had its impact as many older residents moved to stay closer to their families. Younger residents might have moved due to a lack of work (shops, restaurants, and resorts) because of the lockdown. However, the trend isn't clear yet.
Well, one of the most-asked questions before moving to Big Bear is "Are there a lot of bears in Big Bear?" As the name implies, bears, particularly black bears do live in the area. Unlike chipmunks, squirrels, or raccoons, black bears are rarely seen as they prefer avoiding humans. Yet still, you can spot them in unexpected places.
POPULATION
46.8% of Big Bear residents are married. The largest age group (29%) is represented by people of 45-64, while 65+ year-olds make up a solid 20% of the Big Bear population. As of now, the median age of Big Bear residents is 45.2.
According to recent research, 62.1% of Big Bear residents have at least a Bachelor's degree, and 45.3% of the population holds STEM degrees.
TAX RATES
According to Dwellics, the sales tax rate in Big Bear City is 7.8%, which is a bit higher than the country's average of 7.3%. Big Bear residents also pay the higher income tax — 9.3%, while the average across the US is 4.6%.
As for the average property taxes, last year's taxes paid were 0.8%.
HOUSING MARKET
A recent study from Niche shows that the median home value in Big Bear is $296 800, which is a bit higher than the national $229 800 and much lower than the median value ($684 800) in California.
The median rent is $1 119 compared to the US average of $1 096. Given the size of an apartment, rent rates are as follows:
| | |
| --- | --- |
| 1-bedroom apartment | $1 018/month |
| 2-bedroom apartment | $1 278/month |
| 3-bedroom apartment | $1 748/month |
COST OF LIVING IN BIG BEAR, CA
It's common knowledge that the cost of living in California is significantly higher than the US average. However, Big Bear City stands out with its reasonable housing prices, which are higher than the country's average but lower than the average throughout California.
The overall cost of living index in Big Bear is 103.6 given that the US average is 100 (the average index for California is 149.9). Note that groceries (97.7) and health (88.1) categories fall lower than the average in the US.  
WEATHER & CLIMATE
June, July, and August are the best months in this area — it is rarely very hot, and most times you can enjoy warm dry weather. January and February are the coldest months but most residents usually enjoy skiing in the Big Bear Valley area.
One of the great aspects of moving to Big Bear is the water quality index (based on Dwellics data) — 100 out of 100.
ECONOMY AND JOB MARKET
The median household income is $50 069, which is lower than the country's average of $64 994. According to BestPlaces, the average income is $23 024 compared to the US average of $28 555.
Most Big Bear residents are involved in recreation, accommodation, entertainment and food services (25.3%) and health care, educational services, and social assistance (23.8%).
The unemployment rate is 7.8%, which is higher than the US average of 6%. This might be the reason for the higher than the country's average property crime rate (43.5 compared to 35.4) and violent crime rate (22.8 compared to 22.7).
The highest paying jobs in Big Bear City are law enforcement, scientific and technical services, where income varies from $108 229 (law) to $67 778 (technical and scientific).   
TRAFFIC AND TRANSPORTATION
Actually, commute time has been increasing throughout the US since 2010. As for Big Bear, the average commute time is 26.6 min, which is comparable to the country's average of 26.4 min.
The majority of Big Bear residents (89.8%) drive to work alone, 3.2% use carpooling, and 1.2% walk to their jobs. Almost 5% of residents work remotely from home.
One of the great aspects of moving to Big Bear is its relatively low traffic. If you consider moving to the town from larger Californian cities like San Diego, Los Angeles, or San Francisco, you will definitely enjoy driving in Big Bear City.
Big Bear is 27 miles away from the nearest airport and 75 miles from the coastline.  
ECOLOGY
Known as a recreational destination, Big Bear City residents enjoy not only a mild climate but a healthier environment too. The town stands out with the purity of water, 100 out of 100, and plenty of green trees, lakes, and mountains that ensure better ecological conditions. By the way, cancer instances in Big Bear City are the lowest in the US.
WHAT TO DO IN BIG BEAR
If you are moving to Big Bear for vacation, the area offers limitless recreational activities, including fishing, hiking, off-road trails, boating, snowboarding, and skiing. Actually, living in Big Bear, CA you will feel all four seasons — this is a non-typical description for a Californian town. The best thing is that you can enjoy all the same activities without traveling to another region.
You cannot skip visiting Sugarloaf Park which incorporates a ball field and skateboard park with all equipment available. Another important place to visit is the Big Bear Alpine Zoo which was established in 1959. Since its foundation, it has also been a sanctuary for rescued animals.
Dining offers many attractive options, including international and Mexican-inspired cuisines, numerous cafes, and family-run cozy restaurants.
SCHOOLS IN BIG BEAR
Big Bear hosts Baldwin Lane Elementary School, Big Bear Middle School, Fallsvale School, and Big Bear High School. The average expenses per student in Big Bear are $8 728, which is lower than the US average of $12 383.  
BEST NEIGHBORHOODS IN BIG BEAR
Actually, Big Bear City is pretty small but it features several neighborhoods:
Pinewood Estates

. Minutes away from the business district, Pinewood Estates is characterized by wide streets lined with pine trees, well-groomed lawns, and the central location within Big Bear City.

Shay Meadow

. Located to the east near Baldwin Lake, the area is pretty quiet and represented by medium-sized homes. This is an awesome place for open space lovers as many houses have views of mountains and Baldwin Lake.

Maple Ridge

. This is a relatively new neighborhood, perfect for families with kids because Baldwin Lane Elementary School and Big Bear High School are within walking distance. The beautifully built residential area is located on a hilltop offering picturesque landscape views.

Forest Spring

. A premier development, often considered by families with kids of school-age moving to Big Bear, CA.  

Hamilton Ranch

. Initially developed as an equestrian area, Hamilton Ranch hosts mostly ranch homes with the fenced territory.

Tanglewood Trails

. This is a modern-built, gated residential neighborhood south of the airport. Contemporary homes with underground utilities are close to schools. Trees-lined streets on the side of the hill offer fantastic views of Gold Mountain and the Moonridge valley.  

Gold Mountain

. A smaller neighborhood sits at the base of Gold Mountain. Wide streets with custom homes are served with underground utilities that ensure a well-maintained feel.  
Now that you're in the picture of living in Big Bear, CA, you can look for a suitable home and request quotes from Big Bear movers. Relocation can be exciting and seamless if you know the new surroundings and hire pros who will take care of your move from start to finish.
How to book a convenient moving time with Big Bear movers?
We will transport any cargo, save you from unnecessary troubles, keep your peace of mind and minimize costs. Big Bear moving company will ensure smooth personal belongings' both short and long-distance moving to any state of the country or city of California. Reservation of the required time for moving is made in a few minutes. Send an SMS or e-mail message to the manager so that he can quickly call a potential customer back. The conclusion of the bill of lading begins with filling out a questionnaire on the website. Personal data is entered, surname, first name, two phone numbers, time and address of loading and unloading place.
The company should be notified as soon as possible of an unexpected change in loading time. This will not affect the amount of the bill of lading in any way, it will not cause a fine. After signing the bill of lading the conditions prescribed in it remain unchanged until the transporter fully fulfills its obligations. Movers in Big Bear will take all the difficulties of moving from the customer's shoulders. The customer is obliged to provide the loaders with timely access to the premises where the cargo is stored. The company is also responsible for overtime payments, liability insurance, overloading in the case of a truck breakdown.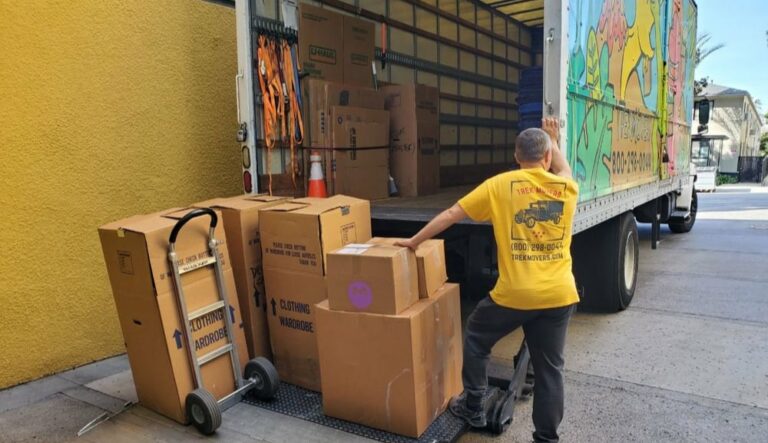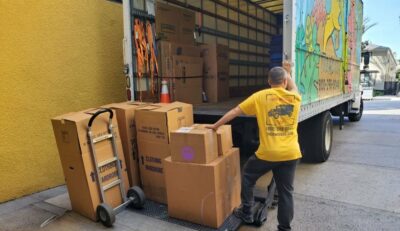 We quickly pack and load cargo
The customer receives a full range of services provided for by the bill of lading. The truck will be at the specified location right on time. A couple of movers will pack all things with high quality after checking the functionality of household appliances. Regardless of the distance between the points of loading and unloading, things entrusted to the carrier will arrive at the point of receipt in perfect condition. Clothes are hung on hangers in special cabinets in the truck. This will eliminate the need to iron your wardrobe after delivery.
Polished furniture fronts are wrapped in several layers of protective film in order to prevent scratches or scuffs. Each piece of the surface is firmly fastened with straps to the sides of the truck so that it does not fall when driving, hard braking or turning. Moving company in Big Bear, CA guarantees fast, efficient delivery of any number of personal belongings or office equipment to a new address. Using coupons when concluding a bill of lading will help you reduce costs. Cash will additionally save money by five percent.
UNLOADING, INSUARANCE
Determination of the amount, type of insurance is chosen by the customer independently. All other expenses not stipulated by the bill of lading are covered by the company. It will pay for any technical problems that arise on the road without attracting the attention of customer or requiring additional fees. Before arriving at the destination the customer is sent an SMS or e-mail message 60 minutes in advance. That's enough to get ready for the truck meeting. The unloaded equipment is checked for operability, boxes, furniture go up to any floor free of charge.
OUR ADVANTAGES
A full range of services guarantees excellent service to each customer.
Fully equipped trucks are perfectly suited to transport any type of property.
No one-day laborers.
Dedicated customer support.
Licensed, insured transportation throughout the country.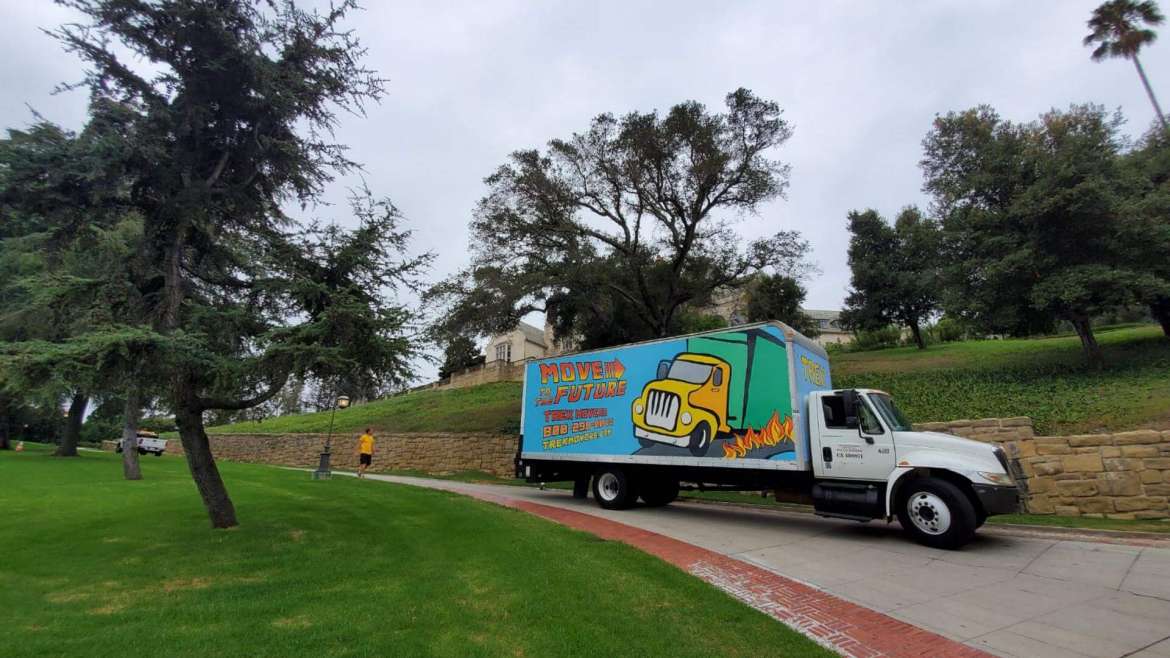 OUR MOVING SERVICES IN BIG BEAR
Our Big Bear moving pack includes:
PACKING SERVICES
Sorting and packing are notorious time-grabbers. A single thought of disassembling your heavy furniture and wrapping your expensive electronics can completely destroy your desire to move to the beautiful city of Big Bear. Our company aims to save you from this headache by doing everything for you. Your furniture, appliances, electronics, and all the items will be accurately sorted out and carefully packed in robust, made-to-measure boxes, so all your belongings will arrive at the destination safe and sound.
COMMERCIAL AND RESIDENTIAL MOVING
Trek Movers is a trusted moving company that offers a variety of options for office relocation and apartment moving in California and neighbouring states.
Whether you are relocating your household inventory or entire office to, around, or over Big Bear, our company specializes in all types of transportation, offering customized moving support services both for private and corporate clients.
LONG-DISTANCE MOVING
Whether your relocation takes you to a different city or even a different state, the whole project may turn into a nightmare if you go without professional help. Our team renders high-end long-distance moving services that are fully compliant with federal regulations for transporting goods cross-state. Long-distance moving also demands transportation companies to have insurance policies to protect the customer's things, and this is where we never let you down.
LOCAL MOVING
Trek Movers provides a wide range of local moving services for all residents and businesses. Our fleet comprises modern, fully-equipped commercial moving trucks monitored 365 days by the Department of Transportation and California Highway Patrol Division.
We take pride in hiring exclusively well-trained and experienced drivers with a stellar driving reputation to handle your Big Bear moving needs. Each employee in our team is insured and vetted by the California Department of Justice and the Federal Bureau of Investigation to exclude any issues while relocating you around or beyond Big Bear.
UNPACKING AND ARRANGING
Unpacking, assembling, and arranging are, perhaps, the toughest elements of moving. Whether you are relocating to the new region or just to the neighboring block, unpacking afterward is the hell of a work. Luckily, you do not have to do these niggly jobs. Trek Movers offers unpacking and assembling services across Big Bear and all over the country to make your life easier in a new space. No matter how many boxes you need to unpack, or how much furniture you need to assemble, we are happy to help you with bringing the order back.
GET A FREE MOVING QUOTE
It is a very simple process if you decided to move in Big Bear with our Big Bear Movers. Getting a moving cost is made in two steps. First of all provide the information where, when and what you are moving. At the next step you can submit a request to get all the additional information and check the availability for your preferred date. The easiest way to book a spot for your move is to contact us through phone: (800) 298-0044 At the same time don't hesitate to get online a quick and accurate quotation including professional moving guidance.
Resources
Contact us
945 Sequoia Dr, Big Bear, CA 92314, United States
Monday - Saturday
8:00am - 8:00pm
Pacific Time

Saturday
8:00am - 8:00pm
Pacific Time