Local Movers in Westminster, CA
When relocating to a new home, you must know what type of move you are planning on. One of the most prominent criteria is the distance of your relocation. The most popular service of moving companies in California is – local moving. What does it mean? Talking about the local move, we usually mean relocation within 50 miles radius. Even though it typically comes with lesser stress, you definitely will face similar challenges prior and during the relocation. Hiring local movers is your best way to avoid all these difficulties. With reliable experts in the field of local moving, you can unwind and just focus on planning a new life in your new home. Where to find local movers in Westminster, CA, who are really worthy of your trust? Trek Movers is a leading local moving company that has delivered excellent packing and moving services since 2007.
Why Trek Movers is the best local moving company in Westminster, California
We have you covered if you are looking for a reputable and highly experienced local moving company in the Westminster area. Trek Movers handles all kinds of residential and commercial relocations using the convenient full-service model. Our employees are experienced experts in local moving, no matter how difficult your project is. We are always ready to relocate whether it is a small apartment, large house, office, store, or any other type of facility you need to move. Here are a few reasons why Westminster area residents choose Trek Movers.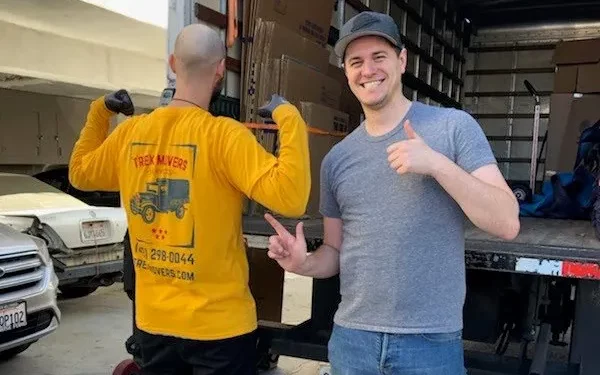 Best all-inclusive hourly rates.
The off-peak pricing system.
Only highly-skilled local movers and packers.
All-inclusive packing and unpacking services.
Ethical company policy.
Your local movers are always on time.
Every single move is insured.
As a top local moving company, we handle relocations in the Westminster, CA area using the best hardware, packing supplies, and materials. We own several fully equipped trucks that help our experts to choose the proper transport that will be affordable to a customer (depending on the number and specifics of transported items). If you need more information about upcoming local moving, feel free to contact us and get a free quote.
Packing services
Packing stuff is one of the most challenging parts of any move, as it usually requires a lot of work and time. If time is your priority, the best decision is to hire professional packers who can handle packing to move within a couple of hours (or even less if you don't plan to transport a vast number of items). Professional local movers and packers in Westminster normally offer different services. If you choose a full-service option, they will assist not only with transportation to a new place but also with packing and unpacking any stuff (including valuable and fragile items, large furniture, office machine, or bulky household appliances).
Our local movers have extensive experience in moves of any difficulty. We provide our customers with high-end packing services to reduce your stress during a Big Day. Our staff is fully responsible for wrapping and boxing your belongings. And let's face the truth, it's the most efficient and convenient way to keep your stuff safe during relocation. You can book an all-inclusive local moving and wrapping or choose packing services only as an option in Trek Movers.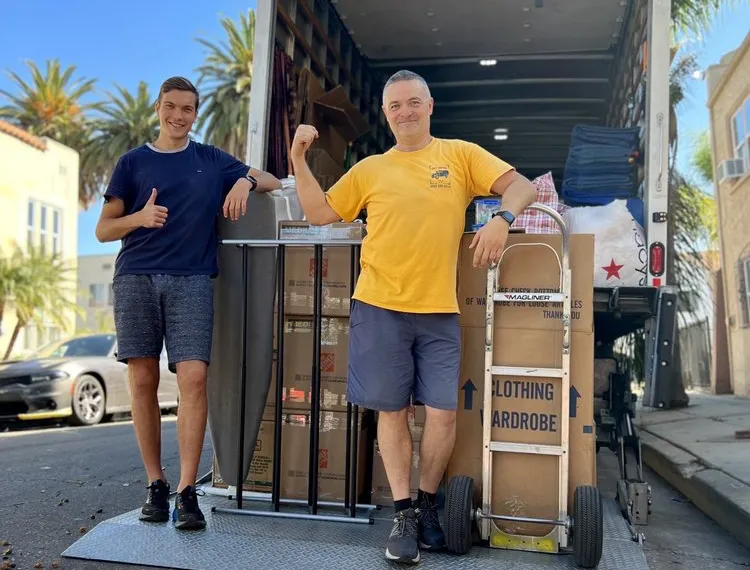 Packing materials and supplies for local moving
We provide all packing materials free of charge while relocating your apartment or commercial facility. In Trek Movers, you get free cardboard boxes of any size (including TV boxes and wardrobes), packing papers and peanuts, plastic and bubble wrap. Of course, we also provide all needed packing supplies such as roll tapes, grip knives, bubble corner guards, markers, furniture covers, etc.
Stress-free local moving in Westminster, CA
How to hire movers for local move with zero stress in Westminster? In fact, it's not as difficult as it may seem at first glance. Send us a request and get detailed consultation about your upcoming journey. All we need to know to guide you are the local moving destination, move size, the estimated date of relocation, and some extra details. Our manager will choose a proper truck and moving supplies for you to reduce your costs. Please note that we offer our customers special off-peak prices, so you never overpay with our local movers. We always insure your belongings and every single move to keep you worry-free at every step of the packing and moving process. Our trucks are constantly monitored by the DOT (US Department of Transportation).
Trek Movers – Full-Service Moving Company
FAQ
As we said before, we commonly call transportation within 50 miles or less the local move. Put another way, you typically purchase a full-service relocation within the same city or surrounding area by hiring local movers.

The cost depends on different factors such as the size of your home (office), the distance, and the specifics of items you will move. Most reliable local movers in Westminster typically provide fixed rates to make their services affordable and convenient to all customers. In Trek Movers, you have detailed free quotations to know how much the moving services will cost for you personally. Also, read more about the cost of movers in our blog.

It is always better to research first to find a trusted company that will handle your stress-free relocation. Before you hire any company, take some time to take a look at the ratings of the best local movers in Westminster, California. Trek Movers is a team of friendly professional movers who have made everything possible for your convenience since 2007.

Among the best local moving companies, we are glad to offer you free local moving quotes if you plan to relocate to Westminster, CA. To get a quote, give us a call or fill out a feedback form on our website. Note we have a virtual estimate session option if you are going to move a large house or office. Virtual sessions are usually hosted via Zoom, FaceTime, or Google Meets.