TrekMovers – Moving Company in Berkeley, CA
Everyone who has experienced a move at least once knows that this is a difficult process, requiring not only physical effort but also logical, thoughtful preparation. Simply put, you need to move deliberately so as not to lose the things you need during the move, and not to waste extra money and time. Moving on your own is usually difficult because not everyone has the physical strength to move large furniture and boxes, and you still have to hire special vehicles. It is much easier to turn to movers, special companies that will arrange your move from scratch. Movers in Berkeley, CA are represented on the market by several companies at once, but how to choose the right one among them?
It is quite possible without thinking to turn to the nearest movers but such an approach may be fraught with falling on unscrupulous specialists, or even completely unskilled loaders.
You can carefully study the market and choose the best company based on reviews. For example, Trek Movers has a lot of good reviews.
Or you can ask friends or neighbors for their recommendations. We can bet that Trek Movers will be among the best Berkeley movers for their recommendation.
Let us build a quote for your move
Your Best Movers in Berkeley – TrekMovers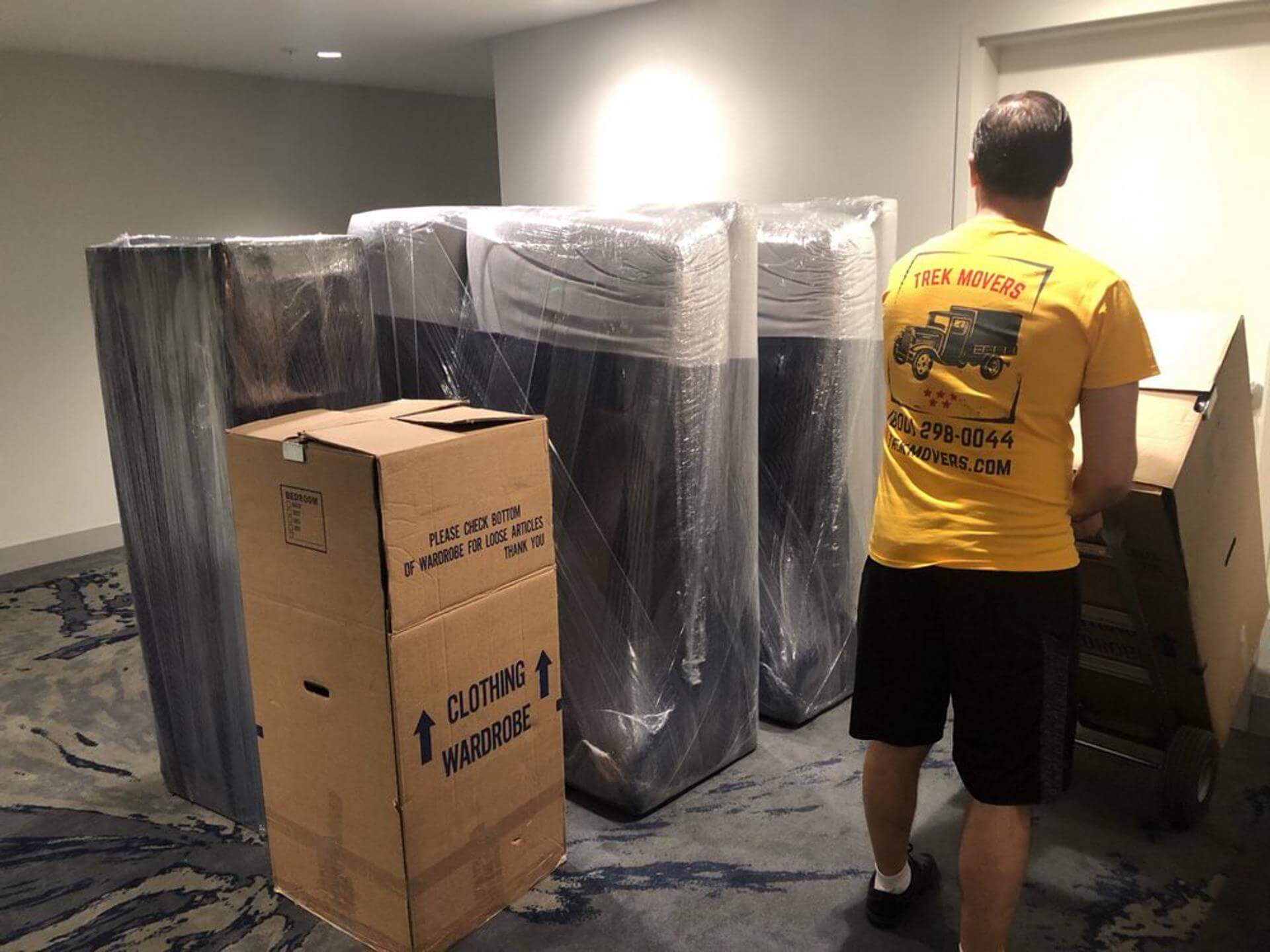 Why are we the best, you ask? The answer lies in several features that distinguish us from others.
First of all, Trek Movers are licensed movers authorized to provide moving services in the state of California.
We do not employ unskilled workers. The team employs only experienced professionals who, over the years, have proven their high qualifications and ability to manage relocation in any, even the most difficult conditions.
Our services go beyond standards. With us, you can get complete information on how to arrange a move, even if you do not order our services. We are ready to help you in packing your belongings and provide you with high-quality and reliable packaging materials. We will plan your move and help you implement it. All services are available on a turnkey basis or at your choice.
We work not only in the Berkeley area. With us, you can move to any part of the country, from Alaska to Florida.
Our technical base is the best in the area. For each order, we send a fully equipped truck and our craftsmen use only modern tools to prepare your belongings for the move.
But the most important feature is that we are a customers-orientated team who works for you with all the fervidity.
What Services Do We Propose
In our work, the most important thing is that the client is 100% satisfied with the result. Therefore, we do not dwell only on elementary tasks, such as transporting things from one Berkeley district to another, or from city to suburb. Of course, we will also carry out this option quickly and efficiently. But our clients have already appreciated other services offered by our Berkeley moving company.
Long-distance relocation. Often, such transfers take too long or the movers simply refuse to complete them. TrekMovers will help you collect all your things to the smallest detail and change your place of residence to the desired one within the entire country. Our trucks will quickly transport your property to any state and to any locality, and the cost of such a service will pleasantly surprise you.
Corporate relocations are especially difficult because they require speed and precision. Who wants to stop their business for a long time because of the move? With us, you don't have to stop and lose money.
In addition, we offer a convenient way to order services and the ability to book a suitable moving date in advance.
How Can I Order Trek Movers' Services?
The algorithm is very simple. Just contact us in any possible way (you can fill in the form on the website for this). Since we get your call or contact form, we'll start our work. Our dedicated support will inform you about all the useful information, choose the most appropriate date for your move and a crew to perform it. In the date you choose, our craftsmen will be at your door to gather all the belongings, then load them in a truck and to transport to the address you'll point out.
It is quite simple to order our services and all of them are of an affordable price. You do not need to pay beforehand or to pay extra. All calculations are clear.
So, do not waste your time on relocation hassle. Just delegate all the problems to your moving company in Berkley, CA.
Contact us
1414 University Ave, Berkeley, CA 94702, United States
Monday - Saturday
8:00am - 8:00pm
Pacific Time

Saturday
8:00am - 8:00pm
Pacific Time